okgourmet.com&nbsp &nbsp Home of Steve's Restaurant Reviews
Mai Thai
14101 N. May Ave.
Oklahoma City, OK
(405) 752-8400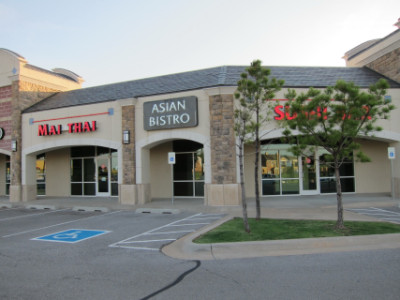 Those who remember the original Bangkok Restaurant on North MacArthur owned by Fred and Lida may have also had their introduction to Thai food there, as I did. I know from comments I have received that many people appreciated the food that was served at Bangkok, as is also the case with me. The good news for many of us is that Lida's recipes live on at Mai Thai, a restaurant operated by the couple who originally took over Bangkok when Fred and Lida retired (and I hear that Fred and Lida drop in frequently to enjoy the food at Mai Thai).
Mai Thai, on North May Avenue to the west of Quail Springs Mall, originally opened in early 2009 as Thai Stop. In summer 2012 the name was changed to Mai Thai and a sushi bar was added, but the style of Thai food served is the same as before. This is not just a more modern version of the "old" Bangkok, but Mai Thai has its own menu with a list of items that I think can be considered the restaurant's specialties. I was told that the menu will be further expanded later in 2012 to include some new items as well as some more of the old favorites from Bangkok.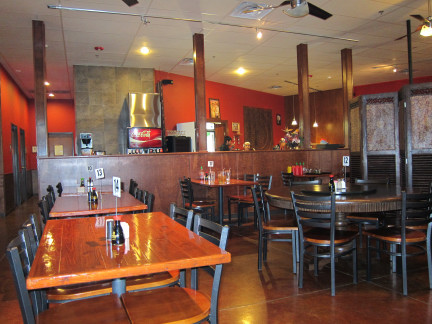 The modern interior of Mai Thai with a sushi bar at the right
Thai Stop opened as a fast food style "bistro" restaurant where patrons paid at the counter when the order was taken, but the new Mai Thai restaurant now takes orders at the table. The old restaurant concentrated on Thai food that could be served quickly, and the same dishes are still available. The new Mai Thai concept, though, offers a choice between items that can be prepared quickly and a list of new offerings (although some of them take longer to prepare). I know the owners are excited about the sushi bar which has been added, but so far I have not tried the Japanese side of the menu. It does give an indication, though, of the way Mai Thai is expanding from the old restaurant.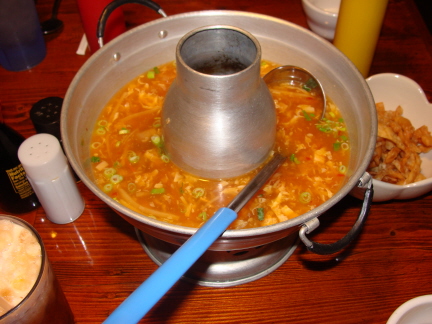 Thai style hot and sour soup made with Lida's recipe
To me probably the best item I recognize as being carried over from the old Bangkok Restaurant is the Thai style Hot and Sour Soup. This soup is so complex and flavorful I think it is worth a visit to the restauant if you have never tried it. This comes in either individual servings or a family style hot pot, and is served with chicken and over a dozen other ingredients (this is Lida's secret recipe). Out of all the Thai restaurants I have tried across the country (literally from Seattle to Orlando) I have never encountered a soup quite like this one , and it is one of my all time favorite Thai dishes.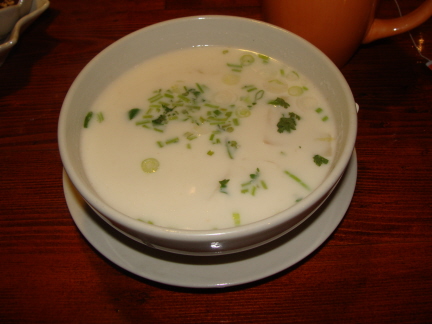 Thom ka gai
Another favorite soup of mine is Thom Ka Gai (coconut chicken soup) that is full of Thai spices and flavor, although it is not at all spicy hot unless it is requested that way. This soup only comes in a large serving (which is the same size as the hot pot shown in the photo of the hot and sour soup). It is probably large enough to be a meal for some appetites, but not for mine. The chicken, though, comes in a substantial portion.
Lemongrass tofu
Lemongrass Tofu was another one of my favorite items at Bangkok, and it was very good when I tried it at Thai Stop. This was not on Thai Stop's menu, but I did not have a problem getting it as a special order (and with the expanded menu at Mai Thai it is my understanding that they welcome any special requests from the "old" Bangkok even if it is not on the menu).
The lemongrass dish is good with tofu or chicken, and I think the flavor of the sauce and the fresh vegetables are what make the dish special. It can be either mild or spicy, but the "default" on it seems to be pretty spicy.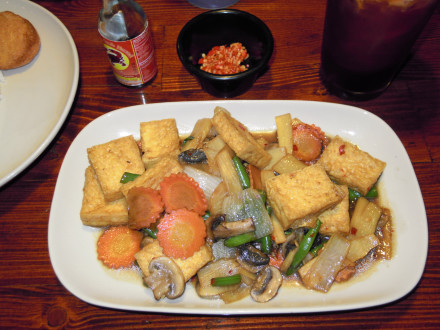 Pad gra prao
Pad Gra Prao (made with basil) is one of the better "new" dishes that I think is a specialty of Mai Thai. Like the lemongrass tofu, I think one of the reasons I like the one here is that the quanity and variety of fresh vegetables served (regardless of the meat chosen) seems much greater than at most restaurants. The basil flavor was quite good, but I can say the same at most other Thai restaurants. I really think that if you appreciate good quality fresh vegetables, a trip to Mai Thai should definitely be considered. Also I am not always happy with the tofu at restaurants, but I really enjoyed the tofu here.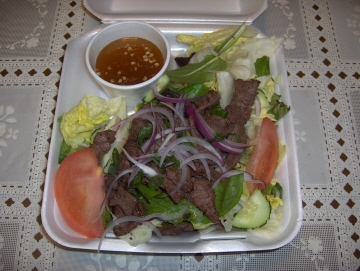 Yum neua
The Yum Neua, or beef salad, sounded interesting, and it turned to to have very fresh vegetables with good quality. The flavor, though, was not quite as vibrant as I have had with other Thai salads.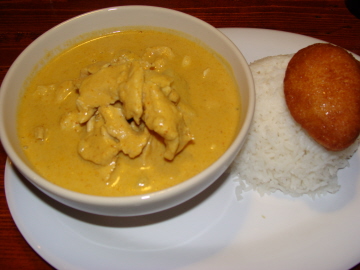 Yellow chicken curry
Yellow Chicken Curry is one of the mildest Thai curries I have tasted, but it has one of the best flavors. There are so many other good things to try at Mai Thai that I seldom get around to the curries, but I think the yellow curry is one of the best.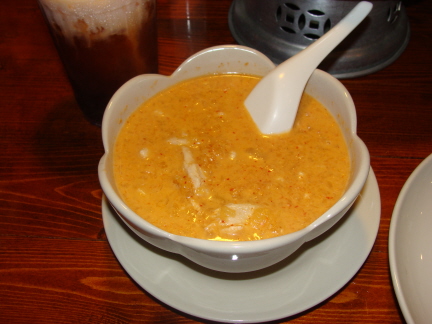 Kang Kua, or pineapple curry with chicken
Kang Kua, or pineapple curry with chicken is sweeter than the yellow curry and seemed to be less spicy, but has a good flavor for those who like it mild. This curry was only served at dinner (after 3 p.m.) at Thai Stop, but the situation may be different at Mai Thai. It is also available with shrimp.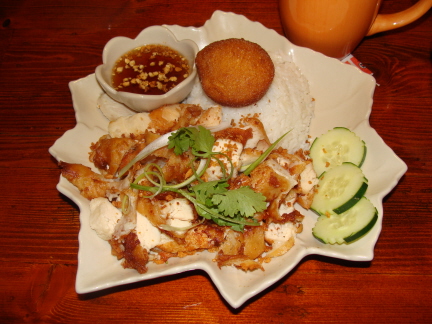 Crispy chicken with tamarind sauce
Before I ordered the Crispy Chicken with Tamarind Sauce I thought it would be a very Americanized dish with a breaded crust and sweet sauce. I have to say, though, that Americanized or not, it is probably one of the best dishes served at the restaurant. The breading had a Japanese style tempura flavor, and the sauce was sweet but complex as Asian sauces should be. I think this dish compares very favorably to the pungent chicken at Saii (another bistro style restaurant that serves both Thai food and sushi). Like Saii, Mai Thai serves good quality chicken that contributes to the enjoyment of the dish.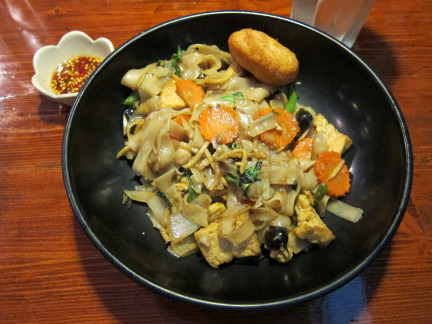 Drunken noodles
The Drunken Noodles had many features that I really enjoyed-- plentiful vegetables such as green beans and mushrooms, a generous amount of basil, and it was spicy to a point that I thought gave a true Thai flavor to this dish. It is always a gamble ordering Thai dishes with tofu, but the one here was excellent with the texture being slightly soft on the inside but crisp on the outside (in other words, cooked just right). The sauce did not seem to be as flavorful as some other Thai dishes, but I generally find this to be the case with drunken noodles.
The Sweet Bread served with every meal is not very exciting to me in itself, but I find it to be a very good thing to have after spicy Thai food to help cool down the mouth (much as sopapillas were designed to tone down spicy New Mexican food).
Mai Thai also serves ice cream for dessert, and although I have not tried it I know that the ice cream served at Bangkok was exceptionally good (and I assume the one here uses the same recipe).
My favorite dishes here tend to be either Lida's recipes from Bangkok Restaurant (such as the hot and sour soup, lemongrass tofu, and tom ka gai) or items that I think are unique to Mai Thai (such as the pad gra prao and crispy chicken with tamarind sauce). Not all of these are spicy, and even the non-spicy dishes are big enough on flavor to be quite satisfying.
RESTAURANT DETAILS
RATING: 22
Cuisine: Thai
Cost: $$
Hours: Closed Sun.
Accessible: Yes
Tea: Jasmine (bags)/ Thai Tea
MSG: Yes
Smoking: No Smoking
Alcohol: No
Buffet: No
Most Recent Visit
Jun. 20, 2012
Number of Visits: 8
Best Items
Lemongrass Tofu, Pad Gra Prao, Crispy Chicken with Tamarind Sauce, Thai Hot and Sour Soup
Special Ratings
Lemongrass Tofu:


Pad Gra Prao:


Crispy Chicken with Tamarind:


Yellow Chicken Curry:


Pineapple Curry with Chicken:


Yum Neua:


Drunken Noodles:


Hot and Sour Soup:


Tom Ka Gai:


Thai Tea:

MORE ABOUT THIS WEB SITE