okgourmet.com&nbsp &nbsp Home of Steve's Restaurant Reviews
Mai Thai (Closed)
14101 N. May Ave.
Oklahoma City, OK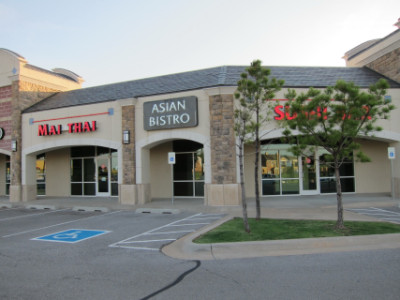 Those who remember the original Bangkok Restaurant on North MacArthur owned by Fred and Lida may have also had their introduction to Thai food there, as I did. I know from comments I have received that many people appreciated the food that was served at Bangkok, as is also the case with me. The good news for many of us is that Lida's recipes live on at Mai Thai, a restaurant operated by Jay and Jang, who originally took over Bangkok when Fred and Lida retired (and who later moved the restaurant to its present location on May Ave.).
Mai Thai, on North May Avenue to the west of Quail Springs Mall, originally opened in early 2009 as Thai Stop. In summer 2012 the name was changed to Mai Thai and a sushi bar was added. The format of the restaurant was also changed so that customers now order at the table instead of going through a line and ordering at the counter as was the case at Thai Stop.
A Thai Stop sign is still visible in the window, and this is the same restaurant as before with the same owners. In fact, I still like to think of it as the Bangkok Restaurant, since the owners have made great efforts to keep Lida's recipes alive and tasting the same as they did at the old restaurant.
The change of the name to Mai Thai, though, does represent some modifications beyond just adding a sushi bar. The owners made a decision to expand the menu in 2012, and they are now getting back to the number of choices that were available at Bangkok (Thai Stop was operating with an abbreviated menu, but if they were not too busy customers could ask for special requests that were not on the menu).
The situation now is that Mai Thai really has the best of both worlds when it comes to Thai food. Some of Lida's recipes from the old Bangkok Restaurant are still served, such as her famous hot and sour soup. Jang has also included many of her own dishes on the menu, something I have been wanting to happen since I started tasting her cooking. This is not really the old Bangkok Restaurant any more, but customers can still get some of the best dishes from Bangkok. Even in cases where I think the food has changed for the better, I am pretty sure people can still ask for the old Bangkok dishes if they desire. It seems that the whole theme of Mai Thai is flexibility, and they will try to prepare the food the way you want.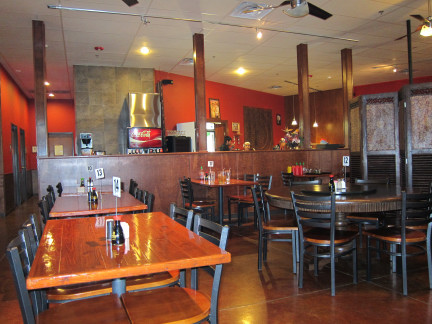 The modern interior of Mai Thai with a sushi bar at the right
I prefer Mai Thai to the former concept at Thai Stop which had a smaller menu. I could not get a copy of Mai Thai's menu, but I know it now includes items I used to have to special order. I have not tried the sushi bar, but it looks as if they have a good selection. A change in concept is usually an excuse for a restaurant to make a hefty hike in the prices, but such does not appear to be the case here. I have to say that I like some items at Mai Thai (and formerly at Thai Stop) much more than others, but the items which are my favorites are the ones that keep me coming back to this restaurant.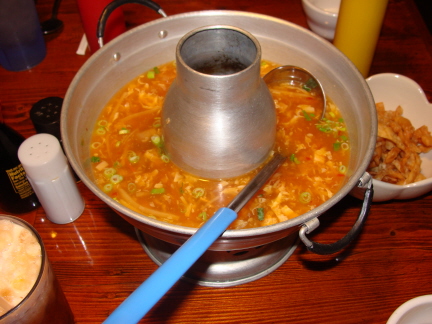 Thai style hot and sour soup made with Lida's recipe
To me probably the best item I recognize as being carried over from the old Bangkok Restaurant is the Thai style Hot and Sour Soup. This soup is so complex and flavorful I think it is worth a visit to the restauant if you have never tried it. This comes in either individual servings or a family style hot pot, and is served with chicken and over a dozen other ingredients (this is Lida's secret recipe). Out of all the Thai restaurants I have tried across the country (literally from Seattle to Orlando) I have never encountered a soup quite like this one , and it is one of my all time favorite Thai dishes.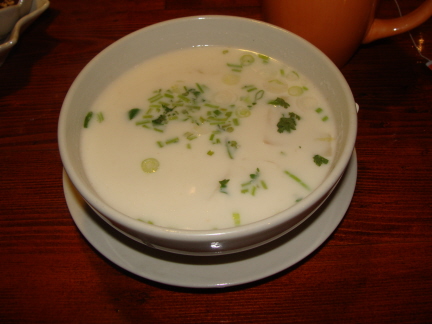 Thom ka gai
Another favorite soup of mine is Thom Ka Gai (coconut chicken soup) that is full of Thai spices and flavor, although it is not at all spicy hot unless it is requested that way. This soup only comes in a large serving (which is the same size as the hot pot shown in the photo of the hot and sour soup). It is probably large enough to be a meal for some appetites, but not for mine. The chicken, though, comes in a substantial portion.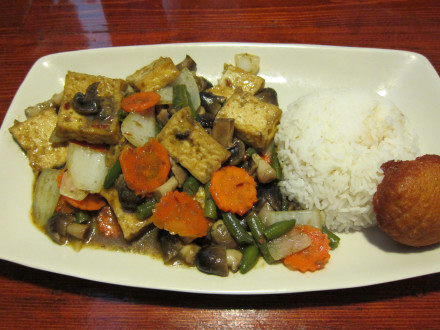 Lemongrass tofu
Lemongrass Tofu has now been added to the menu at Mai Thai, although I had been ordering it by special request as a carryover from Bangkok Restaurant. The dish has been somewhat modified, though, and as much as I liked it at Bangkok, I think it is even better now.
The most impressive thing to me about the latest version is that it tastes as if it has real Thai fish sauce. I knew that Jang had a passion for authentic Thai cooking since she took over Bangkok and then moved to Thai Stop, but the flavor of the lemongrass tofu was something that really took me by surprise (in a very good way). Just like with good Chinese cooking, this Thai dish provided offsetting flavors that were in balance and complemented each other just about perfectly.
The lemongrass dish is also good with chicken, and of course lemongrass is another flavor which is not easy to find in Oklahoma City restaurants. The lemongrass dish can be either mild or spicy, but the "default" on it seems to be pretty spicy.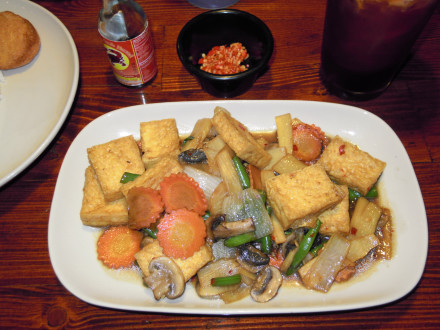 Pad gra prao
Pad Gra Prao (made with basil) is one of the better "new" dishes that I think is a specialty of Mai Thai. Like the lemongrass tofu, I think one of the reasons I like the one here is that the quanity and variety of fresh vegetables served (regardless of the meat chosen) seems much greater than at most restaurants. The basil flavor was quite good, but I can say the same at most other Thai restaurants. I really think that if you appreciate good quality fresh vegetables, a trip to Mai Thai should definitely be considered. Also I am not always happy with the tofu at restaurants, but I really enjoyed the tofu here.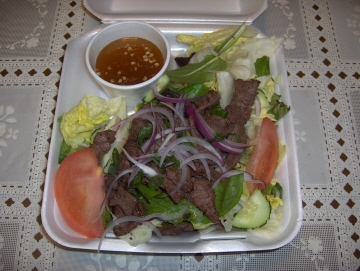 Yum neua
The Yum Neua, or beef salad, sounded interesting, and was one of the things I ordered at Thai Stop. It turned out to have very fresh vegetables with good quality, but was not quite as vibrant as I have had with other Thai salads. I cannot say whether any changes have been made to the version at Mai Thai.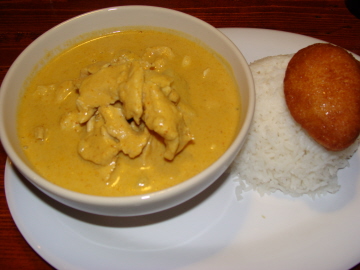 Yellow chicken curry
Yellow Chicken Curry is one of the mildest Thai curries I have tasted (but it was ordered this way by my dining companion). It still had a very good flavor, though, and it is good to know that I can still enjoy flavorful Thai food at times when I do not want anything spicy (which is rare for me, but it does happen).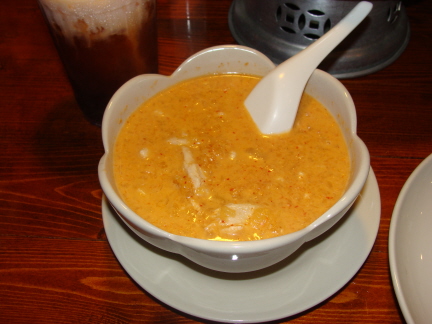 Kang Kua, or pineapple curry with chicken
Kang Kua, or pineapple curry with chicken is sweeter than the yellow curry and seemed to be less spicy, but has a good flavor for those who like it mild. This curry was only served at dinner (after 3 p.m.) at Thai Stop, but the situation may be different at Mai Thai. It is also available with shrimp.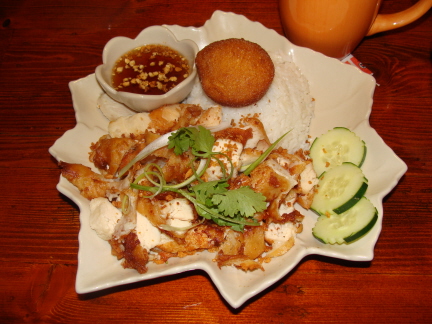 Crispy chicken with tamarind sauce
Before I ordered the Crispy Chicken with Tamarind Sauce I thought it would be a very Americanized dish with a breaded crust and sweet sauce. I have to say, though, that Americanized or not, it is probably one of the best dishes served at the restaurant. The breading had a Japanese style tempura flavor, and the sauce was sweet but complex as Asian sauces should be. I think this dish compares very favorably to the pungent chicken at Saii (another bistro style restaurant that serves both Thai food and sushi). Like Saii, Mai Thai serves good quality chicken that contributes to the enjoyment of the dish.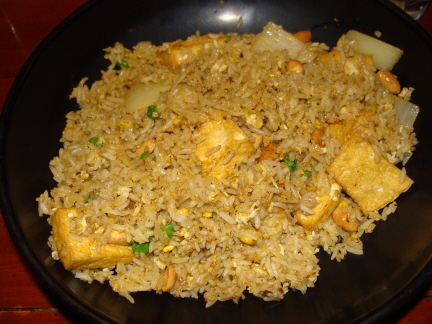 Fried rice Indonesian style
The Fried Rice Indonesian Style sounded very intriguing, but in the end it was much like most other fried rice dishes I have tried. What made it good, though, was the nam pla fish sauce they served on the side by special request. The dish came with yellow curry, peanuts, and tofu (but various meats are also available, which may add more flavor than the tofu).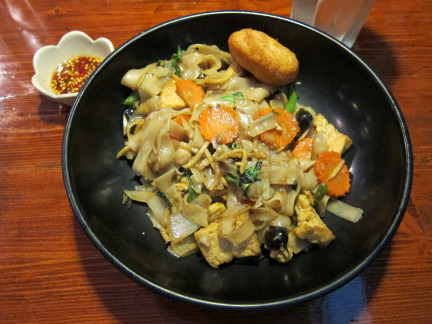 Drunken noodles with a side dish of nam pla fish sauce
The Drunken Noodles had many features that I really enjoyed-- plentiful vegetables such as green beans and mushrooms, a generous amount of basil, and it was spicy to a point that I thought gave a true Thai flavor to this dish. It is always a gamble ordering Thai dishes with tofu, but the one here was excellent with the texture being slightly soft on the inside but crisp on the outside (in other words, cooked just right). The sauce did not seem to be as flavorful as some other Thai dishes, but I generally find this to be the case with drunken noodles.
The Sweet Bread served with every meal is not very exciting to me in itself, but I find it to be a very good thing to have after spicy Thai food to help cool down the mouth (much as sopapillas were designed to tone down spicy New Mexican food).
Mai Thai also serves ice cream for dessert, and although I have not tried it I know that the ice cream served at Bangkok was exceptionally good (and I assume the one here uses the same recipe).
My favorite dishes here tend to be either Lida's recipes from Bangkok Restaurant or items which I identify as Jang's specialties (these tend to be the new items on Mai Thai's menu added since the changeover from Thai Stop).
For people like me who are mainly looking for Thai food made with more exotic ingredients, my advice would be to ask for it when you order, and I believe you will not be disappointed. This type of food usually takes longer to cook than the "fast food" served at Thai Stop, but I found Thai Stop's food to be flavorful as well (but maybe not as authentic).
In any case, they still have all the items served at Thai Stop, many of Bangkok's recipes, and a good variety of Jang's own dishes, so there should be something for everybody.
RESTAURANT DETAILS
RATING: 23
Cuisine: Thai
Cost: $$
Hours: Closed Sun.
Accessible: Yes
Tea: Jasmine (bags)/ Thai Tea
MSG: Yes
Smoking: No Smoking
Alcohol: No
Buffet: No
Most Recent Visit
Jul. 13, 2013
Number of Visits: 10+
Best Items
Lemongrass Tofu, Pad Gra Prao, Thai Hot and Sour Soup
Special Ratings
Lemongrass Tofu:


Pad Gra Prao:


Crispy Chicken with Tamarind:


Yellow Chicken Curry:


Pineapple Curry with Chicken:


Yum Neua:


Drunken Noodles:


Fried Rice Indonesian Style:


Hot and Sour Soup:


Tom Ka Gai:


Thai Tea:

MORE ABOUT THIS WEB SITE