okgourmet.com&nbsp &nbsp Home of Steve's Restaurant Reviews
SUPPLEMENTAL ARTICLES
Relating to Oklahoma Restaurants
Home &nbsp > &nbsp Special Features &nbsp > &nbsp Articles &nbsp > &nbsp Oklahoma Articles
OKLAHOMA CITY, OK--Mai Thai
Jun. 30, 2012: Thai Stop at 14101 N. May Ave. (in the same strip mall as Cafe 7 and Coolgreens) is now Mai Thai, and the good news is that the owners, chef, and food are the same as they have been since Thai Stop opened in 2009. The name has been changed, and along with it the concept has changed from "Thai fast food" where orders were taken at the counter to a sit-down restaurant. I did not find all of the items I would like to have ordered at Thai Stop, but the owners say Mai Thai will soon have an expanded menu (and in the meantime customers can make special requests if they wish). In addition Mai Thai has added a sushi bar, which to date I have not tried (but it does go along with the "Asian Bistro" concept of this restaurant).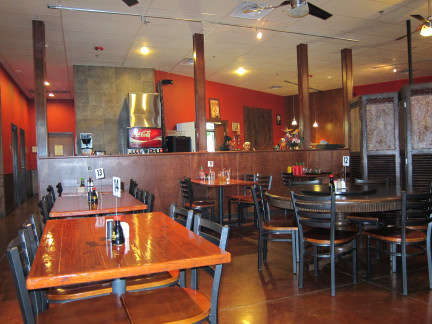 The modern interior of Mai Thai with a sushi bar at the right
One feature of bistro restaurants is that soups and appetizers are ordered a la carte, rather than being included in a "combination plate," but the ones I have tried here have been very worthwhile.
For those who remember the "old" Bangkok on North MacArthur just north of Northwest Expressway, Mai Thai offers several of the items served at Bangkok before 2010 following Lida's recipes as they were prepared at Bangkok.
By the way, I went by Bangkok Restaurant and signs in the window say the building is for rent (and apparently Bangkok has been closed for about a month).
MOST RECENT ARTICLES
are listed on the web site's home page: