okgourmet.com&nbsp &nbsp Home of Steve's Restaurant Reviews
Archived Restaurant Review
A view of the restaurant with its original owners


OKLAHOMA CITY, OK--Bangkok Restaurant
Location: 7906 N. MacArthur Blvd., Oklahoma City, OK
Date of Review: Nov. 2008
Additional Review: Sep. 2009
Restaurant Status: Closed (The couple who took over Bangkok from 2006 to 2009 left and opened Thai Stop on N. May which later became Mai Thai. Mai Thai closed in 2013, and I heard that they moved to Stillwater and opened a Thai restaurant there.)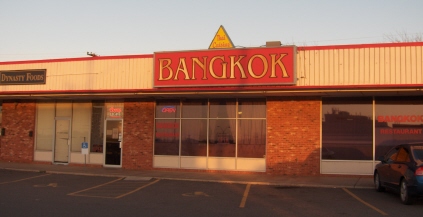 For years Fred and Lida, the owners of Bangkok Restaurant, have established a sizeable and loyal base of customers in a suburban Oklahoma City neighborhood that is largely known for its chain restaurants, American food, and dumbed-down Tex-Mex franchises. The photo gallery on the wall attests to the fact that many people feel the need to spice up their lives with flavorful Thai cuisine. The Evans family have become good friends to many of us, with the down-home atmosphere giving the feeling that we are being served from someone's kitchen rather than being treated merely as patrons at a commercial establishment.
In Spring 2006, however, Fred and Lida sold the restaurant and a long time employee took over as head chef. While this could have resulted in the restaurant being "not the same" as before, I think it is not the same in a good way, with the food arguably becoming more flavorful and authentic than before. The menu is the same as before, but some items sampled recently have been closer to the rich, complex flavors I have experienced in some of the better Thai restaurants around the country.
The soups are definitely recommended as a starting point for a meal, or even a meal in themselves. A hot pot of Thom Ka Gai (coconut soup with chicken) makes a satisfying meal or a great appetizer for several persons. While not being overly spicy unless requested this way, the flavors are interesting and the hot hot keeps it warm until the last bowl is finished (and it is large enough to provide many bowls).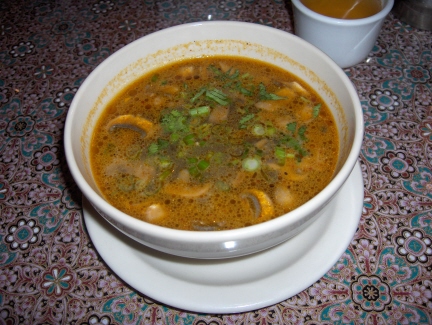 Thom yum kung is a traditional spicy Thai soup
Thom Yum is also a good choice for a flavorful soup. The spice level, though, has increased significantly with the new chef.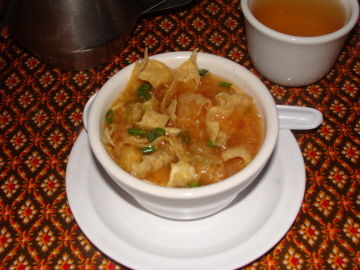 Lida's 18 ingredient hot and sour soup
A personal favorite of my family is Hot and Sour Soup made with 18 ingredients, and while not very spicy has a Thai flavor. This dish, as much as any, exemplifies how Thai food can be flavorful without being incendiary. This soup is far from the dark, watery hot and sour soup served in Chinese restaurants, instead offering a light broth filled with the offsetting flavors of meat, tofu, and vegetables.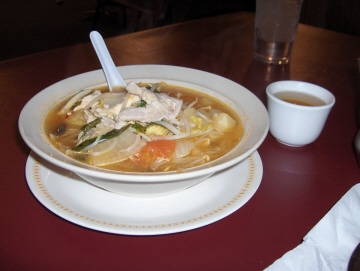 Vietnamese canh chua with pineapple, tomato, bean sprouts, okra, and a choice of meats
Bangkok also serves some Vietnamese dishes on request that were brought to the restaurant by a long time cook and have been served as specials in the past. One of the best is a Vietnamese Hot and Sour Soup that is served in a large bowl for an entrée or to be shared as an appetizer. Known as canh chua in Vietnamese restaurants, I had looked in vain for a really good version in Oklahoma until I tried the one at Bangkok Restaurant. Although this is not a Vietnamese restaurant, I am going to start thinking about it for this type of cuisine. The ingredients for this soup are not always available, though, so it may be best to call ahead if you want to order it.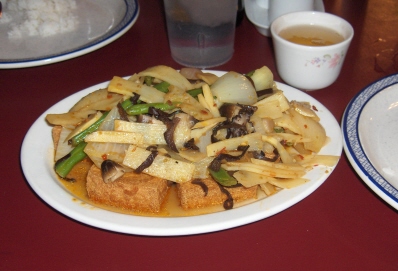 Lemongrass Tofu
Lemongrass Tofu (a variation of lemongrass chicken that is listed on the menu) was probably my favorite dish at the "old" Bangkok Restaurant. I wondered whether this was a "real Thai" dish since it was not very spicy and I did not normally see it on the menu at Thai restaurants. There is probably nothing more characteristic of Thai cooking, though, than lemongrass, and I certainly enjoyed the dish here. The new chef has increased the spice level so that I can now barely eat it at the "medium" level, while before I always had to order it "spicy." The recipe also seems to have been changed slightly from the old days, but it has not changed from being one of my favorite dishes. Even though it is good with chicken, the tofu served here seems superior to the varieties served in many Thai restaurants, and I think is one of the best features of the dish.
One dish I have enjoyed is Pad Pet Moo, a delicious curry with green beans, cabbage, and other vegetables. Made without coconut milk, it had a lighter flavor than normal curry. This dish is fairly close to pad prik king which is not on the menu, but obviously the various themes and styles of Thai cooking run throughout the backgrounds of the chefs who have come to the U.S. to serve this Southeast Asian cuisine.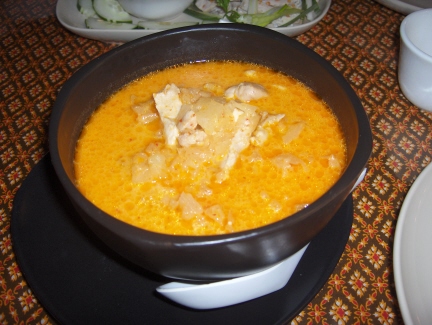 Mildly spiced yellow chicken curry
Some curries have a barely discernable spice level, such as the Yellow Curry served with chicken and pineapple (although I think it can be made spicier if desired). The flavor of the yellow curry was very good.
For something that seems to be truly representative of the type of food Thai people enjoy, several salads are available. Yum Neua is an example of a Southeast Asian style salad with smoked beef, lettuce, tomato, cucumber, onions, and a spicy sauce made with lime juice. The spice level is not for the faint of heart, but the cucumbers and other salad ingredients are meant to cool off the tongue. This salad is probably meant to be shared, but I found it to be the right size for a meal.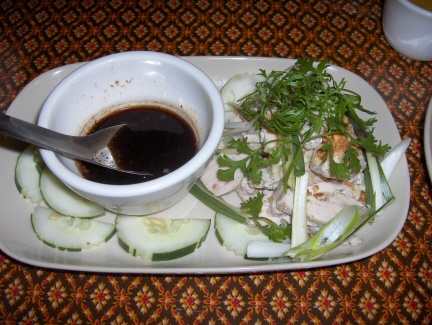 Ginger chicken
Ginger Chicken is a non-spicy dish with quite a bit of flavor. It reminds me a lot of Chinese dishes on which ginger sauce is applied.
Kwun-Po Chicken was an unexpected treat at the restaurant. The owners serve Chinese dishes for customers who prefer something more familiar than the exotic Thai dishes listed on the menu, or when a group of customers come and some people are just not ready for Thai food. (Many people think Thai food is quite spicy, and lately at Bangkok I have found that it really is). Thailand has a substantial population of ethnic Chinese, and I have read that they tend to blend Thai and Chinese ingredients for their own style of Chinese food. Bangkok's kwun-po chicken seems to reflect this style of cooking with a light complex flavored sauce that I have found in some very good Sichuanese style restaurants (not the dark soy sauce based "kung pao" sauce that is more generally found at Chinese restaurants). While both types of sauces are probably equally authentic, Bangkok offers something a little bit different than is typically found in Oklahoma City, and I think in some ways a lot better.
The Jasmine Tea is brewed with loose leaves, and is about as good as I have found in OKC.
The Thai Tea, however, is made from scratch, and is so good compared to the ones that most restaurants serve that it really should be experienced at Bangkok.
A high point of the restaurant is the Home Made Ice Cream (this is not just hype--this ice cream really is home made). I am sorry that I ever tried it, because now it presents such a temptation to offset any benefits I get from eating healthy Thai food with the fastest waistline expander I know.
I used to find that Bangkok served a default non-spicy style of food unless customers requested otherwise (and I am not sure even this request would bring it to the true Thai heat level). Lately, though, I have come to expect hotter, more "Thai" tasting food. It should be noted that the Asian restaurant scene in OKC has changed quite a bit in recent years, and more customers are accustomed to spicy Asian food than in the past. There are still some dishes served that I do not think taste "Thai" at all (they are quite Americanized). This mixture of Thai, Chinese-Thai, and Americanized food can be somewhat confusing, but I would suggest telling the server if you are looking for the spicy Thai dishes (the new menu also has chile symbols indicating the heat level of the Thai dishes). I am pretty confident now that the Thai food served is the "real deal." It was probably the "real deal" before, if you knew how to order it (but I was on the "Thai learning curve" myself until I tasted the "real thing" on the west coast).
It is unfortunate that Bangkok Restaurant is locatated in a particularly poorly planned strip shopping center in which it is very difficult to find the entrances from MacArthur Boulevard at night. The food, however, is worth a trip.
Fred and Lida built up a following of customers who have been fiercely loyal over the years, and for good reason. They helped us learn what Thai food was, and I think over time helped us discover some of the variety found in the cuisine. There is no doubt, though, that they left the restaurant in good hands with the new owners. I enjoyed the restaurant before, but I have been more than impressed with many of the new things I have tried since Bangkok changed hands.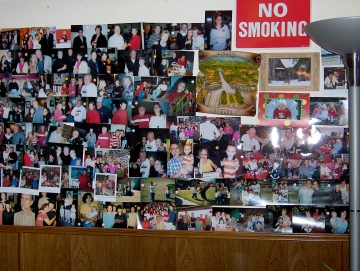 Bangkok has photos of customers who have come over the years
RESTAURANT DETAILS
RATING: 22
Cuisine: Thai
Cost: $$
Hours: Closed Sun.
Accessible: Yes
Tea: Jasmine (loose leaves)
MSG: Yes
Smoking: No Smoking
Alcohol: Beer
Special Features: Lunch specials Mon.-Fri.
Most Recent Visit
Oct. 31, 2008
Number of Visits: 10+
Best Items
Hot and Sour Soup, Lemongrass Tofu, Pad Pet Moo, Vietnamese Soup, Ice Cream
Special Ratings
Lemongrass Tofu:


Pad Pet Moo:


Cashew Chicken:


Drunken Noodles:


Pad Zee Eeu:


Thom Ka Gai Soup:


Thom Yum:


Yum Neua:


Vietnamese Soup:


Kwun-Po Chicken:


Hot and Sour Soup:

with chicken
Thai Tea:

Restaurant Menu
Bangkok menu
MORE ABOUT THIS WEB SITE