okgourmet.com&nbsp &nbsp Home of Steve's Restaurant Reviews
SUPPLEMENTAL ARTICLES
Relating to Oklahoma Restaurants
Home &nbsp > &nbsp Special Features &nbsp > &nbsp Articles &nbsp > &nbsp Oklahoma Articles
OKLAHOMA CITY, OK--Mai Thai Closes
Oct. 8, 2013 (Part 3): Jang from Mai Thai says that they are looking for another location to re-open the restaurant, so apparently this may happen sometime in the near future. It would be very good news to find out that the food from Bangkok/ Thai Stop/ Mai Thai is not gone for good.
Oct. 6, 2013 (Update): I just found out that Mai Thai Restaurant at 14101 N. May in Oklahoma City has closed. In its place a second location of Panang Thai Restaurant has opened (the original Panang is in south Oklahoma City). I have heard good things about Panang, and I hope this will be a good addition to the north OKC dining scene.

Hopefully I will be able to find another version of lemongrass tofu similar to the one I got at Mai Thai. This was a unique dish that really added to my Thai food experience. I have similar feelings about the hot and sour soup that was served at the old Bangkok Restaurant on North MacArthur, and continued to be made available at Mai Thai.

More importantly, though, I really enjoyed the people at Bangkok, then Thai Stop, then Mai Thai (three versions of the same restaurant), and I wish them well in whatever they do.
Oct. 3, 2013 (Original Post): Asian cuisine is replete with ingredients that have had little exposure to most North Americans. One reason Asian restaurants have become so popular is that most people feel that they will be safe from strange, exotic, or repulsive food items which may be quite acceptable in other lands but not here.

My focus is not to unknowingly subject readers to such unfamiliar food, but to either identify items I think people would like if they tried it or to identify them for those from these countries who are used to this type of food. Reporting on authentic ethnic restaurants is not the same as recommending them, but when I recommend foods not familiar to most Americans it is because I believe many people will like these items if they try them.

One item which seems to be a foundational element to Southeast Asian cooking is fish sauce. I know that some Vietnamese restaurants in suburban neighborhoods (and probably some Thai restaurants) use Americanized versions of this sauce. For those who prefer the restaurants in the Asian District, the use of a more authentic sauce is probably one of the reasons. "Fish sauce" is a pretty generic term, and there is a whole range of sauces made with different kinds of fish and seafood, as well as different qualities. I am more concerned that a sauce be good than that it be authentic.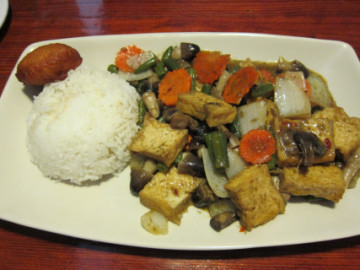 Lemongrass tofu at Mai Thai
I was very impressed with the flavor of the sauce at Mai Thai across from Quail Springs Mall (which was formerly known as Thai Stop). The lemongrass tofu dish I ordered had the definite taste of a very good Southeast Asian style fish sauce, the type that gives some of the distinctive flavors to Thai food in larger cities where I have experienced it. In fact, it was the same type of flavor I have found in certain Oklahoma City restaurants, but mostly Vietnamese restaurants in the Asian District. I will not go out on a limb and say that certain restaurants are authentic and others are not, but Mai Thai certainly tasted like the very good authentic Thai food I have found elsewhere (in restaurants reputed to be high quality as well as authentic).
In the desire to expand one's horizons with different cuisines, I believe a very good Thai or Vietnamese restaurant is an excellent place to start. My most recent experience at Mai Thai is a good indication that this restaurant falls in that category.
MOST RECENT ARTICLES
are listed on the web site's home page: