okgourmet.com&nbsp &nbsp Home of Steve's Restaurant Reviews
Capers Mediterranean Buffet
6317 N. Meridian Ave.
Oklahoma City, OK
(405) 720-2600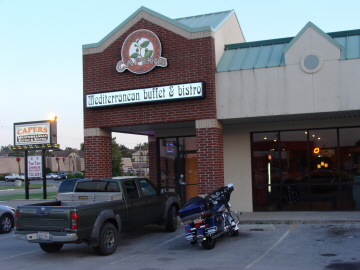 The official name of this restaurant is Capers Mediteranean Buffet & Bistro, but as of its opening in September 2012 it is only a buffet and not a bistro. The price of $11.95 was not too bad for the quality of food that is served (although I had seen $9.99 mentioned on web sites as the price they were going to charge). The employees stated that the "bistro" part (being able to order from the menu) may come later, but they do not have that option at present.
I should mention up front that just about everything in the buffet was fresh, and I thought they had a higher percentage of items that were still hot than I normally find in buffets. I did not see a lot of items replenished which makes me think it is best to go fairly early (as I did). All I know is that for me it was a good experience as far as buffets go (and on my second visit it was equally good).
The main good feature of Capers is that it is the "real deal" when it comes to Mediterranean food-- they offer good meats, a good selection of vegetables and salads, and it has flavors that live up to its name as "Mediterranean." On an item by item basis there were few that matched up to some of the city's better Mediterranean restaurants, but the main advantage was having so many different items together in one meal with so few of them being disappointments in terms of taste and freshness.
Another feature they "may introduce later" is serving Middle Eastern style hot tea-- for now they have the standard selection of soft drinks and iced tea.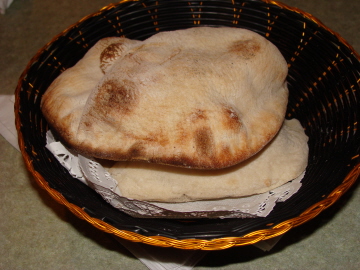 Bread basket
Bread is brought to the table in a basket, and customers can go to a large warmer on the serving line to get more. This was a freshly baked pita that I thought was quite good, and that goes well with many of the dips and salads.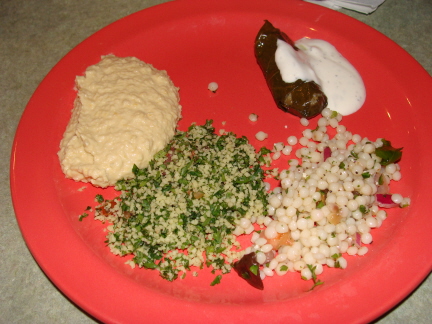 Hummus, tabouleh, cous cous, and grape leaves
The "salad bar" is part of the buffet, and includes many items I normally think of as vegetables. For instance the Hummus (which I normally eat as a vegetable) was turned into a dip served in a large tray. This was probably my least favorite item from the whole buffet, and I thought it was quite a disappointment compared to Nunu's or Camilya's (but these restaurants prepare it in a different way with olive oil on top). I thought the hummus at Capers had so much garlic it did not have a good flavor to me.
The Tabouleh was dry but had a good flavor, and I thought they did a good job with it.
The Cous Cous was also good, but possibly with too much garlic.
The Grape Leaves were very good, and were similar to the ones in some of the city's best Middle Eastern restaurants.
The Fatoush Salad was excellent, and because the buffet really offers too many items to try in one meal, I did not find out about the fatoush until my second visit.
Spinach Salad is another item from the salad bar that I think is one of the best choices.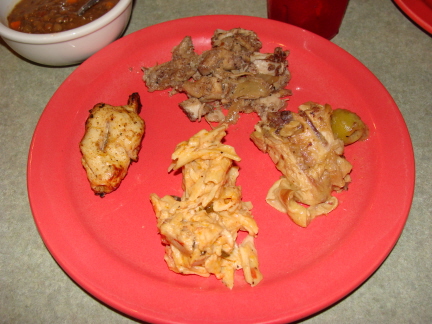 Chicken kabob (left), penne pasta with chicken (front), rotisserie chicken (right), and chicken shawarma (back)
For a buffet it is rather hard to get good photos since I do not want to load up a plate so much that people cannot see the items, but on the other hand the plate with the chicken items looks rather sparse. This is just the way I like to try things, though, and of course people can go back as many times as they like for refills.
Overall the chicken items were worthy of getting refills, and I thought they were one of the best parts of the buffet. I was told that the beef was equally good, but I had my hands (and stomach) full with just the chicken. On my second visit I found the chicken to be equally good with the exception of the chicken with penne pasta.
My favorite chicken item on both visits was the Chicken Kabob, which I thought had the same flavor and quality as some of the better Mediterranean restaurants such as Nunu's. This alone might have made the buffet worthwhile, except that all the other chicken items gave a variety which is not found when going to restaurants where you order from the menu.
The Penne Pasta with Chicken was a delight because it was so much better than ones I usually find in restaurants. The second time I was at Capers I found the penne pasta to be a little dry and disappointing, but still good (and still better than at most restaurants).
The Rotisserie Chicken was good quality but had a flavor that tasted less Middle Eastern to me than some of the other chicken items.
The Chicken Shawarma had a good seasoning and flavor, but tasted a little greasy.
I read from another source that the Fried Chicken was made using the recipe from the old Sleepy Hollow Restaurant that was a long time Oklahoma City favorite. Personally I have a hard time saying the fried chicken at Capers is as good as Sleepy Hollow, but it is pretty close.
The Pizza was good, and was certainly better than many I have tried in the city.
Although buffets many times emphasize quantity over quality, I found good quality at Capers, particularly when trying the different chicken dishes. Having such a great variety of different side dishes was a bonus because many of them were quite good as well.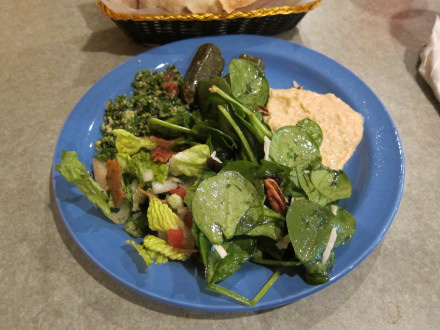 Counter-clockwise from the left: fatoush salad, spinach salad, hummus, grape leaves, tabouli
The vegetables were generally the weakest part of the meal, but some of the salads and soups were excellent. Particularly good were some of the soups of the day, such as the Moroccan Minestrone (a vegetarian version of minestrone soup).
The Lentil Soup on my first visit was cold, but this was not typical of the other items on the buffet.
The Falafel was a major disappointment, being hard, dry, and salty. Sometimes when Nunu's has a off day it serves falafel that is somewhat dry, but nothing to the extent that I found at Capers.
The desserts as a whole were excellent, but individually I thought better versions could be found at other restaurants such as baklava (Nunu's and Camilya's), bread pudding (Cajun King), and rice pudding (Taj). Bread pudding is probably the best dessert served at Capers (and was something I enjoyed on both visits to the restaurant).
Between the main dishes, side dishes (such as the soups and salads), and desserts, I thought Capers provided an excellent meal. I am aware of many buffets that started out great but decreased in quality as time went by (and/or they increased the price). I usually prefer to go to places where I can order from the menu, but if Capers maintains the quality it has at present it can compete with many of the traditional Mediterranean restaurants. It would probably be even better with hot Middle Eastern style tea, but I am not as concerned with adding the "bistro" part of the restaurant as long as the buffet continues to deliver the type of food that it does.
RESTAURANT DETAILS
RATING: 23
Cuisine: Mediterranean
Cost: $$
Hours: Open Daily
Accessible: Yes
Smoking: No Smoking
Special Features: Buffet
Most Recent Visit
Dec. 8, 2012
Number of Visits: 2
Best Items
Chicken Kabob, Penne Pasta with Chicken, Fried Chicken, Fatoush Salad, Bread Pudding
Special Ratings
Chicken Kabob:


Rotisserie Chicken:


Chicken Shawarma:


Fried Chicken:


Penne Pasta with Chicken:


Pizza:


Grape Leaves:


Hummus:


Tabouleh:


Cous Cous:


Lentil Soup:


Moroccan Minestrone:


Tomato and Cheese Soup:


Fatoush Salad:


Spinach Salad:


Falafel:


Green Bean Sharmoula:


Rice Pudding:


Bread Pudding:


Baklava:

MORE ABOUT THIS WEB SITE