okgourmet.com&nbsp &nbsp Home of Steve's Restaurant Reviews
Capers Mediterranean Buffet (Closed)
6317 N. Meridian Ave.
Oklahoma City, OK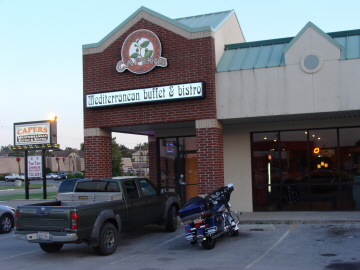 After six visits to Capers my worst fears about the restaurant were confirmed-- that the buffet style food could not maintain its initial quality and would gradually start a downhill slide. I still think Capers is good overall, and continues to be much healthier than the buffet restaurants you could find as an alternative. All buffets, though, seem to change over time.
In the case of Capers, though, I can say, "First, the good news...". The good news is that the salads, tabouleh, hummus, and even the grape leaves seem to be better than when the restaurant first opened (and by this I mean that they are consistently better). In fact, some of these items have become competitive with some of the city's best Mediterranean restaurants.
Not many of Capers' best items have gone downhill (this qualifies as "neutral" news-- not good and not bad). Instead, though, they are being seved in limited quantities. On my visit in September 2014 they were out of what I consider to be the two best items-- rotisserie chicken and shawerma chicken. Other items had gone downhill (such as the fried chicken and chicken kabob), and the bread pudding had gone way downhill. There were plenty of good items in the buffet, but it is almost to the point that before loading up on particular foods I have to take samples of several items to see what is good that day (it is a buffet, after all).
While my ratings of individual items attempt to reflect the most up to date conditions, readers should take all of these with a grain of salt. Any items at Capers can vary from day to day, and I also think they vary over time. I am glad that some items seem to be better than before, but the inconsistencies of operating a buffet are becoming evident.
Although the restaurant is called Capers Mediteranean Buffet & Bistro, I do not think there is anything here other than a buffet. I have asked about ordering individual items, and they have told me that this might come "later." The price of the buffet is not too bad, and they do have some discounts (such as for seniors). With tax I think the price for two people comes out to about $25 (and I think this is a pretty good price).
The flavor of almost everything is good, and in fact much of it is excellent. The main problem seems to be in some things being overcooked and dry, or in just running out of some items.
Some items are rotated as daily specials, giving a little bit more variety (although I have found that the best items are those which are on the menu every day).
In 2014 they started offering hot tea, although it is not Middle Eastern style. All drinks (including iced tea and pop) are included in the price of the buffet.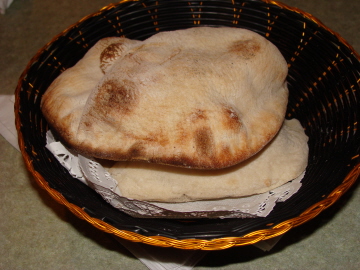 Bread basket
Bread is brought to the table in a basket, and customers can go to a large warmer on the serving line to get more. This was a freshly baked pita that I thought was quite good, and that goes well with many of the dips and salads.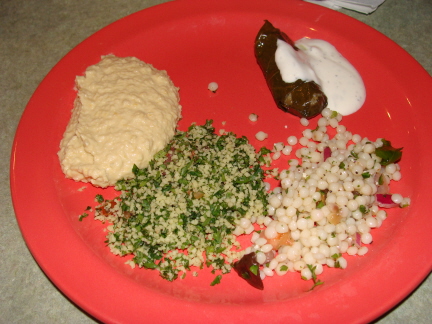 Hummus, tabouleh, cous cous, and grape leaves
The "salad bar" is part of the buffet, and includes many items I normally think of as vegetables. For instance the Hummus (which I normally eat as a vegetable) was turned into a dip served in a large tray. This started out as my biggest disappointment at Capers, but now is quite good.
The Tabouleh was dry at first, but now has also been much improved.
The Cous Cous started out with too much garlic, and now I think is much better.
The Grape Leaves are very good, and are similar to the ones in some of the city's best Middle Eastern restaurants.
The Fatoush Salad was excellent, and because the buffet really offers too many items to try in one meal, I did not find out about the fatoush until my second visit.
Spinach Salad is another item from the salad bar that I think is one of the best choices.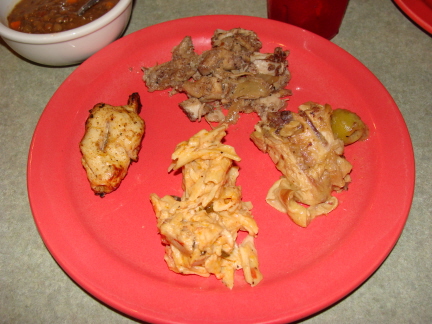 Chicken kabob (left), penne pasta with chicken (front), rotisserie chicken (right), and chicken shawarma (back)
For a buffet it is rather hard to get good photos since I do not want to load up a plate so much that people cannot see the items, but on the other hand the plate with the chicken items looks rather sparse. This is just the way I like to try things, though, and of course people can go back as many times as they like for refills.
Overall the chicken items were worthy of getting refills, and I thought they were one of the best parts of the buffet. There is usually a choice of several chicken items.
My favorite chicken item on my first visits was the Chicken Kabob, but this has now been replaced by the rotisserie chicken and chicken shawarma (discussed in the next paragraphs). The kabobs lately have been rather dry.
The Rotisserie Chicken was good quality but had a flavor that tasted less Middle Eastern to me than some of the other chicken items. It does not matter, though, because this is probably Capers' best item.
The Chicken Shawarma had a good seasoning and flavor, but tasted a little greasy at first. Now, though, I do not think the "greasy" designation still applies.
The Penne Pasta with Chicken was a delight because it was so much better than ones I usually find in restaurants. Gradually they seem to be reducing the amount of chicken in it, but it still has a very good flavor.
I read from another source that the Fried Chicken was made using the recipe from the old Sleepy Hollow Restaurant that was a long time Oklahoma City favorite. This was short lived, though, and I heard that the chef from Sleepy Hollow is no longer at Capers. The fried chicken has been disappointing on my most recent visits to Capers, and I would say to go to Cajun King (a mile west on N.W. 63rd St.) if your main goal is to get fried chicken.
The Pizza was good, and was certainly better than many I have tried in the city.
Although buffets many times emphasize quantity over quality, I found good quality at Capers, particularly when trying the different chicken dishes. Having such a great variety of different side dishes was a bonus because many of them were quite good as well.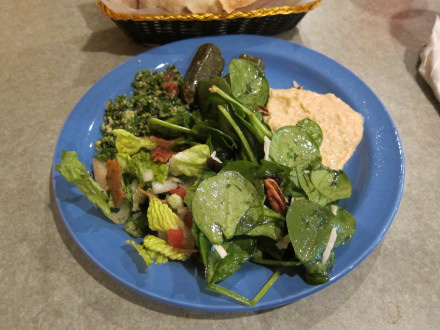 Counter-clockwise from the left: fatoush salad, spinach salad, hummus, grape leaves, tabouli
The buffet is divided into a part for vegetables and one for salads (including tabouleh and hummus). I generally like to get most of my side dishes from the salad section, especially now that some of them seem to be much improved. A few of the items from the vegetable section are also very good (such as the Moroccan Minestrone, a vegetarian minestrone soup served as a daily special on one of my visits).
The Lentil Soup is generally not as good as at other Mediterranean restaurants, but which is something I usually like to include as part of my meal here.
The Falafel has been a major disappointment, being hard, dry, and salty.
The desserts as a whole were excellent, but individually I thought better versions could be found at other restaurants such as baklava (Nunu's and Camilya's), bread pudding (Cajun King), and rice pudding (Taj). Bread pudding is probably the best dessert served at Capers (with the rice pudding also being a good choice).
Of course the good part of a buffet is that you get such a wide choice of items, and this is really why I continue to enjoy my visits to Capers.
My Comments in a Nutshell
What I like most:
Here I can usually get all of my favorite Middle Eastern items in one meal (at other restaurants it would be too expensive to order all of them at the same time). *** Update Dec. 2014 I have heard that they have started restricting the meat items unless you pay extra
In my opinion the quality of the food is not at the same level as Camilya's, Nunu's, Travel By Taste, or some of the city's other best restaurants, but it is very close (and Capers has several items which are quite good).
The chicken items are very good, and these alone justify the price of the buffet. *** Update Dec. 2014 Meat items are no longer served buffet style, but vegetables are still "all you can eat."
Disappointments:
They sometimes do not prepare enough of their better items (on one visit they were out of both the rotisserie chicken and the chicken shawarma) *** Update Dec. 2014 They are now charging for each meat item ordered, so at least this should solve the problem of them running out of some items.
Things to know:
My overall rating of the restaurant has remained pretty constant, but individual items vary greatly from visit to visit because of the fact that they are put out in a buffet line (and are not cooked individually by the customer's order).
Capers offers senior discounts, other discounts, and a reduced price at lunch.
Everything is included in the price of the buffet including drinks. *** Update Dec. 2014 Meats are no longer included in the all-you-can-eat buffet, and I do not know about drinks.
Like any buffet I think it is best to go as early as possible to get the freshest food, but I have found that after 8 PM the buffet is at least 90% as good as at earlier hours.
Pizza, fried chicken, and other items are available which I think would make it a good place to take kids (but there are plenty of more healthy items they would probably like also).
I do not see any obvious problems for handicapped access except that some of the parking spaces might have an incline.
RESTAURANT DETAILS
RATING: 23
Cuisine: Mediterranean
Cost: $$
Hours: Open Daily
Accessible: Yes
Smoking: No Smoking
Special Features: Buffet
Most Recent Visit
Sep. 29, 2014
Number of Visits: 6
Best Items
Rotisserie Chicken, Shawerma Chicken, Fatoush Salad
Special Ratings
Chicken Kabob:


Rotisserie Chicken:


Chicken Shawarma:


Fried Chicken:


Penne Pasta with Chicken:


Pizza:


Grape Leaves:


Hummus:


Tabouleh:


Cous Cous:


Lentil Soup:


Moroccan Minestrone:


Tomato and Cheese Soup:


Fatoush Salad:


Spinach Salad:


Falafel:


Green Bean Sharmoula:


Rice Pudding:


Bread Pudding:


Baklava:

MORE ABOUT THIS WEB SITE