okgourmet.com&nbsp &nbsp Home of Steve's Restaurant Reviews
SUPPLEMENTAL ARTICLES
Relating to Oklahoma Restaurants
Home &nbsp > &nbsp Special Features &nbsp > &nbsp Articles &nbsp > &nbsp Oklahoma Articles
OKLAHOMA CITY, OK--Capers Mediterranean Buffet
Sep. 29, 2012: Capers Mediterranean Buffet opened earlier this month, and offers a good selection of high quality food. I thought the meat was the highlight of the meal, and there was so much variety I could not try all of them.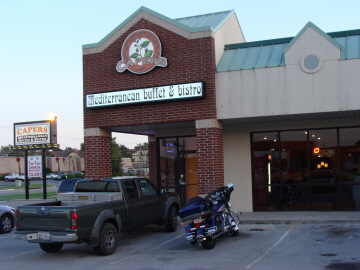 Capers in Oklahoma City
I normally have light meals at Mediterranean or Middle Eastern restaurants, so Capers was more expensive than I usually pay. If my purpose is to load up on meat, though, I think Capers is a good value.
Capers is a particularly good value when considering the wide variety of desserts (all of which were very good). The rice pudding was probably my favorite.
Vegetables overall were somewhat of a letdown, but I really enjoyed the grape leaves. The tabouleh and fatoush salad were also good.
Overall it provided a good variety of food groups and flavors, while maintaining a high quality throughout.
MOST RECENT ARTICLES
are listed on the web site's home page: