okgourmet.com&nbsp &nbsp Home of Steve's Restaurant Reviews
Sleepy Hollow Restaurant (Closed)
1101 N.E. 50th St.
Oklahoma City, OK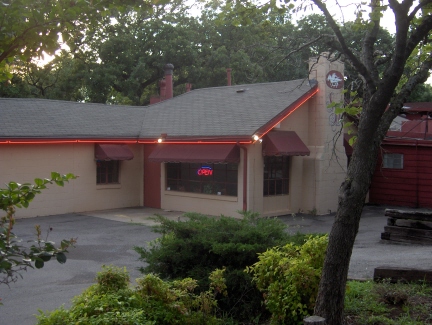 The widely circulated rumors of Sleepy Hollow's closing are not true, although it has faced a somewhat difficult task in reopening after the original owners retired. Yes, Sleepy Hollow is now operating with new owners who have done their best to continue the same high quality food many of us consider as an institution in Oklahoma City dining.
Sleepy Hollow, located in a wooded suburban area north of the State Capitol, has long been known for its fried chicken. I was told that I should try the steaks, but with so many good steak houses in OKC and so few places that serve truly outstanding fried chicken, so far I have just stuck with what I think is Sleepy Hollow's claim to fame.
The rumors of the restaurant's closing were not helped by the fact that I tried to call Sleepy Hollow several times with no answer (I believe the number listed in the previous phone directory was not correct, but in any case the phone problem should now be fixed). The bad news is that many glitches have occurred in the reopening process, and the restaurant certainly does not have the large crowds that used to be found. The good news, though, is that any problems the restaurant has had have not affected the food, which seems to be as good as at the "old" Sleepy Hollow.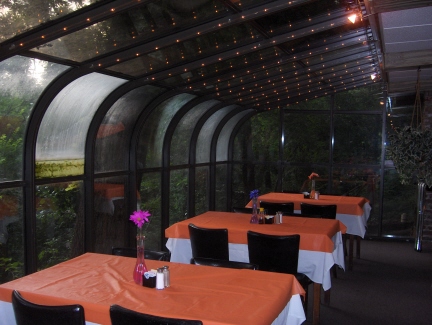 The glass enclosed dining room
One very nice feature of Sleepy Hollow is its glass enclosed dining room (one of two dining rooms available) that overlooks an adjacent wooded creek. A large screen television that is usually playing keeps it from being a quiet place for contemplation, the idea I probably had when I first thought of a creek flowing nearby, but I do not remember the "old" Sleepy Hollow ever being that quiet either.
The glass dining room used to serve as the bar, but when the original restaurant closed it dropped its liquor license, and the new owners have been unable to renew it. I'm sure this has been a devastating blow for a restaurant so close to the State Capitol, but for anyone content to order iced tea this is still an excellent place to come.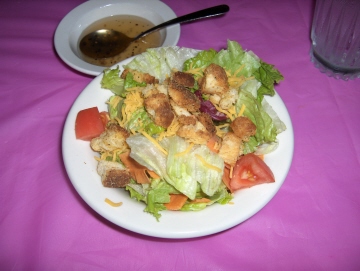 Sleepy Hollow's salad
Salad is included as one of the side item choices with dinners, and since the chicken seems to take about a half hour to cook, I would say it is an excellent idea to start with the salad while you are waiting. Any salad sprinkled with grated cheddar cheese is not my idea of a great one, but the one here was good. The lettuce was fresher than most, and the tomatoes were not too bad. I probably enjoyed the croutons more than most, which is good because there were more of them than usual. The dressing was good, and I believe I got the one the waiter recommended.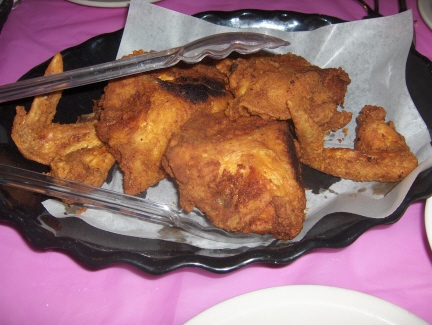 Fried chicken served family style
Fried Chicken orders come in various sizes to feed any number of persons, and the flavor is just about unmatched. Like Eischen's Bar in Okarche, northwest of Oklahoma City, Sleepy Hollow seems to take patrons back in time when fried chicken was a special treat, and there was a special art in preparing it. These are the two places I have found that still have the "old fashioned" fried chicken that we used to all love before too much of it seemed to fall into mass production. I cannot say any more about Sleepy Hollow's fried chicken than to say it was as good as I anticipated.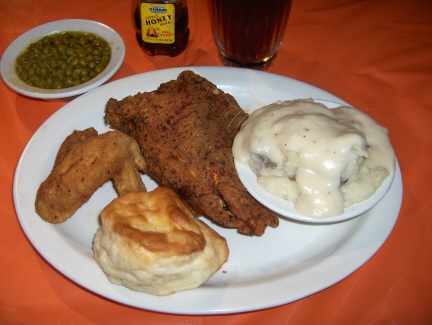 An order of white meat
On my first visit to Sleepy Hollow I wanted an order of all white meat (shown in the above photo), and of course it was excellent. My preference now, though, is to get a mixed order, since I have found the dark and white meat to be equally good. To me this is one of the main differences between good quality chicken (such as is served here) and the "commercial" chicken I find in many places where the dark meat is pretty much flavorless, greasy, and unsatisfying.
The Mashed Potatoes were also quite good, and the waiter indicated the side dishes were "all you can eat" (and more would be provided if requested).
I enjoyed the Peas although more than likely they came from a can.
The Biscuits were not quite as light and fluffy as I remembered from before, but my memory could be faulty. They were good enough, though, that I thought they made the meal a lot more enjoyable.
I hope others discover the "new" Sleepy Hollow, that seems to have captured so much of the old one. I applaud the owners' efforts to continue the tradition.
RESTAURANT DETAILS
RATING: 23
Cuisine: American
Cost: $$
Accessible: Yes
Smoking: No Smoking
Alcohol: No
Most Recent Visit
Aug. 15, 2008
Number of Visits: 2
Best Item
Fried Chicken
Special Ratings
Fried Chicken:


Mashed Potatoes:


Salad:


Biscuits:

MORE ABOUT THIS WEB SITE