okgourmet.com&nbsp &nbsp Home of Steve's Restaurant Reviews
SUPPLEMENTAL ARTICLES
Relating to Oklahoma Restaurants
Home &nbsp > &nbsp Special Features &nbsp > &nbsp Articles &nbsp > &nbsp Oklahoma Articles
OKLAHOMA CITY, OK--Capers Mediterranean Buffet
Apr. 5, 2013: In making my first post of 2013, the first order of business is to explain why this site has been inactive for so long. Just after Christmas my computer was hit with a combination of a virus and damage that apparently came from a lightning storm that ended up making me unable to post new articles until now. In the meantime there have been quite a few restaurant changes and closings both in Oklahoma City and El Paso which I hope to incorporate in my articles as soon as possible. Thanks to everyone who has sent me information, and I will hopefully make all the necessary updates.

If there was one predominant reason for starting this web site it was to let the public know about "good finds" I had made (or that others had given me tips about), encourage more people to visit these restaurants, and thus to help them stay in business so that I could go back and enjoy the food again. The assumption was that most of these places would be small or local restaurants that could use more publicity, but of course I try to publicize any eating establishment which I think would be of interest to readers.

It is usually not possible to list my favorite restaurants since I am interested in a variety of cuisines (mainly different types of ethnic food) and depending on my mood and degree of appetite anything from a gourmet restaurant to a hole in the wall place may fit the bill for a particular meal.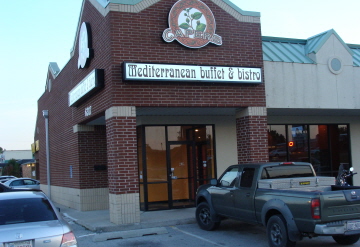 Capers Mediterranean Buffet & Bistro
I think it is possible, though, to list my favorite new restaurant for 2012 (out of the ones that just opened or that I visited for the first time). For me this was Capers Mediterranean Buffet at the corner of N.W. 63rd St. and Meridian Ave.
For now Capers is just a "Buffet" and not a "Bistro," since they do not serve orders from the menu. I was really somewhat skeptical of eating a Mediterranean buffet meal until I returned some time after the restaurant had opened and found the food to still be quite solid. This is probably not the best Mediterranean restaurant in town, and some items such as the falafel are pretty weak. Overall, though, I find that I do not pay more than I do at most restaurants where I order from the menu, and I am quite satisfied with the meal at Capers. So far they have not fallen into the trap I find at most buffets where they raise the prices and lower the quality of the food (usually at the same time). Both times I have visited Capers I have found about 80 to 90 percent of the items to be hot and fresh, and not to suffer from being set out on the buffet for long periods of time.
MOST RECENT ARTICLES
are listed on the web site's home page: