okgourmet.com&nbsp &nbsp Home of Steve's Restaurant Reviews
SUPPLEMENTAL ARTICLES
Relating to Oklahoma Restaurants
Home &nbsp > &nbsp Special Features &nbsp > &nbsp Articles &nbsp > &nbsp Oklahoma Articles
OKLAHOMA CITY, OK--City Bites
Dec. 6, 2013: City Bites has grown into quite a sizeable mini-chain of sandwich restaurants, with over a dozen locations in the Oklahoma City metropolitan area and one in Wichita, Kansas. It is also one of the oldest sandwich restaurants in the city, with most of the other restaurants seeming to be newcomers in comparison.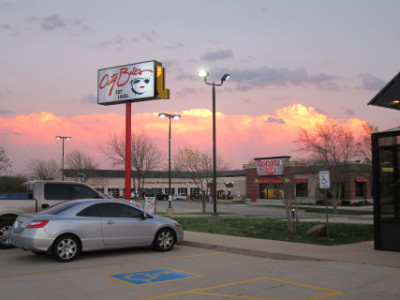 Looking southeast from City Bites at Hefner and Rockwell
The "build-your-own sandwich" concept at City Bites has both advantages and drawbacks. The choice of bread and toppings is quite flexible, and it is easy to construct something I really enjoy. It is also easy to create something of a disappointment, though, when I venture into unfamiliar territory with sandwiches I do not eat very often. At least at hamburger places such as Johnnie's I always know I will like the hickory smoked sauce, but with sandwich restaurants I am still mostly in the experimental stage.
Maybe an easier choice is to order one of the daily specials. These are generally grilled or cooked items which I have liked pretty well, but my favorite was the Baja chicken tacos. Of course each special is only served one day per week, and my strategy is generally to show up whenever I get the opportunity and hope that the special that day will be something I like (but also being prepared to order a sandwich from the menu).
Having a number of good sandwich restaurants is one good point about the Oklahoma City dining scene, and sometimes it is hard to choose the one I enjoy most. At this point I like all of the ones I have tried, but some things that set City Bites apart are the very good breads (and the number of choices available), the excellent sauces (although I did not care for the chipotle), and I would have to say certain sandwiches such as the mesquite chicken. I haven't tried enough of the daily specials to know whether they would be one of the restaurant's outstanding features on a consistent basis, but I have liked what I have tried so far.
MOST RECENT ARTICLES
are listed on the web site's home page: