okgourmet.com&nbsp &nbsp Home of Steve's Restaurant Reviews
City Bites (Closed)
7011 W. Hefner Rd.
Oklahoma City, OK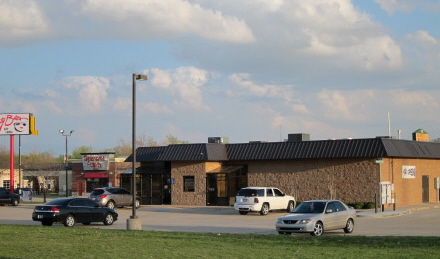 Note: Other locations in Oklahoma City are still open as of 2015.
At last count City Bites has 17 restaurants in the Oklahoma City metropolitan area, as well as one in Wichita, Kansas. The Cow Calf-Hay in Edmond is owned by the same company, but I believe the menu specializes in hamburgers rather than sandwiches.
The newest location (as of April 2013) is actually a relocation of the City Bites which used to be on Northwest Expressway about a block west of MacArthur. The Hefner and NW Expressway locations are the only ones at which I have eaten, so I do not have any information about the consistency of the food at different restaurants. I have noticed, though, that the hours seem to be different at different branches, as I have tried unsuccessfully to eat at the North MacArthur location only to find them closed (at a time in the evening when other branches are open).
City Bites is probably best known for its sandwiches. Some sandwiches are a little more complicated because customers not only have to pick out the type of sandwich they want, they also have to decide on a choice of toppings and bread. To further complicate the situation, on a couple of occasions I could not get the type of bread I wanted because they had run out. The bread is fresh and good quality, though, so I do not think it is a make-or-break deal if I do not get my first choice.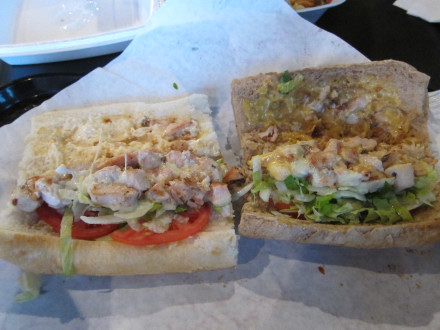 Mesquite chicken sandwich with one half white and one half wheat
The menu is pretty simple, being divided into six categories: cold subs, hot subs, salads, cookies & brownies, wraps, and spuds. So far the best thing I have tried has been the Mesquite Chicken from the "hot sub" category. It could just be that I lucked out with this sandwich, choosing for the bread to be half white and half wheat, with the dressing being half honey mustard and half ranch (all of these choices were good). Standard features of the sandwich are provolone, blended oils, lettuce, and tomato. In short, I felt that it had a lot of flavors but not so many that they overwhelmed the chicken (and the chicken was definitely good).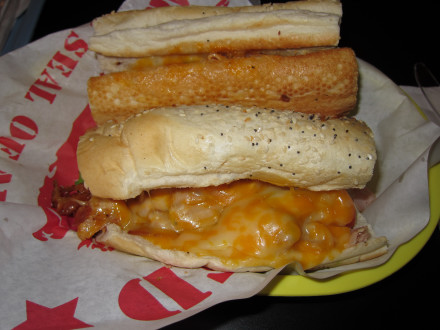 California melt
For a "next best" sandwich I would probably pick the California Melt, which also comes from the "hot sub" category. The one pictured had "everything white" bread, and was the standard sandwich which included turkey breast, jack cheese, bacon, and avocado.
The California Melt was fairly easy to order because the only choice that needs to be made is the type of bread to include. I usually feel that restaurants should know the best way to serve their sandwiches, and with the California Melt they did a good job with this (except that I do not like so much cheese). However, if I liked this cheesy sandwich, others are likely to enjoy it even more than I did.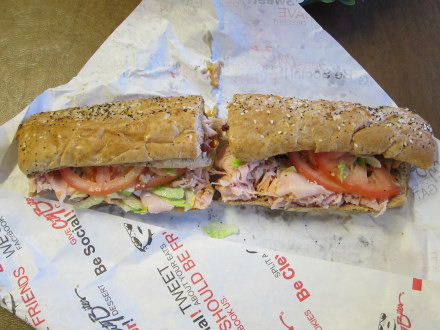 Turkey club
The Turkey Club had the type of flavor that I found to be a little overwhelming for a sandwich, with a smoked turkey flavor and chipotle dressing that I did not find appealing. I have found the same type of food at other sandwich restaurants in Oklahoma City, but this was the only sandwich I tried at City Bites which seemed to cross the line into what I call "bad Southwest style food" (the printed menu calls this sandwich the "Southwest Turkey," listed under the "Cold Subs" category). Most of all I just felt the chipotle dressing was too spicy.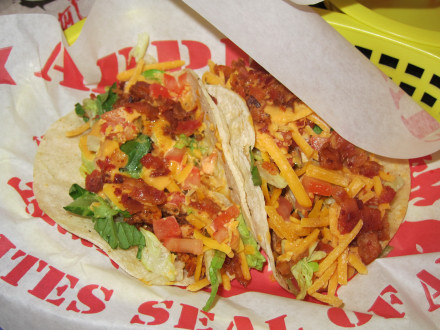 Baja chicken tacos
The Baja Chicken Tacos had the same chipotle sauce as the turkey club sandwich, but I felt that the chipotle was a better fit here. It was still spicy, but the cheese, tortillas, lettuce, and tomatoes helped to tone it down. This was one of City Bites' numerous daily specials, and is not listed on the menu, but I felt that being able to try some of the specials was one thing that made City Bites more interesting than the typical sandwich shop.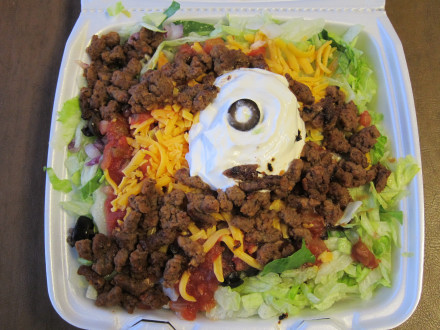 Taco salad
The Taco Salad is one of the regular items listed under "Salads," but it had so much meat it is really hard for me to consider this a salad. The Frito chips, black olives, cheddar cheese, and American style sour cream did not make it very authentic as Mexican food either, so I just did not enjoy this dish very much.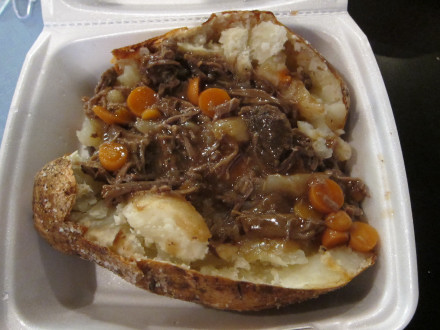 Pot roast spud
Pot Roast Spud is one of the several imaginative baked potato dishes listed on the menu, and I thought this was a good choice. In fact, the pot roast would have been very good as a stand alone item. This dish, though, fell into a category which I find uncomfortable-- it was larger than a normal side item but not quite substantial enough to make a meal for me. I suppose it might go well with a half sandwich order, although this would be on the costly side for a typical lunch or small dinner.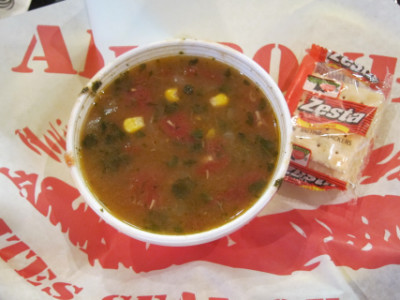 Chicken tortilla soup
Chicken Tortilla Soup was the soup of the day one time I went, and this was another one of City Bites' ventures into Mexican food which I enjoyed. It had a lot of pepper and not a lot of substance, but it was meant to be a side dish and not a main meal.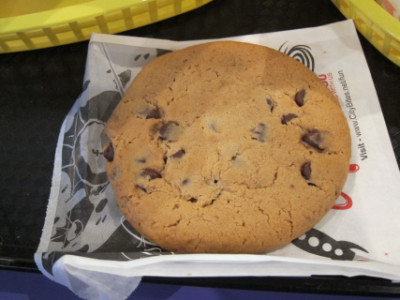 Chocolate chip cookie
After a couple of tries ordering a dessert I decided they were not particularly worthwhile, but the Chocolate Chip Cookie was the best one I tasted. It was very fresh, and this was really the best part of the experience.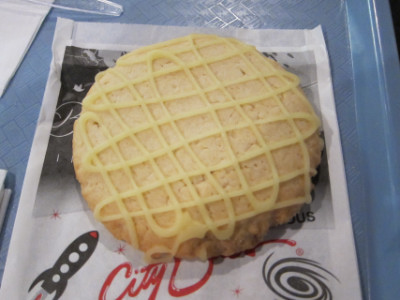 Lemon swirl
Visually the Lemon Swirl looked better, but I did not find anything remarkable enough about the flavor to write down any comments about it (only that I gave it three stars). At least the chocolate chip cookie stuck more in my memory as something I enjoyed.
City Bites also has brownies available for the same price as the cookies.
The one section of the menu I have not tried is the "wraps," and from the price I would guess that they are about the same size as the half sandwich order.
Between the daily specials and the most interesting sandwiches (such as the mesquite chicken), there is enough variety at City Bites to merit return visits. I understand why City Bites has been popular enough to grow into a local mini-chain. Its slogan says "We Were Local Before It Was Cool," and it tastes like a local restaurant in spite of the fact that it has a number of locations.
I would say that for sandwiches I am still the most happy with Cafe 7 (and on occasion Saturn Grill). City Bites does add to the number of good choices I have, though. I would say the biggest advantage of City Bites is that if you are anywhere in the Oklahoma City metro, there is a location near you (and they are worth checking out).
RESTAURANT DETAILS
RATING: 19
Cuisine: Sandwiches
Cost: $$
Hours: Open Daily except Sun. evening
Accessible: Yes
Smoking: No Smoking
Most Recent Visit
Apr. 20, 2013
Number of Visits: 5
Best Item
Mesquite Chicken
Special Ratings
Mesquite Chicken:


California Melt:


Turkey Club:


Baja Chicken Tacos:


Taco Salad:


Pot Roast Spud:


Chicken Tortilla Soup:


Chocolate Chip Cookie:


Lemon Swirl:

MORE ABOUT THIS WEB SITE