okgourmet.com&nbsp &nbsp Home of Steve's Restaurant Reviews
SUPPLEMENTAL ARTICLES
Relating to Oklahoma Restaurants
Home &nbsp > &nbsp Special Features &nbsp > &nbsp Articles &nbsp > &nbsp Oklahoma Articles
EDMOND, OK--Moni's Pasta & Pizza
Oct. 17, 2013: Moni's Pasta & Pizza is a new Italian restaurant in far north Oklahoma City which has become quite popular for providing high quality food at prices which are not as high as other restaurants. Some people have described it as a "neighborhood Italian restaurant," which I interpret as being good enough that you would want to return often and inexpensive enough that you are able to do so.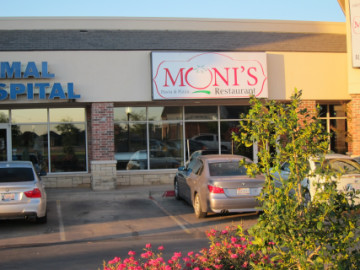 Moni's on May Ave. a couple of miles north of Quail Springs Mall
The bread and salad (which come free with dinners) are items that I would definitely want to return for. The salad dressing was quite good, and I understand that it is home made. I usually save my descriptions of the food for the review, but these items were much better than average, and worth mentioning as a reason people might want to visit Moni's to try it out.
The eggplant parmigiana was something I would rate in the middle of the pack for Oklahoma City. Not having tried other dinner choices, I don't know how Moni's stacks up overall for its Italian food. I'm not sure eggplant is the best indicator, since even some of the best restaurants fall short when it comes to this particular dish.
The pizza was not my favorite in Oklahoma City, but it was better than average. Again, this is not the dish I normally use to judge Italian restaurants, but it is one that I frequently order.
Surprisingly good was the Stracciatella Romano soup, an item which so far I have not found at any other Italian restaurant in Oklahoma City (but I was not looking for it until the waitress at Moni's suggested that I try it). I would also suggest trying it for something different and an excellent treat.
I considered the highlight of the meal to be the spaghetti, and I thought the one here was probably the best in OKC (tied with Vito's). To me this would be enough to consider Moni's as one of the better Italian restaurants in the city, but the soup, salad, and bread reinforced the notion.
MOST RECENT ARTICLES
are listed on the web site's home page: