okgourmet.com&nbsp &nbsp Home of Steve's Restaurant Reviews
Moni's Pasta & Pizza
17200 N. May Ave.
Edmond, OK &nbsp Oklahoma City
(405) 285-5991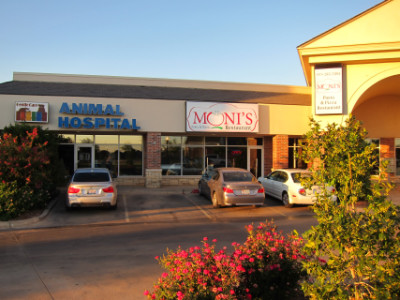 Sometimes I get ideas for trying new restaurants from web sites with reader reviews, as was the case which led me to Moni's. This restaurant had such an overwhelming positive comments that I could not help but take notice.
Moni's is located in what I consider as somewhat of a "no man's land" in what many web sites call "Edmond," but which is actually in the Oklahoma City limits. It is in a new strip mall on North May Avenue north of Quail Springs Mall, and I know from experience that it is somewhat hard to find even if you are looking for it.
As far as my reaction to the food from my first visit, I would say that it is in about the "upper middle" category of Italian restaurants. There were some items I liked very much, but not as many as I expected from the reviews I saw. On the other hand, some of the things that I kind of gloss over at other restaurants waiting for the "good stuff" turned out to be some of the "good stuff" at Moni's. This included the bread, the salad, and the spaghetti (actually I thought the salad dressing was outstanding).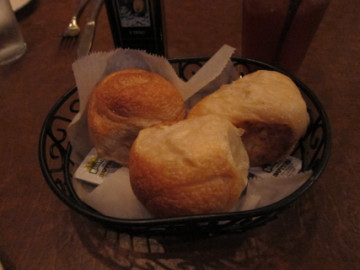 Moni's complimentary bread
The Bread was fresh, flavorful, and was some of the best I have had anywhere. I purposely left some of the bread sitting there so that I could take it home and enjoy it later. All of my photos turned out dark because of the lighting conditions in the restaurant, and it is too bad that the bread in the photo does not look as good as it actually was.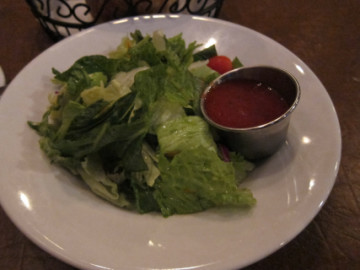 Moni's salad
The Salad was surprisingly good, and I say this because I normally have low expectations at Oklahoma City Italian restaurants. I could not quite give a five star rating to the salad itself, but the raspberry vinagrette dressing was one of the best I have had anywhere. I have read that the dressing is home made, and I believe this to be true. I really had no complaints whatsoever about the salad.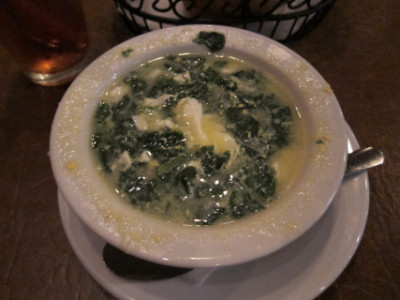 Stracciatella Romano
The Stracciatella Romano was described to me as an Italian egg drop soup. It was really a surprising experience not only because it was a totally new dish to me, but also because it turned out to be so good. This was a very flavorful blend of vegetables, broth, and egg that seemed to get away from American style Italian food and more toward the rich flavors I have experienced in some of the more authentic restaurants. I would say that this soup is one of the better things people can try in the way of Oklahoma City Italian food.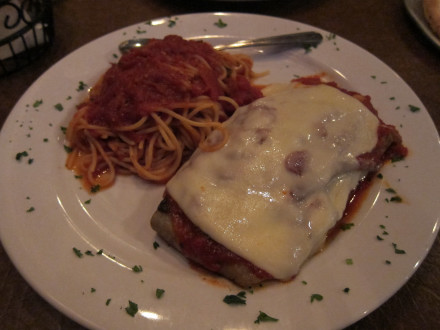 Eggplant parmigiana
The Eggplant Parmigiana was a dish I liked quite a bit, but I did not see it as being really special compared to restaurants such as Papa Dio's or Vito's. My favorite eggplant dishes are those in which the flavor of the eggplant is well disguised, and perhaps this one did not quite go far enough (but others may like it the way Moni's does it).
I will have to say, though, that the spaghetti served on the side was quite special compared to most others, and in fact was just about my favorite part of the meal. I could definitely see myself returning to Moni's just to order spaghetti or another pasta dish (thus I suppose the name "Moni's Pasta & Pizza" is quite appropriate).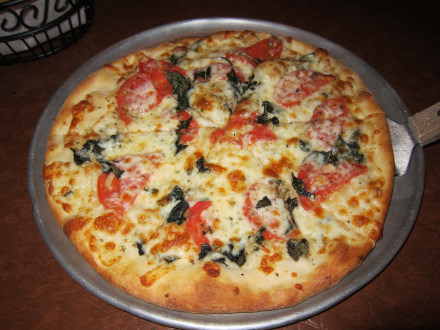 Mama Mia pizza with fresh basil, sliced tomatoes, and garlic
The other part of the name, pizza, or more specifically Mama Mia pizza, was another highlight of the meal. Actually my main disappointment with the basil and tomato pizza was that it did not have sauce, although the waitress said I could have ordered it with sauce (I will definitely consider this in the future). Otherwise, though, the toppings were very good, and overall it was one of the better pizzas I have found in the city. The crust seemed rather ordinary (but this is usually the part I like least about pizzas).
I noticed that they were selling bottles of sauce, and based on my sampling of the spaghetti and eggplant parmigiana I would say this would be a good thing to take home (although I have not yet done so). I liked the service and the "freebies" (bread and salad come with the dinners), and overall it was a good value.
RESTAURANT DETAILS
RATING: 23
Cuisine: Italian
Cost: $$
Hours: Closed Mon.
Smoking: No Smoking
Alcohol: Beer, Wine
Most Recent Visit
Sep. 3, 2013
Number of Visits: 1
Best Items
Spaghetti, Mama Mia, Stracciatella Romano
Special Ratings
Mama Mia:


Eggplant Parmigiana:


Stracciatella Romano:


Spaghetti:


House Salad:


Bread:

MORE ABOUT THIS WEB SITE