okgourmet.com&nbsp &nbsp Home of Steve's Restaurant Reviews
SUPPLEMENTAL ARTICLES
Relating to Oklahoma Restaurants
Home &nbsp > &nbsp Special Features &nbsp > &nbsp Articles &nbsp > &nbsp Oklahoma Articles
BETHANY, OK--Thai Orchid
Sep. 25, 2013: Thai Orchid is the new name for the restaurant formerly known as Thai Sweet Basil Express. Located on College Avenue in downtown Bethany, Oklahoma, the name change is just a new phase for the same restaurant that was here before (with the same owners). It seems that another Thai restaurant in Norman had a name that was so similar the restaurant in Bethany decided to change its name. This is actually the fifth name for this restaurant that I know about, but at least the change to "Thai Orchid" does not signal a change in the delicious food that has been served here since the current owners took over in 2009.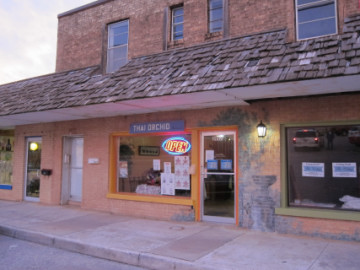 Thai Orchid is the new name for Thai Sweet Basil Express
Thai Orchid has prices that I consider to be high for Thai food. The restaurant, though, is what I would put in the "special occasion" category, with service which matches the food. (Some people may think that the Thai music videos which are played makes this more of a casual restaurant, but the volume is not loud and I happen to like this kind of music, so for me the setting here is quite comfortable).
In any case, there are some great Thai dishes here that I think offer more in terms of flavor and authentic Thai ingredients than will be found in many restaurants. My favorite for dinner is the Pad-Ped (which comes with a choice of meats). The "Chef's Specialties" menu section also includes various lamb, salmon, duck, and other dishes which go well beyond the selections found on most Thai menus.
For lunch there is a good selection of noodle, curry, and stir-fried dishes. What makes this one of my favorite places, though, is the special "combination plate" deal Thai Orchid offers which adds two appetizers for about a dollar extra. The choice of appetizers is quite large, and many of them are excellent such as the soups, dumplings, salads, and pot stickers (and since it comes with a choice of two, I usually get both the soup and the dumplings).
MOST RECENT ARTICLES
are listed on the web site's home page: