okgourmet.com&nbsp &nbsp Home of Steve's Restaurant Reviews
Thai Orchid (Closed)
3917 N. College Ave.
Bethany, OK





Note: Thai Orchid closed in May 2014. A sign on the door says "Business Closed. Please come and see us at Tana Thai Bistro 10700 N. May... Just south of Hefner on east side. Phone number 242-2075 or 749-5590. If you have gift certificate that is within 12 months old it will be honored at Tana Thai Bistro.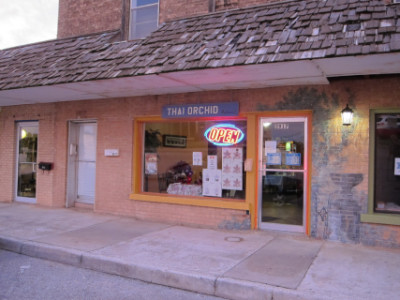 Thai Orchid (originally Thai Sweet Basil Express) was the third Thai restaurant in about three years to open at this location in downtown Bethany, but I would say the closing of the other restaurants was not for lack of customers or appreciation of the local population for Asian food. I began coming to this location in August 2008 when I first noticed Big! Rice & Noodle Restaurant, a casual and inexpensive Thai restaurant that was popular with the lunch crowd in downtown Bethany. Two months later it had changed to Elephant Café, which offered a very similar menu but added several Japanese items. I was just beginning to make a list of "best items" when the owners moved to another city and the restaurant changed to Thai Sweet Basil Express.
The latest change (changing the name to Thai Orchid) had nothing to do with a new menu or concept, but rather it was because there was another restaurant in Norman with a similar name, and it was apparently causing confusion. The important thing is that the food has stayed the same since November 2009 when the current owner of Thai Sweet Basil Express took over.
Thai Orchid has added some dishes to the dinner menu which are quite good, and the lunch menu is largely a continuation of the items that have been available throughout the various ownerships at this location. To me this is somewhat of a "best of both worlds" scenario, since I have enjoyed the lunches served here, but also some of the new dinner dishes have been among my favorites in Oklahoma City.
At first some of the lunches were too "Americanized" for me, but this has changed since they have gotten to know my Thai food preferences. For first time visitors, I would say to ask for food "Thai style" if you want it that way (the more "Americanized" version is good, but not as spicy).
Lunches also come with a choice of excellent appetizers for about a dollar extra, and this is one of the restaurant's best features. These appetizers (which include both a soup and an extra item) are rather unique for any Thai restaurant in the area. I have yet to find an appetizer that I did not think was worth ordering.
The dinner menu is not nearly as good a bargain in terms of price, but several of the items are very solid Thai food, and have the type of flavor I would find in Seattle in restaurants such as Noodle Boat (a very authentic restaurant).
My overall summary is that this place is expensive for Thai food, but I think it is one of the three or four best places in the Oklahoma City area for authentic Thai. Sometimes you have to ask for it to be this way, particularly at lunch, because they are trying to keep the food similar to what customers have come to expect from the previous restaurants. Even when lunches seem too "Americanized" to me they are still good, but I would say lunches are mainly worthwhile because of the appetizers that come with the lunch plate. Dinners are more expensive, but this is where I have found the best Thai food. I enjoy both lunch and dinner at Thai Orchid, but for different reasons.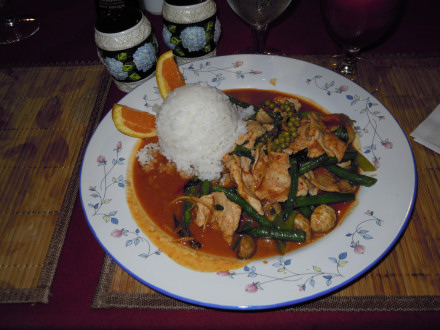 Pad ped from the dinner menu
Pad Ped is an item from the dinner menu dish that was not only very flavorful, but had authentic Thai elements that I had previously experienced only on the west coast. These included lime leaves (not exclusive to the west coast but not common in Oklahoma), basil, and a type of sweet pepper that I had previously only seen in Seattle (they look somewhat like peas in the photo). This dish frankly blew me away because it was so good. This was the first item I ordered in the "new" Thai Sweet Basil Express (not yet knowing that the owner had changed), and it was about as authentic as I could hope to find in a Thai restaurant. Mine came with pork, and I think this added to the wonderful mix of flavors and texture, but other meats or tofu are available as well. It was really the curry and the extra peppers (which are edible, by the way) that made this such a special dish.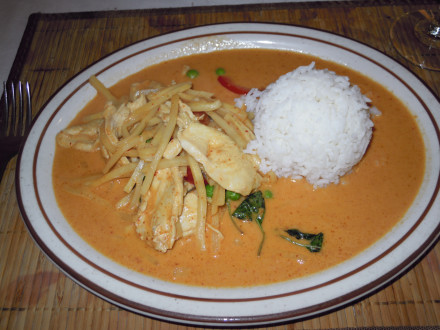 Red curry with chicken
The Red Curry with Chicken had both a lemon grass and basil flavor added to the already excellent red curry. The menu lists this item with three chiles (the spiciest level), but I think customers need to request it if they really want it this hot. Personally I thought the way it came out was flavorful and made a good meal (in fact, it was one of the best red curries in the city).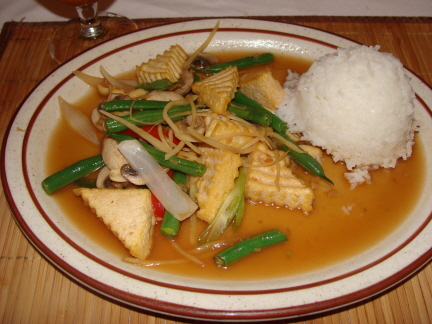 Thai ginger with tofu
Thai Ginger, a dish available both on the lunch and the dinner menu, was a fresh and vibrant tasting mixture of ingredients with sliced ginger used as the dominant flavor. I thought this plate had a wonderful flavor and aroma, and was not overly sweet as is common at many restaurants. This dish was not at all spicy (and has zero chiles on the menu), but was delicious.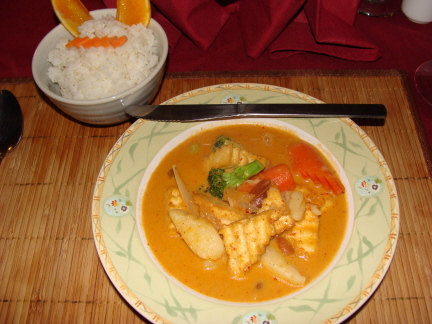 Jay curry
Jay Curry is purposely prepared as a vegetarian dish, but I ordered it to try the Masaman curry flavor at the restaurant. I thought it had a good, rich flavor, but it was not as spicy as the two chiles on the menu would indicate (and it probably could have used some more spice).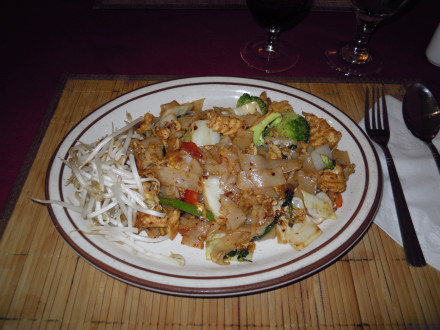 Drunken noodles, otherwise known as pad kee mao, from the lunch menu
Drunken Noodles was one of the best dishes at Elephant Café, and is good here as well. This one stands out among the noodle dishes because of the basil flavor, and the wide flat rice noodles seem to be among the most filling of the various types of noodles that are served. Pad kee mao (the Thai name of the dish) was not spicy, but the restaurant will provide fish sauce with chiles on the side if you want it "Thai hot." Without the fish sauce I did not like it as much as at Elephant Café, but with the sauce it came very close.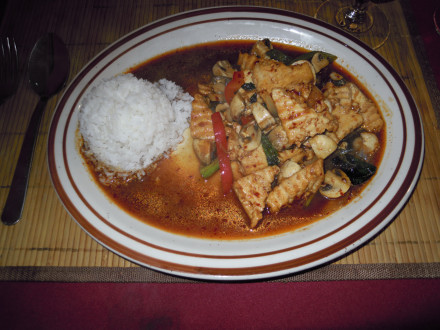 Thai basil with tofu from the lunch menu
Thai Basil seemed as if it would be another good dish with a basil flavor, but I thought the sauce was too sweet (I forgot to ask for it "Thai style"). In fact, just about every other lunch special I have ordered has been better than this one.
Thai Eggplant had a delicious brown sauce, and the eggplant was cooked just right. It comes with a choice of chicken, beef, or tofu, and it turned out to be a filling and interesting dish (especially with the basil added for flavor). This dish is one of the top two or three I have found on the lunch menu.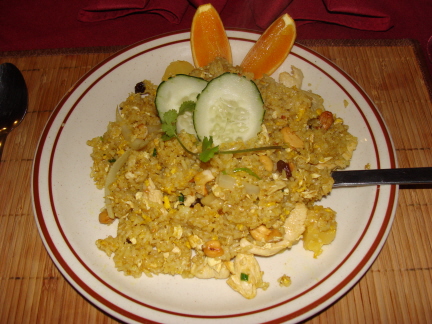 Pineapple fried rice
Pineapple Fried Rice is a dish I have not ordered, but I have sampled at several restaurants. My impression was that the one here was better than at Tana Thai, mainly because it seemed to have more ingredients and a more complex flavor.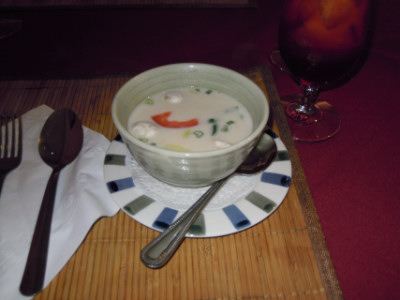 Chicken coconut soup
Several types of traditional Thai soup are available as appetizers, but they are included with the lunch specials (lunch specials include a soup and appetizer, and it cost $9.95 when I ordered it). The lemon grass soup was spicy and very good, but my favorite was the chicken coconut soup (which is also available with tofu or other meat on the lunch special). The fact that meats or tofu can be substituted indicates that the soup is freshly made, and not cooked up in large batches as is common in many Asian restaurants.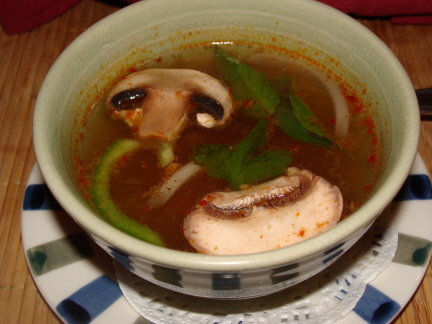 Lemon grass soup
The Lemon Grass Soup is one of the appetizer choices on the lunch menu, and I was surprised at how spicy it was considering the lack of spice in many of the other items. It was very good, and is a type of soup I have not seen served at very many restaurants.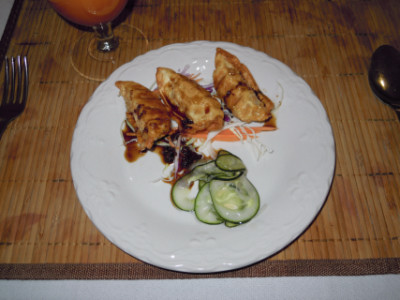 Pot sticker served as a complimentary appetizer with lunch specials
Pot Sticker is one of three types of dumplings available as an appetizer with the lunch specials (these come with vegetables, minced pork, and a soy-ginger sauce). This is probably the best of the choices, although I also liked the Thai Dumplings (that come with ground pork, water chestnuts, shitake mushrooms, and a soy-sesame sauce). The third choice (tulip dumplings which come with ground shrimp and crab) is one that I have not yet tried.
The Thai dumplings had an especially flavorful sauce, and dumplings can be prepared either steamed or fried. Any of the dumplings can also be served vegetarian.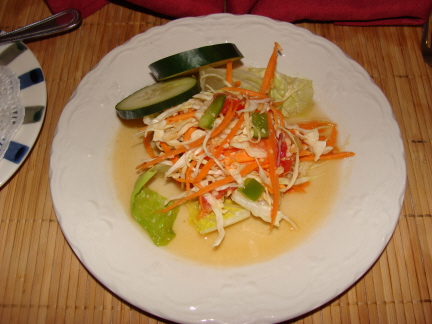 Som tum
Som tum was a lime flavored salad available as an appetizer with the lunch specials, and turned out to have a better flavor than I expected (but probably not good enough to choose it over the dumplings or one of the soups). One reason I have been able to try so many different things, though, is that lunches always offer the choice of any two appetizer items on the menu.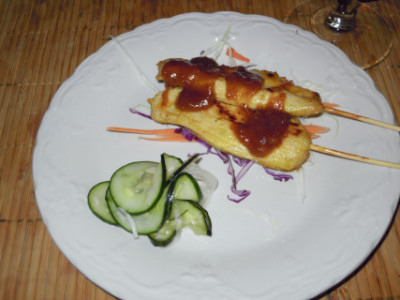 Satay
Satay is a grilled chicken with peanut sauce (and also comes with a small cucumber salad). From the standpoint of flavor I did not like it as much as some other items, but from the standpoint of being filling they did help to supplement the lunch plate which sometimes comes in a substantially smaller quantity than the dinners.
Crispy rolls (spring rolls) were also very good, but I would not choose them over any of the salads or appetizers already mentioned.
The Thai Tea was very good, and not very expensive. I usually find that iced Thai tea is excellent with spicy food (although the food at Thai Sweet Basil is not extremely spicy unless you request it that way). Still, most of what I have eaten has been spicy enough that the Thai tea served as a good refreshment.
There is something about the restaurant's location in downtown Bethany that makes it more relaxed and comfortable than the average restaurant, and I would enjoy going even if I were not as excited about the food as I am. Thai Orchid has a distinctive home made flavor that comes from everything being prepared from scratch. Some of the extras, such as lime leaves and peppers served in the pad ped dishes, are very uncommon in American Thai restaurants. Thai Orchid charges more than many Thai restaurants, but I think you get more than at many places.
RESTAURANT DETAILS
RATING: 24
Cuisine: Thai
Cost: $$
Hours: Open Daily
Accessible: Yes
Tea: Thai Tea
MSG: No
Smoking: No Smoking
Alcohol: Bring your own wine or beer
Most Recent Visit
May 10, 2013
Number of Visits: 10+
Best Items
Pad Ped, Red Curry, Thai Ginger, Thai Eggplant
Special Ratings
Pork Pad Ped:


Red Curry with Chicken:


Jay Curry:


Drunken Noodles:


Thai Eggplant:


Thai Ginger:


Thai Basil:


Hawaiian Fried Rice:


Lemon Grass Soup:


Chicken Coconut Soup:


Som Tum:


Pot Sticker:


Thai Dumplings:


Satay:


Spring Rolls:


Thai Tea:

MORE ABOUT THIS WEB SITE