okgourmet.com&nbsp &nbsp Home of Steve's Restaurant Reviews
SUPPLEMENTAL ARTICLES
Relating to Oklahoma Restaurants
Home &nbsp > &nbsp Special Features &nbsp > &nbsp Articles &nbsp > &nbsp Oklahoma Articles
OKLAHOMA CITY, OK--Big Truck Tacos
Sep. 19, 2013: Big Truck Tacos is based on N.W. 23rd Street in Oklahoma City's Uptown district, but mobile trucks are being sent to different neighborhoods throughout the city. The one in the photo is parked at N.W. 122nd St. and Rockwell most Fridays at lunch time (I think they sometimes do not come when the weather is bad). San Marcos Mexican Restaurant is on the opposite corner of this intersection, but I think the food and setup at Big Truck Tacos is so different from San Marcos that the two really do not provide a lot of competition with each other.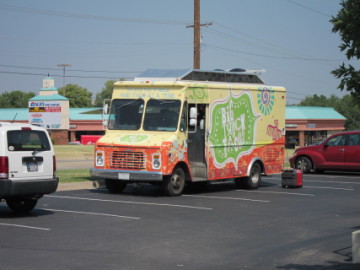 A Big Truck Tacos mobile truck may be in a neighborhood near you
I would call the tacos at Big Truck Tacos "non-traditional," as opposed to the very authentic tacos served at Taqueria La Original and some other restaurants around town. I liked Taqueria La Original better, but there is ample room for both types of Mexican food in Oklahoma City. Big Truck Tacos has such good quality tacos that I certainly enjoy them regardless of how "authentic" they are. After eating many tacos in Mexico that ranged from very good to pretty bad, my feeling is that the high quality meat and ingredients used by Big Truck Tacos is a much more important factor than whether they are truly authentic or not.
One thing Big Truck Tacos has that I have not found in other restaurants is a very tasty and high quality vegetarian taco. In fact, this may be my favorite item available from this taco truck (although there are a few things I have not yet tried).
MOST RECENT ARTICLES
are listed on the web site's home page: