okgourmet.com&nbsp &nbsp Home of Steve's Restaurant Reviews
Big Truck Tacos mobile truck
N.W. 122nd St. & Rockwell
Oklahoma City, OK





Update 2014: This truck is no longer at the N.W. 122nd & Rockewell location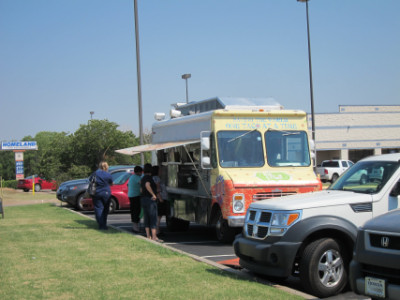 Big Truck Tacos has become quite a phenomenon in Oklahoma City, with the main restaurant on N.W. 23rd Street in Uptown being so popular that they now have a number of mobile trucks appearing in various neighborhoods. Of course this was the whole business plan from the beginning, and the idea of selling food from mobile vendors is quite popular throughout the country.
My personal experience with Big Truck Tacos is with the truck which appears next to the Family Video store at N.W. 122nd and Rockwell most Fridays at lunch time. It is quite popular, and sometimes the lines for food can be quite long (and if necessary they will stay past 1:00 p.m.). I like the fact that it is convenient, and I am sure many feel the same way about the other trucks in other neighborhoods (and I assume at other times as well).
Big Truck Tacos are known for their quality, and to many people they seem to be worth the wait. Once I order it seems that I never have to wait more than a minute or two for the food, so I suppose this offsets any time I have to wait in line.
Some people seem to have an issue with the cost of the tacos, since they are pricier than normal. I find them to have more meat than most tacos, so one or two tacos go a long way. I have found the prices of the tacos to be in line with the quantity served and the type of meat they use.
To me a more important issue is the fact that these tacos are somewhat non-traditional. The ingredients, flavors, and styles of the tacos are somewhat "modern Mexican" or "Mexican fusion" rather than what I would call traditional Mexican style. I think most people like Big Truck Tacos because of the quality, but those who dislike it may base it partly on the fact that these are not the same type of tacos with which most people are familiar.
I tend to be somewhat skeptical when restaurants think they can make food that is better then the authentic or traditional version. I am willing to give some great new creation a shot, and sometimes it turns out better than the traditional food. In the case of Big Truck Tacos, I think their style of Mexican food has mixed results. Some of their tacos are ones I really like, and some fall kind of flat in terms of flavor (but I think all of them are good quality).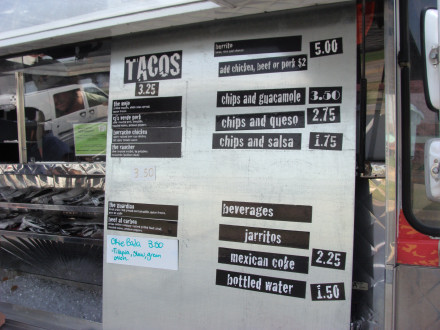 The menu is on display as you walk up to the ordering window
The menu is pretty simple. They have different types of meat, along with tilapia and a vegetarian taco. A burrito is available, Mexican Coke, and chips with either guacamole, queso, or salsa. The truck which comes to the N.W. 122nd and Rockwell location is only there at lunch time (and only on Friday). I usually buy more than the amount I would want for lunch so that I can have leftovers, but I would judge that ordering for lunch would not be terribly expensive. They have aluminum foil wrapping available, and I have found the take-home packages to keep food warm for at least a half hour after I bought it.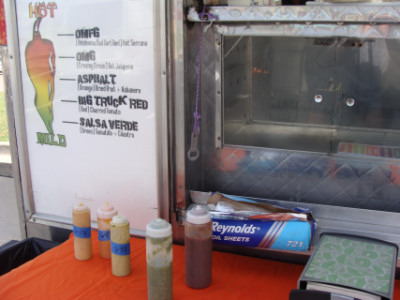 Salsas go from mild to hot
The Salsa is free, and you can add your choice of salsa to the taco or ask for some in a cup for take-home. Salsa is probably the most non-traditional component of Big Truck Tacos, with some of them being very fruity (such as the Asphalt) or creamy (such as the OMG). Some of the salsas make good toppings to the tacos, but they do not have much of the chile flavor that I normally find in salsa. The OMG was plenty spicy for me, and I have not even tried the hottest one (the OMFG). On the other hand, the mildest salsa (the Salsa Verde) is the one that I think probably has the best flavor overall, and which is probably also closest to what I would call traditional salsa.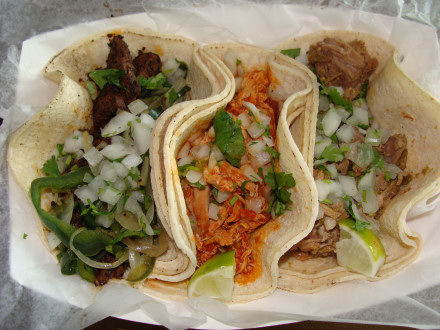 Taco al carbon, chicken, and pork
When judging the tacos, I think it is more a matter of individual taste than at most restaurants, because all were of good quality. At most places I do not care a lot for the chicken tacos, but at Big Truck Tacos the Borracho Chicken was excellent, and in fact this was my favorite of the meat tacos. The red chiles and spices used in cooking the meat were just right, and I felt that the chicken meat was of the highest quality. In fact, I would say that if you have been disappointed by chicken tacos at other places you should try the one here. Still, though, I have heard from other people that they found them too spicy, and I think these tacos are not for everybody.
The Beef al Carbon tacos were another one of my favorites, although beef is generally one of the best meats at just about any taco restaurant. The one here tasted special because of the way it was cooked, and I thought the green peppers were a good touch. This taco did seem close to the traditional Mexican style, although when I get tacos al carbon in El Paso they have different toppings (also I think Big Truck Tacos uses better meat than what I have traditionally found with tacos al carbon).
The Verde Pork tacos were also among what I call the "more traditional" tacos, but there was something about the way they were cooked that made them less appealing to me. My description is that they were more greasy, but this is not meant to be a "professional food critic's assessment" (and I am certainly not a professional food critic). Instead this is just my way of describing them. I should point out that this was mainly a problem when I tried to reheat them as leftovers.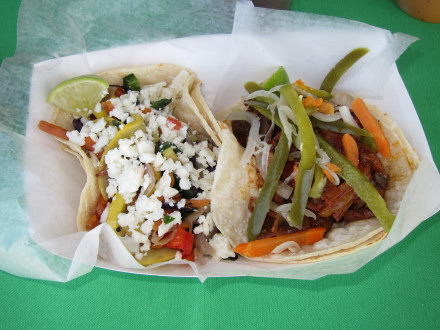 The Wojo and The Rancher
The Wojo is the vegetarian taco served by Big Truck Tacos, and this may be my favorite in terms of how the non-traditional and nouveau concept used here can result in something truly innovative and flavorful. These are made with a white bean spread and queso fresco, so at least in terms of the cheese I think this is probably more authentic than the great majority of tacos served in Oklahoma City. The grilled veggies may not be totally traditional (the closest I have seen are nopal or cactus tacos I used to get in Mexico). The veggies and other ingredients are delicious, though, and I truly enjoyed this taco.
The Rancher is another version of the beef tacos served, and this one is made with slow braised brisket with potatoes and an escabeche (pickled relish) topping. When I ate it, though, the only thing that seemed really notable was the meat, which I thought was a very good quality of brisket (and as with other tacos at Big Truck, there was a substantial amount of meat). This taco was quite spicy (maybe somewhere between four and five chiles on my "chile scale"), and I thought their description of this having a "pickled relish" might have been a little misleading. Like the chicken taco, I was surprised that they made the taco so spicy before I even had a chance to add my own salsa.
I think the drinks are a little expensive, and I have not ordered any, So far, though, I have thought the tacos were worth the price (and the quantity seems to be about twice what you would get from most restaurants). Some of the salsas are a little too non-traditional for me, and I have yet to find one that is really my favorite.
I have had fun trying different things, and so far I have been most impressed with The Wojo (the veggie taco). The fact that some of the tacos are non-traditional makes it hard to predict which ones will be my favorites, but for me this is part of the fun. Even if some of the flavors are not exactly as I expected, everything has been good.
RESTAURANT DETAILS
RATING: 22
Cuisine: Mexican
Cost: $$
Hours: Fri. 11:00 am to 1:00 pm
Additional Location: 530 N.W. 23rd St. (this is the main location--open Mon.-Sat. for breakfast, lunch, & dinner)
| | |
| --- | --- |
| Chile Index: | |
Most Recent Visit
Sep. 6, 2013
Number of Visits: 3
Best Items
The Wojo, Borracho Chicken
Special Ratings
Borracho Chicken Taco:


Beef al Carbon Taco:


The Wojo:


CJ's Verde Pork Taco:


The Rancher:

Restaurant Web Site
Big Truck Tacos
MORE ABOUT THIS WEB SITE