okgourmet.com&nbsp &nbsp Home of Steve's Restaurant Reviews
SUPPLEMENTAL ARTICLES
Relating to Oklahoma Restaurants
Home &nbsp > &nbsp Special Features &nbsp > &nbsp Articles &nbsp > &nbsp Oklahoma Articles
OKLAHOMA CITY, OK--Gyros Etc.
Sep. 12, 2013: Gyros Etc. has such a small building I was thinking there must be something special about it that has kept it in business for so long, and this turned out to be true. One of the biggest attractions is the gyros, which I thought was one of the best around.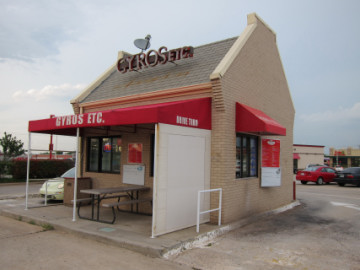 Gyros Etc. at Rockwell and Northwest Expressway
Another good item is the falafel sandwich. I usually go to Nunu's or one of the other sit-down restaurants for falafel, but I thought the one from Gyros Etc. made a very good take-home meal, and I especially liked the fresh pita bread and the flavorful sauce (the falafel was also fresh with a good flavor).
The restaurant has a picnic table outside, but otherwise it is a take-out only place. Everything here tastes good, is healthy, and comes at a good price (qualities that I increasingly appreciate as time goes on). The menu is somewhat limited, but both the gyros and falafel (which seem to be the most popular items) were quite good.
MOST RECENT ARTICLES
are listed on the web site's home page: