okgourmet.com&nbsp &nbsp Home of Steve's Restaurant Reviews
Gyros Etc.
7006 Northwest Expressway
Oklahoma City, OK
(405) 720-1667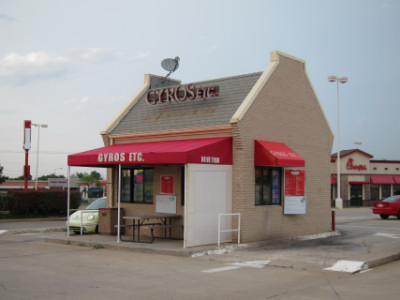 To say Gyros Etc. is small would be an understatement, and in fact it is not really a restaurant but a take-out place. The address is on Northwest Expressway, but it actually faces Rockwell (and is located behind the Chick-fil-A and Which Wich).
Orders are taken at the window on the right side of the building, and the pick-up window is on the left. The menu is pretty small, as might be expected from a building with such limited space. It seems, though, that what is served are the items they can do very well (although I am not sure the plural "they" is correct, since this seems to be a one-man operation).
I will have to say that the owner was very friendly, and I liked everything about the experience, with the exception that it was take-out only. I had read good reviews of Gyros Etc. on the Internet, and these turned out to be correct as far as I am concerned.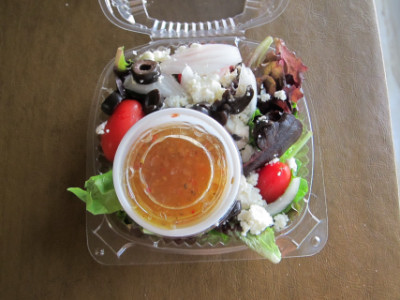 Greek salad
The Greek Salad was probably the weakest of the items I ordered. It was good (especially the dressing), but did not compare to the Greek salads I have had at Nunu's or Camilya's.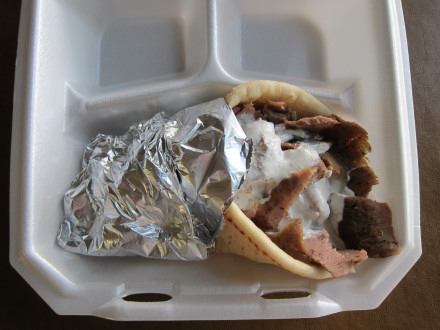 Gyros sandwich
I thought the Gyros Sandwich was the best item I tried (although I only had a couple of bites of it). This was good quality, flavorful, and fresh meat-- something that would probably not be remarkable on a nationwide level, but which I have found all too rarely in Oklahoma City. The pita was very fresh, and the sauce was especially good.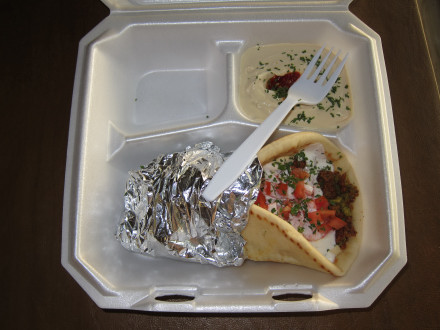 Falafel sandwich with a side order of hummus
Some reviews on the Internet had led me to believe that I might find remarkable Falafel here. I would not say the reviews were inaccurate, but I would say that it did not seem any more remarkable than two or three other falafel sandwiches I have tried in the city. The falafel was broken up into pieces instead of being served in balls, and I thought this may have diminished the flavor a little (and a large proportion of it seemed to be the fried outer crust). I liked the sauce and the pita, and overall the sandwich was very good (but I would not necessarily say it is the best in OKC).
I got a side order of Hummus which came with a spicy salsa in the middle (this was quite a different presentation that I normally see). I liked this dish, but not as much as some of the more "traditional" ones I get at other restaurants.
This is probably the best of the "Gyros" restaurants I have tried, and it has one of the best gyros sandwiches I have tried. One disadvantage to me is that it does not offer a lot of other menu choices, but what I sampled was all good. If you are looking for good take-out food at an extremely good price, it is hard to think of a better place anywhere nearby.
I am always looking for healthy, good tasting alternatives to the typical restaurant food, and Gyros Etc. certainly fits the bill.
My Comments in a Nutshell
What I like most:
Good food, cheap prices
Healthier than other fast food alternatives
Gyros are about the best I have had, with the exception of the ones at Camilya's
Disappointments:
Falafel was cooked in small pieces that had a high percentage of the outside crust
Greek salad was not bad, but was a little disappointing
Things to know:
Take-out only, unless you want to eat at the one picnic table available
I did not order a drink (and I do not think they are a big feature of the restaurant). One of the things that makes this place so inexpensive is the fact that you can take the food home and provide your own drinks.
RESTAURANT DETAILS
RATING: 20
Cuisine: Mediterranean
Cost: $
Special Features: Take-out only (a picnic table is available to eat on site)
Most Recent Visit
May 20, 2013
Number of Visits: 1
Best Item
Gyros
Special Ratings
Gyros:


Falafel Sandwich:


Greek Salad:


Hummus:

MORE ABOUT THIS WEB SITE