okgourmet.com&nbsp &nbsp Home of Steve's Restaurant Reviews
SUPPLEMENTAL ARTICLES
Relating to Oklahoma Restaurants
Home &nbsp > &nbsp Special Features &nbsp > &nbsp Articles &nbsp > &nbsp Oklahoma Articles
OKLAHOMA CITY, OK--Chelino's Mexican Restaurant
Aug. 23, 2013: Chelino's on Northwest Expressway near Rockwell is the newest location of this mini-chain to open in the Oklahoma City area, but it is actually the result of Chelino's taking over the old Nino's chain (and in this case Nino's former building). Chelino's closed its former location at Northwest Expressway and Council Road, and moved into the building at 6509 Northwest Expressway (the former Nino's), so this is actually just a relocation rather than a new restaurant.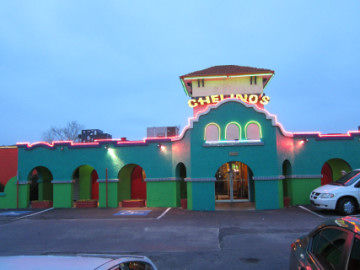 Chelino's on Northwest Expressway
Chelino's has a "100% Estilo Mexico" section of the menu which offers more authentic Mexican dishes than the larger Tex-Mex portion of the menu. Because of this I think Chelino's is moving in the right direction compared to some restaurants which stick solely to Tex-Mex cooking. I have found the authentic dishes at Chelino's, though, to be hit or miss, and I generally think that for the prices that are charged I can do better elsewhere.
The waiters at the Council Road restaurant were very helpful in steering me toward good dishes, but so far I have had less luck at the new restaurant. I hope this is not a trend, but I did find the new restaurant to be busier, so this may be part of the problem. I will admit that Chelino's is not my favorite Mexican restaurant in Oklahoma City, but the experiences from the Council/ Northwest Expressway location have helped to give me a better impression of it than I had in the past.
MOST RECENT ARTICLES
are listed on the web site's home page: