okgourmet.com&nbsp &nbsp Home of Steve's Restaurant Reviews
Chelino's Mexican Restaurant
6509 Northwest Expressway
Oklahoma City, OK
(405) 728-2770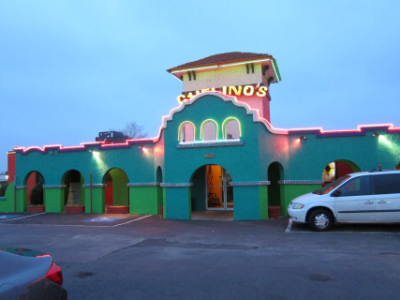 Chelino's is a fairly large chain of restaurants in Oklahoma City, and in 2013 this particular restaurant moved from Northwest Expressway and Council Road to 6509 Northwest Expressway (between MacArthur and Rockwell) in the building where Nino's used to be. I heard that there was a connection between Chelino's and Nino's, and when all the Nino's locations closed, Chelino's adopted some of their former menu items and is now serving them.
The continuation of the Nino's menu items may be good for some, but I was never a fan of the Tex-Mex menu at either Nino's or Chelino's. In fact, I am glad some people call this "Okie-Mex" because I thought it bore little resemblance to the Tex-Mex food I had grown to love in Austin and San Antonio.
When I first started going to the former Council Road location of Chelino's I began to enjoy the restaurant more than other Chelino's locations I had tried in the past because of the "100% Estilo Mexico" menu section (which was probably there all along, but this was the first place I discovered it). The Northwest Expressway location is just the Council Road restaurant which moved, so I am presenting all the dishes I have ordered at both locations in this report.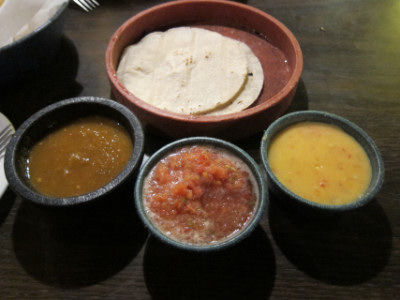 Habanero salsa, regular salsa, cheese dip, tortillas
The first photo shows all the items customers receive free upon being seated, but the Habanero Salsa is something that must be requested (just ask for their "spicy" salsa). In fact, they may have other types of salsa but I usually just ask for one per meal. I thought this one was a little too hot for my taste, and being so spicy it was hard to slather it on the chips and the food as I usually like to do.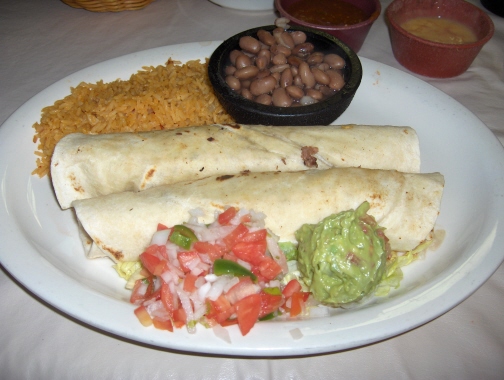 Tacos al carbon with flour tortillas
I have rated the Tacos al Carbon as one of the best dishes at the restaurant, but actually I think the guiso was the best. The tacos al carbon were what one of the waiters suggested when I discovered the "Mexican style" section of the menu, and wanted to try one of the items. The two tacos served were made with carne asada stuffed in flour tortillas with guacamole and pico de gallo on the side. Fajitas are made with the same type of marinated beef, but I was told they had additional spices while the tacos al carbon would have more of a pure meat flavor. I thought the tacos al carbon were quite good, and I enjoyed the "extras" served on the side. My preference is to use corn tortillas, and these were provided at no extra charge (the tacos came out of the kitchen on flour tortillas). The tacos al carbon would be my suggestion if you are looking for a good meat dish at the restaurant.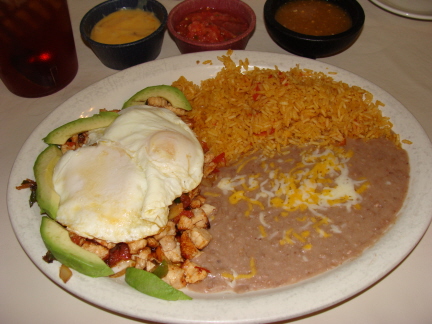 Guiso especial
The Guiso Especial was another authentic dish that I thought was a good representation of "real" Mexican food (with the exception, though, of the refried beans that came with it). Beef is probably most popular in guiso, but my chicken version had good meat with a flavorful tomato sauce. The dish came with jalapeño, but not to excess. The eggs on top reminded me of New Mexican food that is frequently served this way, but the Mexican style dishes at Chelino's are more representative of northern Mexico. The egg seemed to be a little overcooked, and I thought it would have been better for the yolks to be a little runny as is customary with New Mexico style cooking. I enjoyed the avocados that came with it, and the dish was a good mixture of spicy and non-spicy items as well as different flavors that blended well together. Although the meat here did not surpass the tacos al carbon dish, the other flavors made the guiso a little more interesting to me overall.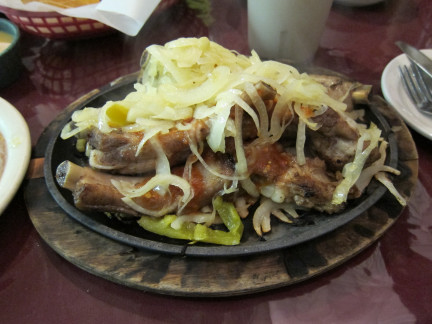 Pork ribs (Costillas de puerco)
The Pork Ribs was recommended to be as one of the restaurant's better dishes, but I did not care for these as much as the ones I had tried earlier (even though I am giving them all the same rating). The reason is mainly that the plate was too big, and I just could not eat it all (and I am an advocate for more reasonable sized plates at restaurants). The sauce was spicy, but I did not think the dish had a very interesting flavor overall. There was nothing really wrong with the ribs, but I just could not get very excited about the seasonings, the mountain of onions served, or the large plate of meat with very little to complement it.
Chicken tacos
Chicken Tacos were another items I tried in order to explore the Mexican menu, but putting grated yellow cheese and what looked like a lettuce and tomato salad on top seemed so far from Mexican style tacos that I wondered why these were on this part of the menu. The meat was actually good, but paying this much money for tacos which were supposed to be Mexican style, and which came out like this, was the big disappointment.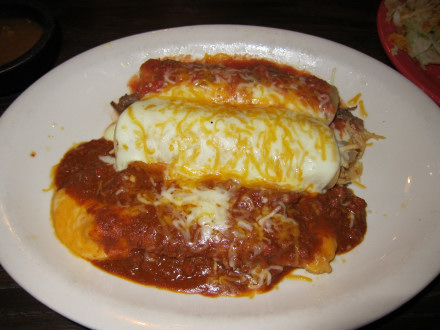 Bandera Mexicana
The Bandera Mexican, or "Mexican flag" was ordered without rice and beans, and my involvement was only to sample a bite of each one. These were three enchiladas with different flavors which were supposed to look like the Mexican flag (one green, one red, and one white colored enchilada). I suppose the one on the top was supposed to be green, but it was really hard to distinguish the different flavors of any of them except for the one in the middle with sour cream.
The Rice at Chelino's was very good, fresh, and flavorful. This was one of the few versions I have tried in Oklahoma that was enjoyable in itself rather than simply providing filler. However, I will have to say that my experiences with it have a little uneven on different visits, with the flavor sometimes a little off.
Whole Beans are available as a substitute for refried beans, and I enjoyed these as well. The Refried Beans, though, were greasy and pretty tasteless.
The Cheese Sauce served before the meal was better than average, but was still not what I would call true Mexican style.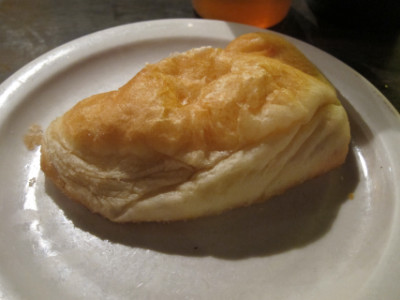 Sopapilla is served free with meals
Sopaipillas are served free as part of all meals, but I think I might call these some of the worst ones I have tried in OKC. With as many employees as Chelino's has, I think they should send somebody to New Mexico to learn how to make good sopaipillas (or they could make a shorter trip to Green Chile Kitchen in Yukon, OK).
RESTAURANT DETAILS
RATING: 16
Cuisine: Mexican
Cost: $$
Accessible: Yes
Smoking: No Smoking
Alcohol: Beer
Additional Locations: 10 in the OKC metro
| | |
| --- | --- |
| Chile Index: | |
Most Recent Visit
Mar. 17, 2013
Number of Visits: 4
Best Items
Tacos al Carbon, Guiso Especial, Guacamole, Rice
Special Ratings
Tacos al Carbon:


Guiso Especial:


Pork Ribs:


Chicken Tacos:


Bandera Mexicana:


Guacamole:


Rice:


Refried Beans:


Chips:


Salsa:


Habanero Salsa:

spicy
Cheese Dip:


Sopapilla:

MORE ABOUT THIS WEB SITE