okgourmet.com&nbsp &nbsp Home of Steve's Restaurant Reviews
SUPPLEMENTAL ARTICLES
Relating to Oklahoma Restaurants
Home &nbsp > &nbsp Special Features &nbsp > &nbsp Articles &nbsp > &nbsp Oklahoma Articles
EDMOND, OK--Wa Ha Ha Asian Diner
Aug. 22, 2013: Wa Ha Ha Asian Diner has a name which in Chinese is supposed to sound like laughter, and of course this translates into English as well. To me it is a little bit funny to find such a good Chinese restaurant in a building that looks like an old Taco Bell or fast food pizza joint, but inside Wa Ha Ha they are serving some serious authentic Chinese food. Wa Ha Ha's specialty seems to be noodle dishes, so in a sense you could say this is Chinese "fast food" (but forget about the big trucks delivering frozen food as you would in a typical fast food place-- here things are freshly made including their handmade noodles).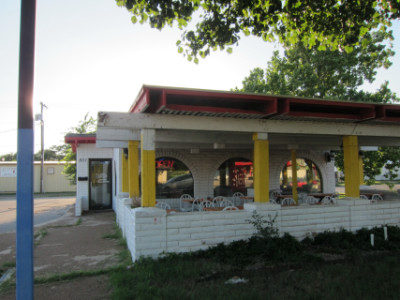 Wa Ha Ha in Edmond
In a way I think Wa Ha Ha represents a trend in Oklahoma City Chinese restaurants. From the outside this looks like an average suburban Chinese restaurant. These restaurants typically offer American style menus so that people can order what they have come to expect in Chinese restaurants (sweet and sour, broccoli beef, etc.). Unlike most suburban restaurants, though, this is not the main menu at Wa Ha Ha. Instead they have noodle dishes, soups, and a pretty large selection of other authentic items. People seem to be flocking to Wa Ha Ha mainly because of their authentic food, and this is why I was impressed that this may be a sign of other similar Chinese restaurants to come. Szechuan Bistro has already shown that authentic Chinese restaurants do not have to be clustered in the Asian District to be successful, and personally I am more than ready for small suburban restaurants to offer this same type of food (as Wa Ha Ha has already shown can be popular with the public).
I will judge this trend to have taken off when I can no longer individually identify or personally visit every restaurant in the city that serves authentic Chinese food because they will have become too numerous. When this happens it will mean that we can start talking about different styles of Chinese cuisine rather than just the fact that certain restaurants serve authentic Chinese food. Personally I believe Wa Ha Ha is a definite sign that the suburban Chinese restaurant scene has already begun to change for the better.
MOST RECENT ARTICLES
are listed on the web site's home page: