okgourmet.com&nbsp &nbsp Home of Steve's Restaurant Reviews
Wa Ha Ha Asian Diner
801 S. Broadway
Edmond, OK
(405) 285-8888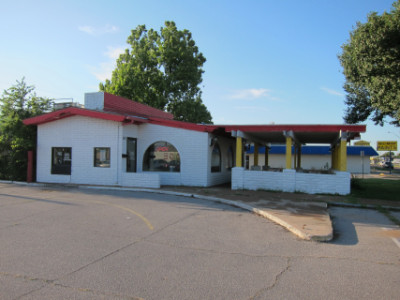 My visit to Wa Ha Ha Asian Diner in Edmond was very enjoyable, and I had expected as much based on the reviews I had read. What was surprising to me, though, was the fact that Wa Ha Ha seemed to represent a turning point in Oklahoma City Chinese restaurants. I had been seeing a trend toward more authentic Chinese food in the "Metro" area for some time, but it had been mostly in the Asian District. Szechuan Bistro, an authentic Chinese restaurant located very near the Edmond city limits, is certainly an Asian District style restaurant located in the suburbs. What made Wa Ha Ha different from Szechuan Bistro (and therefore surprising) was the fact that it was small, and from the outside appeared little different from a number of other suburban Chinese restaurants. The food at Wa Ha Ha, though, was very different from most suburban Chinese restaurants.
Edmond has been a little bit of a trend setter in Chinese food compared to other suburbs, though. Dot Wo was the first restaurant in the city to offer authentic Chinese dishes, although limited in number compared to the Oklahoma City Dot Wo. House of Hunan has a larger, and I think better menu than Dot Wo (I discovered this place second and I think it has not been in operation as long as Dot Wo). Szechuan Bistro certainly provided momentum for authentic Chinese food even though it is not in Edmond, and I think having the university in Edmond has something to do with the demand for this type of food.
The new trend comes down to the fact that Wa Ha Ha Asian Diner is really a typical suburban Chinese restaurant, but with authentic Chinese food. From the outside it looks typical (and I am sure from the architecture some can tell what type of fast food restaurant was at this location previously although I do not remember). Wa Ha Ha has an American style menu, and some customers come in expecting it to have "normal" Chinese food (and of course this type of food is available). I saw many customers, though, ordering the authentic Chinese food because they liked it (and not many of them appeared to be Asian, either). Wa Ha Ha just has good food, and the fact that the menu goes way beyond the typical sweet and sour and broccoli beef menu seems to be something people are now expecting. This is what I mean by Wa Ha Ha being somewhat of a turning point-- it is a normal restaurant serving food that until now had been something I had not expected except at Asian District restaurants.
The menu at Wa Ha Ha is on a large board over what had been the serving counter when this was a fast food restaurant (but now customers are served at the table). There are also menus given to customers when they sit down, but I saw a few specials on the board that were not listed on the menu. I would call the prices very inexpensive, but the food is not in the $ cost category because they have large servings and because some of the food is in the more expensive category (such as the lamb and the handmade noodles).
The food is not Cantonese style, but I do not think it is Sichuanese either. I had understood that it was from "central and western" China, so it has a lot of noodle dishes with a choice of wheat, egg, or rice. The most popular dish is apparently dan dan noodles (something commonly served in both Sichuan and Beijing style restaurants, but the one served at Wa Ha Ha was a different version than I had experienced before which apparently is the "Central China" take on the dish). The food at Wa Ha Ha is delicious but not spicy, and I think the fact that it is different will make it an enjoyable experience to many people. Of course those who want the food spicy can request it that way or add their own chile sauce, but I found the flavor to be good enough that adding chile would only be because of personal preference.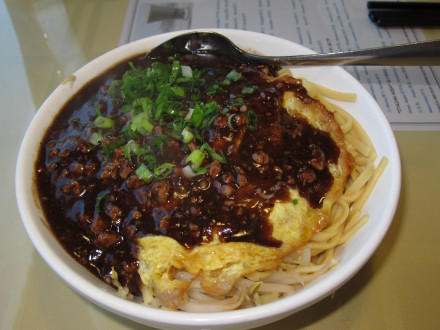 Dan dan noodles
As far as the famous Dan Dan Noodles are concerned, I thought it was the best of the two dishes I tried. This was made with egg noodles, pork, and had egg on top. This was a hearty meal with a very good flavor, mainly because of the sauce. The sauce was thick, and it mixed with the noodles well. Although I thought the flavor was not as complex as with the dan dan noodles I had at Szechuan Bistro, the dish at Wa Ha Ha stood on its own as one of the versions I would recommend. The one at Wa Ha Ha is not spicy, and some people may want to add some chile oil to enhance the flavor (as I did), but I also enjoyed it without the spice.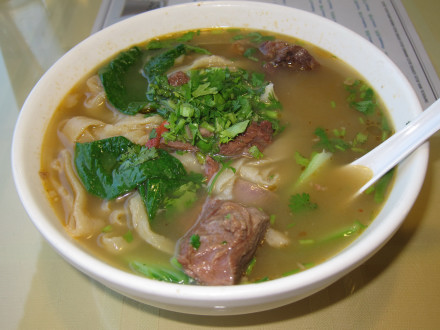 Handmade noodle soup
Handmade noodles are another item I have seen mentioned as one of Wa Ha Ha's specialties. Based on the effort I have seen that it takes to make noodles the traditional Chinese way, I can see why. After trying the Handmade Noodle Soup I got the feeling that this was noodle soup, something that is very common in Chinese cuisine, but that somehow the noodles were far from common. I enjoyed the freshness and flavor of the noodles as much as the broth, meat, and vegetables (which are normally the only parts of the soup I really notice).
I was surprised to find out that Wa Ha Ha only had two dishes with these noodles. One was the soup which I ordered, consisting of a dark broth, bok choy, and a choice of meats (they offer beef or lamb). I wanted to try the lamb, and to me it was very good and went along well with the other enjoyable flavors. While some types of Chinese food have very complex flavors, the food at Wa Ha Ha seems to be more the Chinese version of "meat and potatoes" (in this case it is more "meat and noodles"), but of course with very good quality and good flavors.
The tea was extremely good, and was one of the things I enjoyed the most about the restaurant.
I do not remember whether the restaurant said they use MSG, but my food did not seem to have any appreciable amounts of it (which I think is a good thing).
It is easy to eat at Wa Ha Ha on a college budget, which seems to be one of its main attractions. More than its low price, though, is the fact that it offers very enjoyable and quite unique experiences in the world of Chinese cuisine (and I am always on the lookout for that). Wa Ha Ha has a type of Chinese food that I have seen in Seattle and which is served in other cities, but this was the first time I was able to actually try some of these dishes (and I was not disappointed).
RESTAURANT DETAILS
RATING: 23
Cuisine: Chinese
Cost: $$
Accessible: Yes
Smoking: No Smoking
Buffet: No
Most Recent Visit
Jul. 18, 2013
Number of Visits: 1
Best Item
Dan Dan Noodles
Special Ratings
Dan Dan Noodles:


Handmade Noodle Soup:

MORE ABOUT THIS WEB SITE