okgourmet.com&nbsp &nbsp Home of Steve's Restaurant Reviews
SUPPLEMENTAL ARTICLES
Relating to Oklahoma Restaurants
Home &nbsp > &nbsp Special Features &nbsp > &nbsp Articles &nbsp > &nbsp Oklahoma Articles
OKLAHOMA CITY, OK--Tamazul
Jul. 26, 2013: This should probably be called "Tacos al Pastor: Capítulo Dos," since the new restaurant Tamazul at the Classen Curve has what may be the best tacos al pastor in Oklahoma City (at least they are the best I have tried so far). Of course there are a number of other very good dishes at Tamazul, but I needed to post an addendum to my previous article on tacos al pastor after trying the ones here.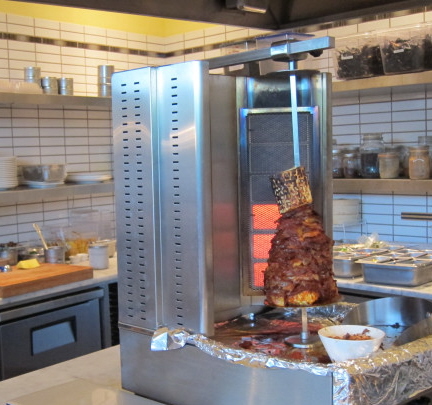 Tamazul's kitchen with skewer for the tacos al pastor
These tacos have very good meat, and are juicy and flavorful. With tacos al pastor I think a lot of it has to do with the spices and fruit juices they add, and at Tamazul they do it very well.
Tamazul does have some expensive dishes, but the tacos and several other items are served tapas style, and I think it will not break the budget to come here and have an excellent meal (but of course this depends on a person's appetite). Tamazul seems to be partly a traditional restaurant serving food from "central and southern" Mexico, and partly a place where they experiment with modern recipes. I do not mind the latter because many of the recipes are purposely made to be healthy as well as delicious.
Whatever Tamazul may be called, it is definitely a departure from the Tex-Mex food found in many restaurants, and I think most people will enjoy the change.
MOST RECENT ARTICLES
are listed on the web site's home page: