okgourmet.com&nbsp &nbsp Home of Steve's Restaurant Reviews
Tamazul (Closed)
5820 N. Classen Blvd.
Oklahoma City, OK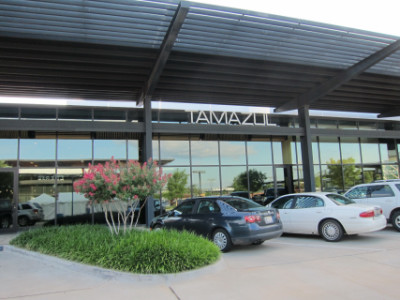 Note: As of 2014 Tamazul has become a totally vegan restaurant, and is no longer serving the meat dishes described in this review. Some review web sites indicate that the restaurant is as good as ever, and that the quality of the food is still at the level I experienced.
It was not until long after my numerous trips to Mexico in my younger years that I realized the value of making a conscious effort to sample the different food that was there instead of just eating whatever was convenient and which would allow me the most time for sightseeing. My passion for food exploration came later, but it largely came out of my love for Mexican food.
It seemed that most types of Mexican food were finding their way into U.S. restaurants anyway, so that I would have ample time to sample different Mexican dishes. I can also say that as a whole, I found Mexican food to be better in the United States than in Mexico itself-- this was nowhere more evident than the Mexican restaurants in El Paso compared to their counterparts in Ciudad Juarez, Mexico.
The type of food I was mostly trying, though, was from street vendors or what could be euphemistically called "budget restaurants." The higher class, or alta cocina restaurants, though, are a different story. These were almost without fail my best experiences in Mexico, but seem to be less successfully exported to the United States.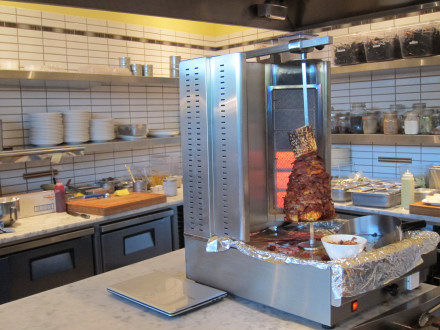 Tamazul's kitchen (in open view of the dining room) with the taco al pastor meat on a skewer
I have not been able to try some of the more well known Mexican restaurants in the United States, such as the Rick Bayless restaurants in Chicago (who, of course, is an Oklahoma City native). In fact, possibly the best Mexican food I have had in the United States was at the now closed Adobe Grill in Oklahoma City, a restaurant specializing in food from the Mexican state of Oaxaca. In terms of flavor, Adobe Grill rivaled any of the best Mexican food I have had anywhere. Adobe Grill's consistent problems with execution, though, kept me from giving it a rating as high as I would have liked to give it, though. One very good example was when I ordered a combination plate and asked for everything to be "Mexican style." They brought it out with everything "Tex-Mex" style (the menu had two versions of most dishes because they figured most people in Oklahoma would want the Tex-Mex version). When they brought the food to the table I told them they had made a mistake and that I had not ordered this style of food they were only willing to change one or two items, and I largely went home disappointed (although their Tex-Mex food was good enough to merit the score of 23 I assigned to the restaurant, and this in itself was some of the best I have had anywhere).
I think more than anything this example points out the problem many restaurants in the U.S. have about appealing to their customers. I wanted the "authentic" Mexican food because I had tried it before, but many restaurants think they have to appeal to a broader customer base. I do not want to speak for Tamazul, one of Oklahoma City's newest Mexican restaurants, but I think their traditionally inspired food will have a wide appeal to people who love Mexican food or just good food in general. The fact that Tamazul even opened (and has been quite busy) is a testament to me that Oklahoma City may be ready for different types of restaurants than the ones that were able to be successful in the past.
My initial impression of Tamazul was that it may not quite be at the same level as some of the best dishes I tried at Adobe Grill, but I still have quite a few things to try at Tamazul (and I hope to be able to do so). The execution at Tamazul, though, seems to be flawless, and unfortunately this was something I could not say about Adobe Grill or some other Mexican restaurants that otherwise would have been great. Another thing I can say about Tamazul is that their tacos al pastor were able to top what previously had been my favorite Mexican dish in Oklahoma City-- the tacos al pastor at Abel's. Tamazul is more expensive than Abel's, but it seems to be worth it.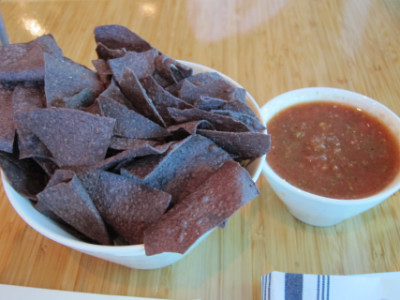 Blue chips, and Tamazul's delicious salsa
Tamazul has what may be the best chips and salsa in Oklahoma City. The blue corn chips were excellent, and I loved the fact that they had no noticeable oil taste (corn oil or otherwise). The Salsa was freshly made, had an excellent flavor, and had just the right spiciness. Actually it reminded me a lot of the salsa that is served in El Paso in its freshness and with the amount of flavor it had (and this is something too often missing in Mexican restaurants where the customer base is less accustomed to Mexican food).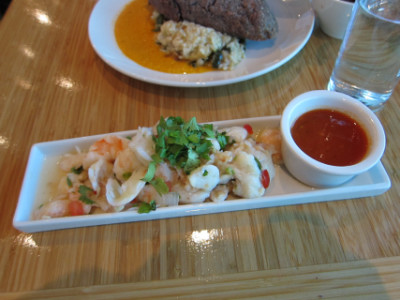 Shrimp cocktail is an appetizer, but is almost a meal in itself
Tamazul has a long list of appetizers on the menu, although after my first visit I suspect that most people will get quite full on the regular food without ordering an appetizer. The appetizer I tried was the Shrimp Cocktail, something that actually would have made a good meal if you like shrimp. I am actually not a big fan of shrimp cocktail, and I only sampled this one, so it is probably best if I do not try to give it a rating. The shrimp was very good, though, and to me the best part was that it tasted very mild and very fresh. I was not as impressed with the sauce, which I thought was a little spicy and did not taste very "traditional" (the shrimp cocktails in the El Paso Mexican restaurants usually have sauces that taste very much like traditional American shrimp cocktail sauce). Tamazul may be trying to be more "modern" than "traditional" in its interpretation of the food, but this sauce was not very much like anything I have tasted in either the U.S. or in Mexico.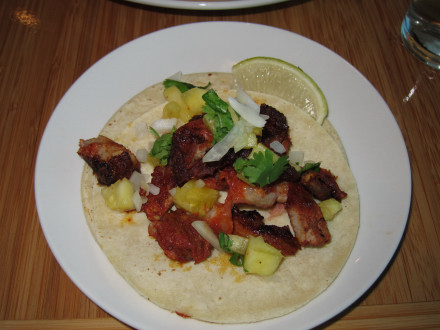 The taco al pastor is quite filling for a single taco
Moving on to something I really liked, though, the Taco al Pastor was the best thing I tried at Tamazul. In fact, this may be the best Mexican dish I have had anywhere in Oklahoma City. This meat was not only very good quality, but it was so flavorful I thought they must have discovered a new process of adding extra juices and spices while cooking the pork. I love the tacos al pastor at Abel's, but the one at Tamazul had more meat, the meat tasted better, and it was juicier and not as dry as the ones at Abel's sometimes seem to be.
This was a dish I did not order but only sampled, and my thinking was that I could get very good tacos al pastor at other restaurants. What I discovered, though, was the the ones at other restaurants are not this good (although I will have to see how conistent they are over time).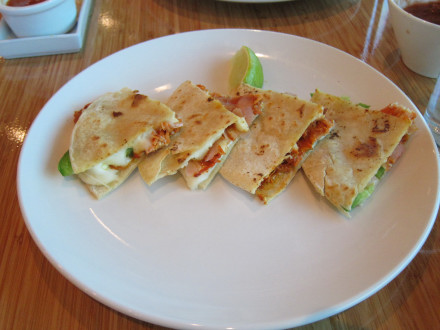 Chicken quesadilla
The Chicken Quesadilla was another dish I did not order but sampled. I thought everything was excellent, including the flavor. For this one, though, I thought maybe the ones at Abel's had a better flavor (although it would be hard for anyone to have better chicken than Tamazul serves). I will give this another try before making a definite pronouncement, but it did seem that other restaurants had quesadillas that were just as good.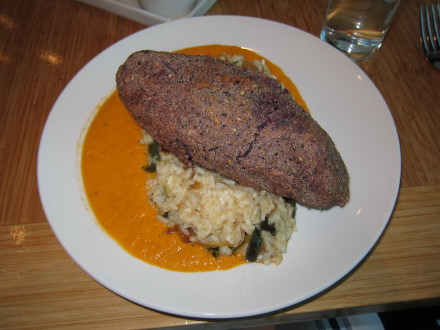 Chile relleno is one of the "Platas Fuertes"
The Chile Relleno was one of the "Platas Fuertes," meant for big appetites (but actually the small plates can also be quite filling if you get two or three of them). The thing that was interesting about the chile relleno (and I assume the other large plates) is that there were so many components. In this case, the chile relleno itself, the filling, and the outer crust could all be analyzed and described separately (although at this point I do not have enough knowledge about Interior Style Mexican food to do so). The menu gives the following description: "Chile Relleno" (the traditional style large chile that is the main component), "Quinoa" (a traditional South American vegetable which was served on the side), "Black Beans" (used as a filling inside the chile relleno), "Walnuts" (used for the crust of the relleno), "Queso Oaxaca" (served inside the relleno), and "Tomato-Chipotle" (a delicious and medium spicy sauce served on the plate but which can be used to pour on top of the chile relleno as desired).
For me it was so different from other chiles rellenos I have tried that I am not sure this is even the correct name for it, but this was mainly because of the crust. The crust was crunchy and was a little bit bland without the sauce, but of course there was enough sauce on the plate to mix with every bite I took (and I enjoyed every bite I took).
As far as not liking the flavor as much as at the now-closed Adobe Grill, I think that may change in time, especially after I try some more things. I certainly think the tacos al pastor at Tamazul are at least as good if not better than anything Adobe Grill served.
The thing I would most caution about Tamazul is that it seems to be quite small, and was full when I went on a weeknight (I can imagine what it would be like on weekends). They do have an outdoor patio, though, which serves somewhat as an overflow area (although I think there are very few days in Oklahoma when I would really want to eat outdoors).
On the other hand, I do hope people continue to support restaurants such as this one that give us greater dining options than existed in the past.
RESTAURANT DETAILS
RATING: 24
Cuisine: Mexican Interior
Cost: $$$
Hours: Open Daily except Sun. lunch
Accessible: Yes
Smoking: No Smoking
Alcohol: Beer, Wine
Special Features: Outdoor patio
| | |
| --- | --- |
| Chile Index: | |
Most Recent Visit
Jul. 24, 2013
Number of Visits: 1
Best Items
Tacos al Pastor, Salsa
Special Ratings
Tacos al Pastor:


Chicken Quesadilla:


Chile Relleno:


Chips:

Blue corn
Salsa:

MORE ABOUT THIS WEB SITE