okgourmet.com&nbsp &nbsp Home of Steve's Restaurant Reviews
SUPPLEMENTAL ARTICLES
Relating to Oklahoma Restaurants
Home &nbsp > &nbsp Special Features &nbsp > &nbsp Articles &nbsp > &nbsp Oklahoma Articles
OKLAHOMA CITY, OK--Tacos al Pastor
Jul. 13, 2013: I often think that El Paso is possibly the best place in the U.S. for Mexican food, but Oklahoma City has presented a lot of great opportunities to try cuisine from eastern, central, and northeastern Mexico that is not generally found in El Paso (the Mexican food in El Paso generally originates from Chihuahua and surrounding states such as Durango). One of my favorite items in the Oklahoma City restaurants is the tacos al pastor, a delicious pork taco cooked on a rotisserie and marinated with pineapple juice along with various spices and flavors.

So far I have found that Abel's in Warr Acres is the restaurant that does these tacos the best. They have been a little bit inconsistent, with the tacos at times being a little bit dry and overcooked. I would say, though, that at least 90 to 95 percent of the time, Abel's has the best tacos al pastor in the city. In fact, I ordered some on my most recent visit and they were just about as good as I could hope for them to be.

One restaurant which is also in contention for the best tacos al pastor, though, is Birrieria Diaz in Bethany. Actually, what I like about Birrieria Diaz is the fact that they serve the pastor meat in different ways such as on sopes, sort of like gortitas with a flat masa shell instead of one that encloses the filling. The sope version looks like this: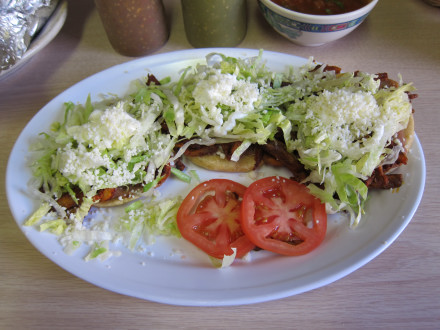 Sopes with tacos al pastor meat from Birrieria Diaz
The toppings and garnishes with this dish make it delicious to the point that I may like it even better than tacos at Abel's (Abel's serves gorditas with pastor meat but I thought the sopes at Birrieria Diaz had a better flavor). In any case, I think the regular tacos at Abel's and the sopes at Birrieria Diaz are both definite winners.
MOST RECENT ARTICLES
are listed on the web site's home page: