okgourmet.com&nbsp &nbsp Home of Steve's Restaurant Reviews
Birrieria Diaz
6700 N.W. 39th Expressway
Bethany, OK
(405) 603-1304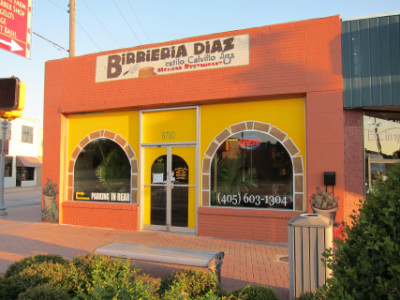 I have had two problems with Birrieria restaurants-- one is that I cannot pronounce it and the other is that for a long time I did not know what it was. The first problem will probably never be solved, at least to my satisfaction. The second, though, can be solved easily by visiting Bethany and trying birria, the signature dish at Birrieria Diaz. Birrieria restaurants are popular in certain parts of Mexico and the United States, but I never encountered them in my own dining experience until recently.
Birrieria Diaz serves food from the area of Calvillo, Aguascalientes and offers much more than birria. Compared to most Oklahoma Mexican restaurants the menu is quite small. I have noticed, though, that almost every day special items are offered, and many of these are later added to the menu. As of March 2012 the owners informed me that some of the previously advertised specials were available on request, and would soon be added to the menu.
One reason Birrieria Diaz has a limited menu is that everything served is an authentic dish from Mexico. While it has soups, enchiladas, flautas, tamales, breakfast items, and a variety of other dishes, it does not serve Americanized items such as fajitas and chimichangas that make up so much of many restaurants' menus. Chips and salsa are served, but missing from Birrieria Diaz are a cheese sauce appetizer or sopapillas for dessert (although sopapillas are sometimes served, and this may become a regular feature if they are popular enough). Prices are much lower than most restaurants because you just get the real "food," and not the "filler" served at many places.
It is kind of a shame that more plates do not come with the typical beans and rice because the few times I have tried them they have been among the best in Oklahoma City. Most plates, though, have just enough food to be filling, and this is one thing I appreciate about the restaurant.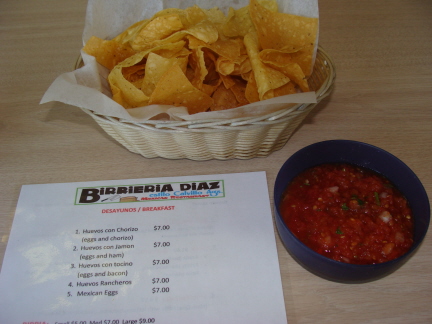 Chips and salsa
The chips were very good, and I believe are made in the restaurant (as are the tortillas). There is one type of Salsa served, and it is flavorful and spicy enough that there is no need to ask for a "spicy" salsa as I do at most restaurants (but in any case, the salsa served on the table is the only one they have). This is really my favorite salsa in Oklahoma City.
Many plates also come with special red and green sauces that can also be used as a salsa, and these too are excellent.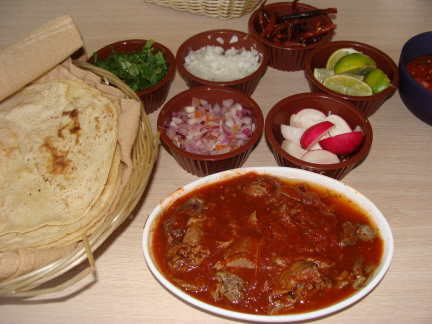 Lamb birria
On my initial visit I tried the restaurant's signature dish, the Birria. This is a flavorful stew with a mild spice made with either beef or lamb. The sign I saw describing the birria described it as coming with "sheep," but in any case it is made the traditional Mexican way (or at least I am assuming it is traditional since the one here was the first one I tried).
As I have mentioned in the reviews of Middle Eastern restaurants I seldom order lamb since I have had both good and questionable experiences with it in the past. The one here, though, was all good with a very flavorful meat. The sauce, though, was probably the highlight of the plate with the kind of flavors I look for in Mexican restaurants but seldom find in the Tex-Mex style restaurants that are common in the Southwest. I would definitely suggest ordering this dish, and if you do not want to try the lamb it also comes with beef.
The basket of freshly made tortillas was what I would describe as the other highlight of the meal (besides the sauce). Several bowls of condiments also provided additional flavor to the meal, and I particularly thought the limes were a good idea to include with this dish. I thought the dish was spicy enough, but a bowl of dried chiles was provided if I wanted to make it spicier. The fresh cilantro was good, but I used them sparingly.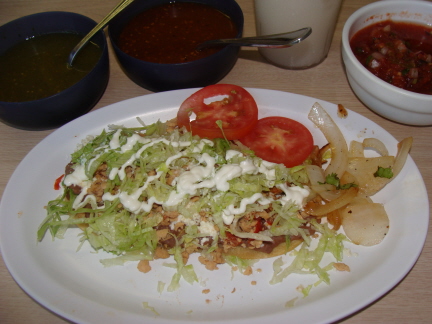 Huarache
The Huarache was another item that I thought represented the restaurant's signature dishes. Like the birria, the huarache here was the first one I tried, and I thought it was excellent. This was a large sope (which I have seen in many other restaurants) shaped like a shoe (thus the name huarache, or sandal). It was made with corn, and was similar to gorditas, only more crispy. The toppings, though, were what made this one especially good.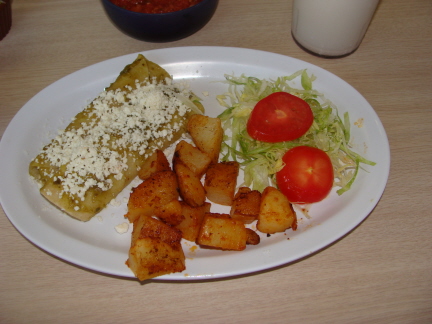 Half order of green enchiladas
I was very excited to find the Green Enchiladas here because they were the traditional Mexican style enchiladas that are a good example of how the dish in Mexico is different from enchiladas in the United States. In fact, I even used them in my article about the differences between enchiladas in New Mexico, El Paso, and Mexico (since the ones at Birrieria Diaz represent enchiladas from the state of Aguascalientes). These enchiladas are not spicy, and are topped with cotija cheese that does not melt when heated. The enchiladas at Birrieria Diaz are one of the best examples of the "south of the border" style, both visually and in flavor.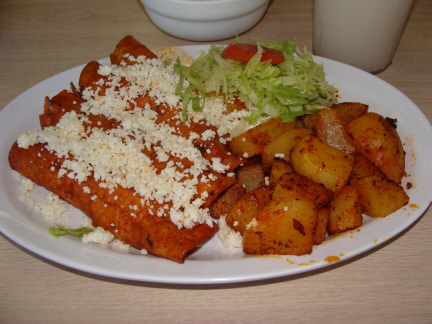 Red enchiladas
The Red Enchiladas were also quite good, but I did not think they had as much flavor as the green. Also the plate pictured is a full order, while I think the half order (as demonstrated by the green enchiladas) is really enough for a meal. Both orders come with fried diced potatoes, which is traditional south of the border.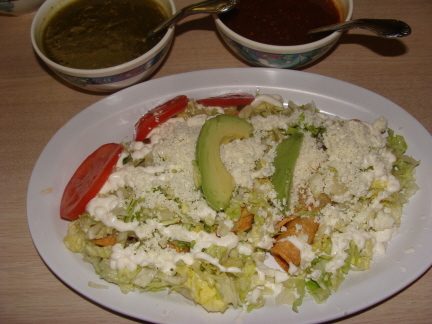 Flautas
I wanted to order the Flautas to see if they were anything like the Michoacán style flautas that are one of my favorites (and are the specialty at Flautas Tepalca in Canutillo, Texas). The ones here were quite similar with cotija cheese, crema (a liquid sour cream), and topped by lettuce and tomato. The biggest difference was that these had slices of avocado while the Michoacán style flautas use liquified guacamole.
Birrieria Diaz normally serves bowls of red and green chile sauce with the flautas (and with several other dishes), but in case they are not brought to the table by the time the food arrives I would recommend asking for them, since the "authentic" version of the flautas requires some kind of sauce for a topping.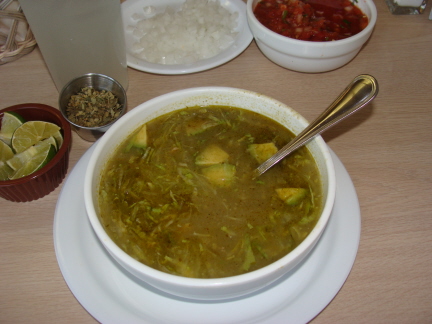 Pozole verde
When I first ordered Pozole Verde it was a daily special, but it has since been added to the menu. This is a large bowl of hominy along with pork meat and avocado. I have since learned that they also make pozole with red chile. The condiments were a little different the two times I ordered it (yes, I liked it enough to order it more than once). Most of the items in the small dishes do not really add much to the flavor in my opinion, but I do like to put a small amount of thyme and a larger amount of lime. This pozole is very different from the Chihuahua style dish served in El Paso, but both are good.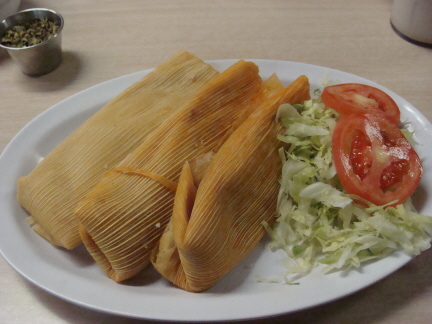 Tamales
The Tamales were my least favorite item at this restaurant-- I thought they were not spicy enough, did not have much flavor, and left a greasy aftertaste (I think there are better tamales at Chalo's Tacos). However, I thought the green tamales with chicken were spicier and had a better flavor than the red ones with pork, and I think either one makes a good side dish if I am ordering several items to "make my own plate."
The Horchata was very good but a little thin, and they usually also have jamaica. All of the aguas frescas drinks are home made.
The corn tortillas are also one of the best features of the restaurant, so much so that I have tried to order dishes as much as possible with tortillas on the side (such as birria and pozole).
SPECIAL DISHES
Note: In the past some special dishes have been added to the menu, and sometimes the dishes shown here can be ordered by special request even if they are not on the menu (it is best to check with the restaurant). Lent specials are served on Fridays before Easter.
One of the best features of Birrieria Diaz is the list of items served as daily specials which are repeated over time, but which are varied enough that I almost always see something I have not yet tried. In terms of ordering authentic Mexican food that I rarely find in Oklahoma, the specials at Birrieria Diaz have been a great source for these types of dishes.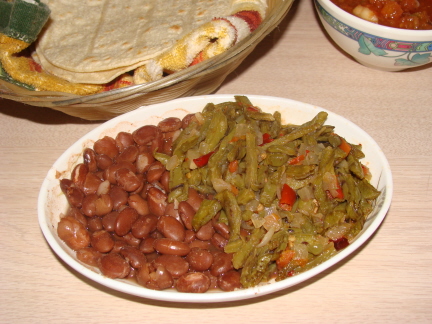 Nopales served as a special
Nopales (cactus) is an item I have seen at the Buy for Less Grocery Store deli at N.W. 36th and MacArthur, but I thought the one at Birrieria Diaz had a better flavor. Since I had eaten this dish many times in Mexico I was not afraid of it, except for the fact that it has to be prepared correctly to be very good. The one at Birrieria Diaz is very good, and I thought the nopales had a very good texture and flavor. The chile level was just right (about 4 out of my scale of one to five), and the pinto beans that came with it were very good. Actually this was very much like eating green beans but with a slightly different texture and flavor. I did not write down in my notes whether it had meat and I do not remember, but it is primarily a vegetable dish.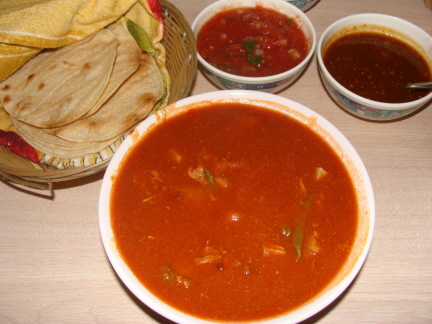 Mole de espinazo
Mole de Espinazo is a dish that I probably would not order very much if it were on the menu, but it was very much worth trying (especially since I had not seen this dish before, even in Mexico). The "espinazo" was pork spine meat, and this was not my favorite (but it was a lot better than some types of meat I have tried in Mexican restaurants). The mole was very spicy (5 out of my scale of one to five) and pretty good, but it was different from others I have tried. Probably the closest to the flavor of the mole was the Zacatecas style mole served at Margarita's on N. May Avenue, but the one at Birrieria Diaz was definitely spicier. This mole also had nopales and potatoes in the soup, and I thought this was a very good feature.
Calling this mole a "soup" shows one of the main differences between this version and the Chihuahua style moles served in El Paso and Ciudad Juarez which are more of a sauce poured over chicken (and which I would say should be eaten with a fork rather than a spoon).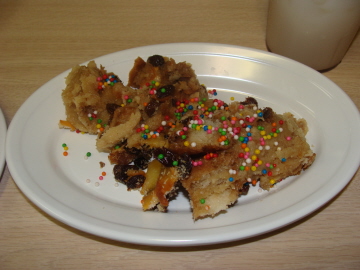 Capirotada served as a special dessert during Lent
The Capirotada bread pudding is a special dish traditionally prepared on Fridays during Lent in many Mexican households and restaurants, and the fact that I was able to get it at Birrieria Diaz is an example of what I think makes this restaurant so special. Even in El Paso only a few restaurants offer special Lent food (vegetarian or fish dishes), and even fewer serve this traditional dessert. I cannot think of any I have had in El Paso that were better than the one I had at Birrieria Diaz. The things I look for (and that I found here) were lots of raisins, bread that was not too moist and mushy or too dried out and hard, and a good flavor throughout. The candy sprinkles on top are not part of the traditional recipe but they make the dish more colorful, and are common on the versions I have seen in Texas.
My Comments in a Nutshell
What I like most:
Authentic food from Aguascalientes
Serves chips and salsa, but doesn't jack up the price because of queso, sopapillas, or other items which you may or may not want
Has the best horchata I have had in OKC
Authentic ingredients, such as Mexican cheese on enchiladas, authentic "crema" instead of American style sour cream, etc.
Always offers special dishes, but my favorites are the Lent specials during the weeks before Easter
Disappointments:
Not all dishes have been a hit with me--I expected the tamales to be better
Chips have too much of a corn oil taste to me
Things to know:
This is a full service restaurant with both a menu and specials listed on a board
Aguascalientes food is not particularly spicy unless you want it this way--only a few items (mainly the specials) are what I would call spicy
You can ask for many items that are not on the menu (one of my favorites is the "enchiladas suizas")
I'm not sure what time it closes, but I think it is 10 PM on weekends
Located in downtown Bethany--parking is on the street
RESTAURANT DETAILS
RATING: 23
Cuisine: Mexican Aguascalientes
Cost: $
Hours: Open Daily
Additional Location: 1933 N. MacArthur Blvd.
Accessible: Yes
Smoking: No Smoking
Alcohol: Beer
Special Features: Serves Breakfast, Has Lent Specials
| | |
| --- | --- |
| Chile Index: | |
Most Recent Visit
Jun. 11, 2015
Number of Visits: 10+
Best Items
Pozole, Huarache, Tacos al Pastor, Horchata, Salsa, Tortillas, Specials
Special Ratings
Birria:

lamb
Huarache:


Pozole:

green
Flautas:


Red Enchiladas:


Green Enchiladas:


Tacos al Pastor:


Tacos Diaz:


Chile Relleno:


Gorditas de Rajas:


Tamales:


Salsa:


Chips:


Tortillas:


Horchata:

Non-Menu Items
Nopales:


Mole de Espinazo:


Chile de Puerco:


Ceviche Tostada:


Lentejas:


Capirotada:

RELATED ARTICLES
Nov. 6, 2015 : Enchiladas Worth Seeking Out (Oklahoma City, OK)
MORE ABOUT THIS WEB SITE