okgourmet.com&nbsp &nbsp Home of Steve's Restaurant Reviews
El Birrias Restaurant
1933 N. MacArthur Blvd.
Oklahoma City, OK
(405) 495-8700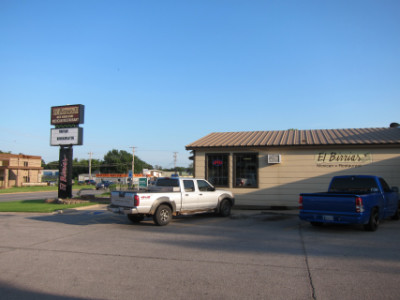 El Birrias is a restaurant that has been around for a while, but it got a big boost in 2014 when it became part of the Birrieria Diaz "empire" (consisting of Birrieria Diaz in Bethany and this restaurant). On line reviews indicate something I also know-- these restaurants offer more than is found at the typical Mexican restaurant. These restaurants have authentic food that is flavorful, freshly prepared, and appealing to a very broad group of patrons.
When the Diaz family came to El Birrias they brought many of Birrieria Diaz's menu items with them. At the same time, though, El Birrias had its own menu which is still available. Because of this El Birrias is more "Americanized" than the Bethany restaurant, but just about everything from Birrieria Diaz is also available. The authentic menu at El Birrias is not compromised, and customers can get the type of food they want.
The plate I ordered at El Birrias, though, does not fit into either of the categories I mentioned. I would describe it as "home style" Mexican food--something a little more fancy than most of the items from Birrieria Diaz but with authentic Mexican flavors. Thus I don't know whether El Birrias has two or three kinds of Mexican food, but from my sampling it seems to have the best of all of them. I do not believe there is anyone who loves Mexican food that will be disappointed with this restaurant.
Chips and salsa
The Salsa was good (as always--this is the same type of salsa served at Birrieria Diaz). The Chips were a special treat, though, since I rarely find especially good chips in Oklahoma City (Birrieria Diaz has them, though).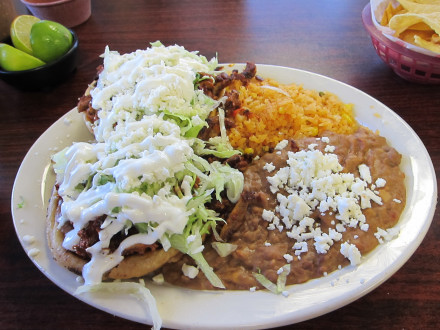 Sopes
Sopes are an item I have eaten several times at Birrieria Diaz, and the ones at El Birrias have the same flavor and freshness. I have found, though, that the type of meat makes a difference (I especially like the pastor version).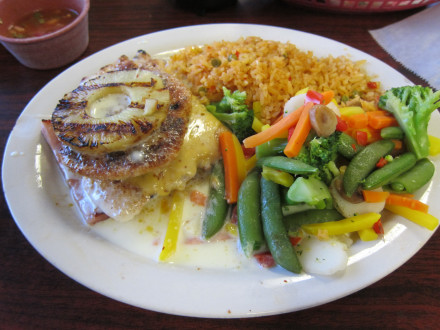 Pollo guero
Pollo Guero is the item I tried from the "old" El Birrias menu. While this is not an item served at Birrieria Diaz, it demonstrated the same type of complementary flavors and quality ingredients that I enjoy at Birrieria Diaz. This was the type of "home style cooking" I have had in Mexico, and was one of the best Mexican dishes I have had anywhere. For an upscale Mexican dinner, this is an excellent choice.
The vegetables tasted fresh, and everything about this dish was excellent (it was a little much for my appetite, though, and I had to take some of it home). The chicken on this dish had a slice of ham underneath, and cheese sauce on top. It sounds very simple to say it has cheese sauce, but this melted just right and the flavor was just right (something that I do not find very often). This was certainly not an ordinary dish.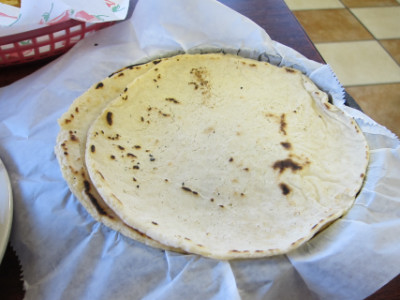 Tortillas
El Birrias makes their own Tortillas, which was another bonus for this restaurant.
I had a sample of the freshly made Guayava drink which was freshly made and very good. This is a very sweet drink, something that I think makes it very popular in Mexico.
The thing that strikes me about El Birrias is that they serve all the popular dishes from Birrieria Diaz (and are adding more all the time), but they have another list of menu items which are also excellent. I haven't tried everything, and some items seem to be American style, but what I ordered had a very Mexican flavor. It is too soon for me to fully describe the food here, but I can definitely say they have the best of two menus--the food from Birrieria Diaz as well as some very good dishes from the "old" El Birrias.
RESTAURANT DETAILS
RATING: 23
Cuisine: Mexican
Cost: $$
Accessible: Yes
Smoking: No Smoking
| | |
| --- | --- |
| Chile Index: | |
Most Recent Visit
Jul. 22, 2015
Number of Visits: 1
Best Item
Pollo Guero
Special Ratings
Pollo Guero:


Sopes:


Rice:


Beans:


Chips:


Salsa:


Cheese Sauce:

MORE ABOUT THIS WEB SITE