okgourmet.com&nbsp &nbsp Home of Steve's Restaurant Reviews
SUPPLEMENTAL ARTICLES
Relating to Oklahoma Restaurants
Home &nbsp > &nbsp Special Features &nbsp > &nbsp Articles &nbsp > &nbsp Oklahoma Articles
OKLAHOMA CITY, OK--Johnnie's Charcoal Broiler
Jun. 15, 2013: Johnnie's Charcoal Broiler is probably my favorite place for hamburgers, perhaps for nostalgia if nothing else. It is the restaurant that continued the style of hamburgers served at the Split-T, for years a fixture on Western Avenue. Johnnie's sauce (a tomato based barbecue styled sauce) is supposed to be based on the Split-T sauce, and I think it is pretty close if not an exact replica.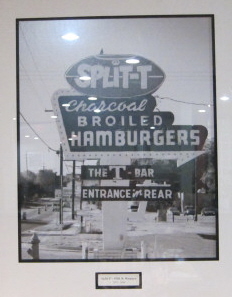 Photo of the old Split-T Restaurant
Johnnie's even has a photo of the old Split-T sign, along with pictures of other historic restaurants. I think the idea is not that Johnnie's claims to be a reincarnation of the old Split-T, but that it continues the tradition of high quality food which was found at these old restaurants.
For a while, though, I thought Johnnie's was in a serious slump, and I did not find a consistent quality when I went. There are about eight restaurants in the Johnnie's chain, and the one on Northwest Expressway which I visited most frequently was rarely giving me the kind of experience I had remembered from the restaurant. I thought the one on Britton Road was better, but it seems that since 2012 the Northwest Expressway location has improved to the same level I remember from earlier years. The improvement seems to coincide with the opening of their newest restaurant, West, which features more upscale dining (and some more upscale items have been added to Johnnie's menu as well). It is unclear whether the changes I have seen are a result of a new concept or improved management at the Northwest Expressway restaurant, but it is probably a combination of the two.
My review of the Northwest Expressway restaurant (with a link at the beginning of this article) lists my favorite items, but with so many new things being added recently there may be others that are noteworthy. In a nutshell, I would say this about the "old menu:" Get the hamburger with Johnnie's sauce; for me the veggie burger with Johnnie's sauce is just as good (and others may feel the same way); the french fries are really special but on multiple trips I will alternate between this and the baked beans; the iced tea is one of the best in town but occasionally I will splurge and get a milk shake.
I hope everyone who goes will enjoy it as much as I do.
MOST RECENT ARTICLES
are listed on the web site's home page: