okgourmet.com&nbsp &nbsp Home of Steve's Restaurant Reviews
Johnnie's Charcoal Broiler
6629 Northwest Expressway
Oklahoma City, OK
(405) 721-9018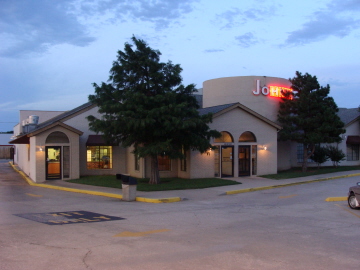 Johnnie's has been my favorite place for hamburgers in Oklahoma City since the demise of the Split-T and The Patio, and follows these restaurants' formula of serving charcoal broiled hamburgers with hickory sauce. "Johnnie's sauce" is based on the one at Split- T, with a tangy flavor very similar to some of the sauces served at various barbecue restaurants . It is a difficult task for any restaurant to live up to someone's childhood memories, and I still think the Split-T and Patio had the best hamburgers ever, but Johnnie's has been doing a good job of continuing the tradition of what I consider to be "Oklahoma City style hamburgers."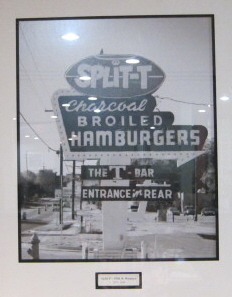 Historical photos at Johnnie's pay homage to some of the city's early restaurants, including this one of the Split-T
I understand that the hamburgers at Johnnie's are cooked partially over charcoal (giving them a distinctive flavor), and partially on a gas grill (making sure they are thoroughly cooked). I think it has an excellent result, and is even better with Johnnie's sauce. I still think this is the best burger in Oklahoma, although I don't have a large sample size of others to compare.
To me the veggie burger is equal in enjoyment to the hamburger, although with the provision that I get it with Johnnie's sauce. I know most people will prefer the burger, and I like it as well on the relatively few times I order it. Johnnie's is one of the best places to get a veggie burger, though, and even more so with their sauce.
I think since about 2012 this location of Johnnie's has been working hard to maintain its quality control, eliminating the gap I used to see between this restaurant and the Britton Road location. I have not tried the food at all of Johnnie's locations, but I do believe this restaurant is a good one to sample Johnnie's food.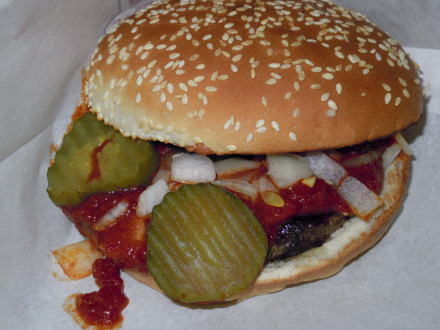 Number 5 Hamburger with Johnnie's Sauce
One of the main attractions here is the No. 5 Hamburger, a charcoal broiled burger with Johnnie's sauce, pickles, and onions. The sauce is cooked each day for about five hours, and is made with a secret blend of ingredients. It is much like a barbecue sauce, but this one is better than any similar sauce I have tried in the barbecue restaurants. The theta burger (which includes mayo and Johnnie's sauce) is also quite popular, but is not a favorite of mine.
These hamburgers are good regardless of the toppings. The meat patties are made with chuck, and are higher quality than the average hamburger. Hamburgers are not on my regular diet any more, and I have only tried a few recently, but out of these I thought the ones at Johnnie's and the old VZD were at the top of the list in terms of quality.
The buns with sesame seeds comprise the third feature that makes this hamburger so enjoyable. Johnnie's has burgers available without the bun for those who want it this way, but for me the best choices are to get a veggie burger or hamburger on a bun.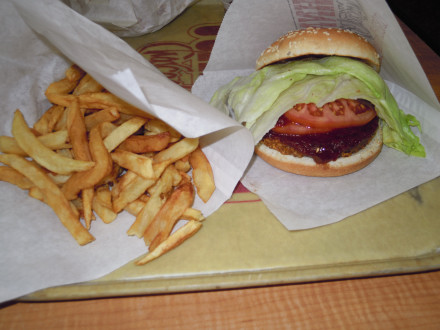 Veggie burger with Johnnie's Sauce and fries
At Johnnie's a Veggie Burger is a good alternative to the hamburger, although I would say this would not be the case at most restaurants. Here the meatless burger seems to have a better flavor than others, even though the one here is "Southwest" (the same style of veggie burger that most places serve). The veggie patties used to be overcooked, but this has not been the case since about the beginning of 2012. My tip about the veggie burger is to get it with Johnnie's sauce and no other toppings (this is just my preference).
Johnnie's offers some other choices if you are not in the mood for a burger. One popular item is the Frankfurter with chili and cheese, similar to the coney hot dogs served at many of the local hamburger restaurants. The frankfurter seemed to be better quality than most, with more meat and less "filler" than many hot dogs, as well as a good flavor. The chili, though, was disappointing compared to the "other" Johnnie's in El Reno (this is a separate restaurant, not related to Johnnie's Charcoal Broiler). The chili is Texas style--spicy and brown colored (Texas chili can be very good, but I just don't care much for the one here).
The French Fries are almost addictive with just the right amount of grease. The large order is probably appropriate only for a family with hungry kids (if you can eat an order by yourself, I would seriously worry about you!).
Baked Beans are a healthier side dish, and just about as good as the fries. Because of tradition, though, I usually order the fries.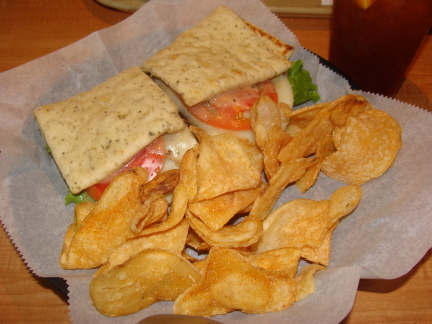 Basil chicken flat bread sandwich
In recent years Johnnie's has expanded its menu to include items other than its signature hamburgers. Although I was skeptical about ordering any of them, the Basil Chicken Flat Bread Sandwich was surprisingly good. Made with grilled chicken breast meat, provolone cheese, balsamic basil vinaigrette dressing, and herbed flat bread, no one of these components was really a weak link in the sandwich. I cannot say that the balsamic vinaigrette dressing was comparable in flavor to the Johnnie's sauce used on hamburgers, but I still thought the dressing used on the chicken sandwich was good quality and had a good flavor. The home made chips that came with the sandwich were quite good, and overall the sandwich was a positive addition to the menu.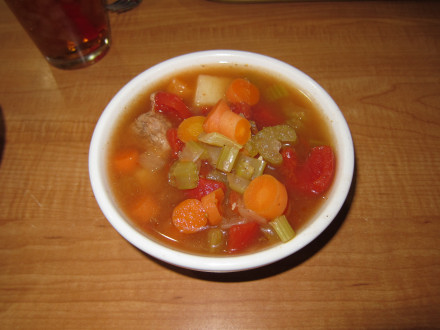 Vegetable soup
The Vegetable Soup is a very worthwhile side dish, not only to make a healthy meal but also for the flavor. I cannot verify this information, but the soup seemed to be made from scratch using fresh ingredients, and I was quite impressed.
The Chicken Noodle Soup was also quite good except that I thought it was too salty.
Salads are also available such as a chef salad, Mandarin cranberry, and strawberry spinach (which the menu says is seasonal).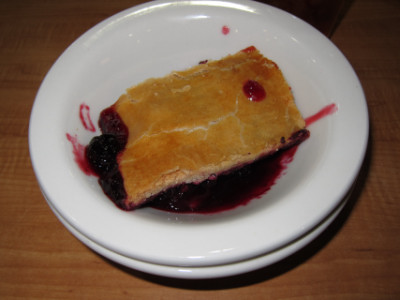 Blackberry cobbler
Blackberry Cobbler was less sweet than those I usually find at restaurants (and I think this is a good thing). Like other items here, the cobbler tasted fresh and made from scratch. The only negative was that the crust was not my favorite.
There are some other desserts which I find to be just average, though, including the Apple Dumpling and the Chocolate Pie.
The hamburgers are not very expensive for the quality you get, but if you order any side dishes Johnnie's becomes just about as expensive as going to a typical restaurant. In my opinion, though, it is certainly an experience that is worth it.
The Iced Tea is very good, partly because the crystal clear ice is much better than the ice I can make at home from tap water.
For out of town visitors I might say the Johnnie's on Britton Road offers more of an "experience" with a larger dining room and usually a larger crowd. Otherwise, though, this location should give a good idea of what Johnnie's is all about.
My Comments in a Nutshell
What I like most:
Johnnie's sauce (this is the main reason I keep coming to this place)
Black bean burger (veggie burger) is probably not technically as good as the hamburger, but for my taste it is better
French fries (sometimes they are a little greasy, but most of the time they are just about perfect)
Iced tea (it's one of the best)
Disappointments:
Most of the "new" menu items I have tried have not been terribly exciting (or at least not as notable as the hamburger/ veggie burger)
This branch had several years when I thought it was not as good as the Britton Road location. Currently I think both restaurants are just as good, but I still feel safer in encouraging people to try the Britton Road location.
Things to know:
Customers order at the counter and pay when the order is ready.
The "charcoal broiled" hamburgers are cooked partially with natural gas, but the charcoals make it a unique "Oklahoma City specialty."
To me the real attraction here is the Johnnie's sauce (a modified barbecue sauce made to go on hamburgers). This is also an Oklahoma City specialty, although I have had similar sauces in Tulsa, Midland, and at a drive-in in El Paso. Johnnie's sauce is based on the sauce at the old Split-T on Western.
There are several Johnnie's locations. The one on Britton Road is the largest, and I think is Johnnie's flagship restaurant.
The to-go counter is faster than the regular order line when there are a lot of customers. (A drive-through window is also available).
RESTAURANT DETAILS
RATING: 23
Cuisine: Hamburgers
Cost: $$
Hours: Open Daily
Accessible: Yes
Additional Locations: 2652 W. Britton Rd., 421 W. I-240 Service Rd., 13900 N. May Ave., 33 E. 33rd (Edmond), 620 W. Danforth (Edmond), 1230 W. Main (Norman), 5001 S. Harvard (Tulsa), 8104 S. Sheridan (Tulsa)
Smoking: No Smoking
Most Recent Visit
Oct. 4, 2015
Number of Visits: 10+
Best Items
Hamburger with Johnnie's Sauce, Veggie Burger with Johnnie's Sauce, French Fries
Special Ratings
Hamburger:

Johnnie's sauce
Veggie Burger:

Johnnie's sauce
Frankfurter:

Chili & cheese
Chicken Fried Chicken:


Chicken Sandwich:

on flat bread
Vegetable Soup:


Chicken Noodle Soup:


Baked Beans:


French Fries:


Milk Shake:

vanilla
Blackberry Cobbler:


Apple Dumpling:


Chocolate Pie:

Restaurant Web Site
Johnnie's
MORE ABOUT THIS WEB SITE