okgourmet.com&nbsp &nbsp Home of Steve's Restaurant Reviews
Johnnie's Charcoal Broiler
2652 W. Britton Rd.
Oklahoma City, OK &nbsp The Village
(405) 751-2565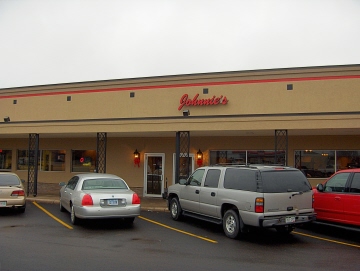 Johnnie's has become an Oklahoma City institution, bringing the quality of hamburgers to a level found at very few places. The Split-T and The Patio were the first restaurants I can remember that served charcoal broiled hamburgers with hickory sauce. Johnnie's came along soon afterward, and carries on the tradition today with nine locations in the OKC and Tulsa areas.
The hamburgers at Johnnie's are cooked over charcoal, giving them a distinct flavor. I do not know why this cooking method has not caught on in many places outside Oklahoma, but it is one of the things I really appreciate about Johnnie's and some of the other hamburger places in the area.
Even though Oklahoma is known for charcoal broiled hamburgers, I have not found any other restaurant that does it as well as Johnnie's (except for places such as Split-T that were my favorites while growing up). My travels around the country have so far demonstrated that Johnnie's is not only very good, but also unique in offering the type and quality of burger that is served here. Many places in Oklahoma City come close, but I still think Johnnie's is the best.
Since I started publishing my own personal ratings of restaurants, there has been a dilemma about how to rate my favorite hamburger, pizza, barbecue, taco, and other casual and downscale restaurants that certainly do not qualify as "fine dining," but have their own place in my personal "food chain." Johnnie's is not one of the city's most elegant restaurants, but it is one of the ones I would most miss if it were gone.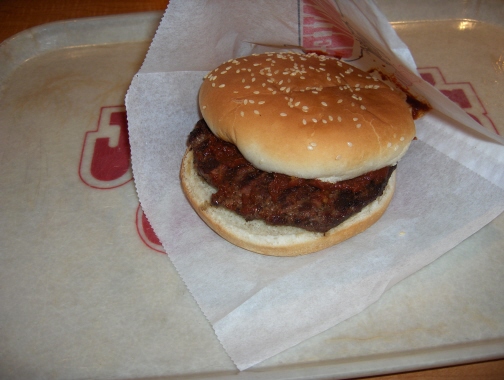 Hamburger with Johnnie's Sauce
Johnnie's offers salads and side dishes, but to me the hamburgers and fries are the reason to go. Although several toppings are available for the burgers, Johnnie's Sauce is the one I have always enjoyed. Cooked each day on the stove for about five hours, this hickory sauce is made with a secret blend of ingredients, and can be purchased for take-home. I would say this sauce is a must try, and if you are not sure you will like it you can order it on the side. I usually prefer mustard to tomato based sauces, but Johnnie's Sauce is of such superior quality it can only be compared to a high quality barbecue sauce.
The meat patties are made with chuck, and are higher quality than the average hamburger. The sauce, the charcoal broiling, and the meat all seem to be key ingredients in making this such a good burger.
I have also enjoyed the buns with sesame seeds on top as much as any other part of the burger.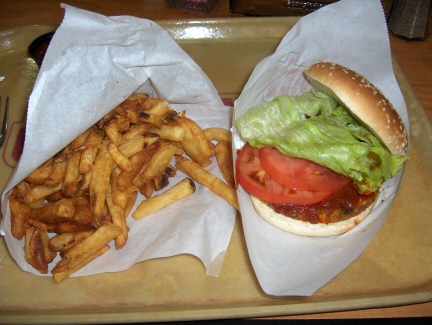 Veggie burger with Johnnie's Sauce and fries
Many times I get as much enjoyment out of a veggie burger as the meat patty, mainly because I order them with Johnnie's Sauce (but customers can also get mustard or mayonnaise if they wish). I am sure there are better quality veggie burgers than the ones here, but out of the ones I have tried in the Southwest, I like the ones served at Johnnie's the best. Honestly, though, I would like just about anything that had Johnnie's Sauce on it.
Johnnie's offers some other choices if you are not in the mood for a burger. One popular item is the Frankfurter with chili and cheese, similar to the coney hot dogs served at many of the local hamburger restaurants. The frankfurter seemed to be better quality than most, with more meat and less "filler" than many hot dogs, as well as a good flavor. The chili, though, was disappointing compared to the "other" Johnnie's in El Reno (which I think is the best). This is Texas style chili (not New Mexico chile that is much spicier and either red or green colored). Chili in Oklahoma is quite varied, each one made with a secret recipe, and I just did not care much for the one at Johnnie's Charcoal Broiler. As a matter of fact, Johnnie's serves a large number of sandwiches, salads, and items other than hamburgers, but I have never been very impressed with anything other than the burger.
The french fries are almost addictive with just the right amount of grease. The large order is probably appropriate only for a family with hungry kids (if you can eat an order by yourself, I would seriously worry about you!).
Baked beans are a healthier side dish, and just about as good as the fries. Because of tradition, though, I usually order the fries.
The hamburgers are not very expensive for the quality you get, but if you order any side dishes Johnnie's becomes just about as expensive as going to a typical restaurant. In my opinion, though, it is certainly an experience that is worth it.
I think Johnnie's is something that everyone should experience if at all possible while in the OKC area. The Number 5 hamburger with Johnnie's sauce is probably the most popular and best item, but either a burger without Johnnie's sauce or any other item with the sauce would still be worth trying (especially the veggie burger).
RESTAURANT DETAILS
RATING: 23
Cuisine: Hamburgers
Cost: $$
Hours: Open Daily
Accessible: Yes
Additional Locations: 6629 N.W. Expressway, 421 W. I-240 Service Rd., 13900 N. May Ave., 33 E. 33rd (Edmond), 620 W. Danforth (Edmond), 1230 W. Main (Norman)
Smoking: No Smoking
Most Recent Visit
Jun. 11, 2010
Number of Visits: 10+
Best Item
Hamburger with Johnnie's Sauce
Special Ratings
Hamburger:

Johnnie's sauce
Veggie Burger:

Johnnie's sauce
Frankfurter:

Chili & cheese
Baked Beans:


French Fries:


Milk Shake:

vanilla
Restaurant Web Site
Johnnie's
MORE ABOUT THIS WEB SITE