okgourmet.com&nbsp &nbsp Home of Steve's Restaurant Reviews
SUPPLEMENTAL ARTICLES
Relating to Oklahoma Restaurants
Home &nbsp > &nbsp Special Features &nbsp > &nbsp Articles &nbsp > &nbsp Oklahoma Articles
OKLAHOMA CITY, OK--Yakimono Japanese Grill Express
May 4, 2013: Yakimono Japanese Grill Express has been open for several years, but I seldom go there because when I am in the area I am usually headed for Nunu's Mediterranean Cafe next door. I do not want to get off the subject of talking about Yakimono, but I will say that Nunu's seems to have improved lately with more items on the menu, better consistency with food quality, added drinks, and changing from paper plates to real plates and silverware.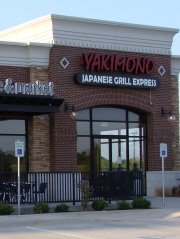 Yakimono Japanese Grill Express next to Nunu's on Memorial
Like Nunu's, Yakimono also seems to have some specials that acquire permanent status. One I tried recently was the chicken yakisoba. It seemed a bit less traditional than the food I find at some other Japanese restaurants, but I am glad they are expanding the menu to give customers more choices.
What Yakimono does best, though, seems to be the hibachi grilled items. These are cooked quickly on a hot grill and are much like the dinners served at the various Japanese steak houses, but without the knife throwing show. At Yakimono I find the vegetables to be outstanding, the meat to be good, and the sauces (mustard or ginger sauce) to be somewhat lacking in flavor. Still, the hibachi grill dinners here are very good overall, and it is probably worthwhile to get fried rice to go along with them.
There is one tip I would definitely give readers-- if time is a critical factor it is usually a good bet that Yakimono will serve the food more quickly than Nunu's next door (particulary when Nunu's is very busy).
MOST RECENT ARTICLES
are listed on the web site's home page: