okgourmet.com&nbsp &nbsp Home of Steve's Restaurant Reviews
Yakimono Japanese Grill Express
3131 W. Memorial Rd.
Oklahoma City, OK
(405) 607-8134
Yakimono is a fast food style Japanese restaurant that specializes in hibachi grill cooking and sushi rolls. Steak, chicken, seafood, and vegetarian dinners are available along with miso soup, salad, and appetizers.
One of the best features of Yakimono is the comfortable setting, and I like the fact that you can get good food in a hurry. It is not that they take shortcuts, but that this type of food cooks quickly. Orders are taken at the counter and they bring it to the table when it is ready, but otherwise be prepared to pick up your own items such as extra napkins.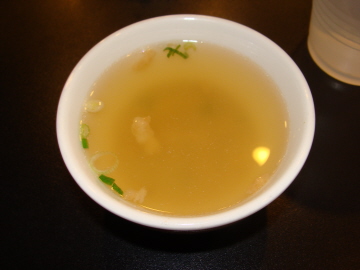 Miso soup
Miso Soup comes as a complimentary appetizer with some of the dinners, and I thought it was good quality. However, it makes me wonder how miso soup should be prepared, since this thin soup had very little likeness to the thicker soup served at Tokyo and other restaurants. I would say the soup at Yakimono is nothing to complain about, especially since it is free, but it is probably not the classic style of miso soup.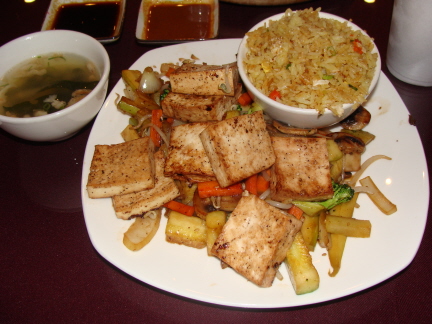 Tofu special dinner
I usually think that vegetarian dishes are less flavorful than meat items, so the Tofu Special Dinner seemed to be a good test of the restaurant's true flavor and quality. The most impressive thing about this was the vegetables, with a fresh flavor and a good mixtures of different items. I thought the tofu was good but average for different restaurants I have tried, and the sauce was not as flavorful as I had experienced elsewhere (customers are given a mustard and a ginger sauce to pour over the food as desired). Overall this was a good dish, and a good substitute for meat. The flavor of the vegetables, the side dish of fried rice, and the overall quantity of food made this a good deal that I would recommend.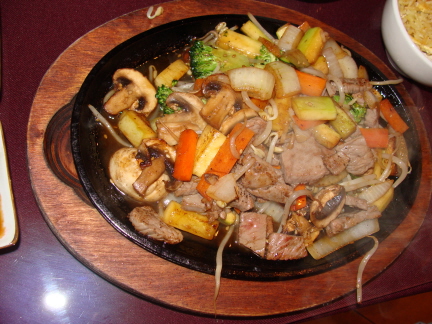 Teriyaki beef
The Teriyaki Beef had much the same characteristics as the tofu special dish, with the sauce being good but somewhat plain. I thought something was missing in what I normally consider to be teriyaki beef in terms of the sauce that was used, but the beef was good. The vegetables were good, as was the case with the tofu dish.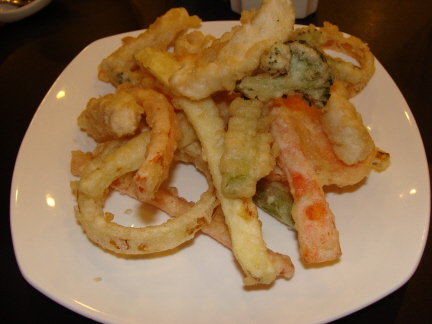 Chicken tempura
The Chicken Tempura continued what seems to be a pattern here-- the vegetables were very good but the sauce was bland and overall it was somewhat lacking in flavor. I thought the fried tempura batter really put this more into the category of fast food than what I consider to be traditional Japanese food.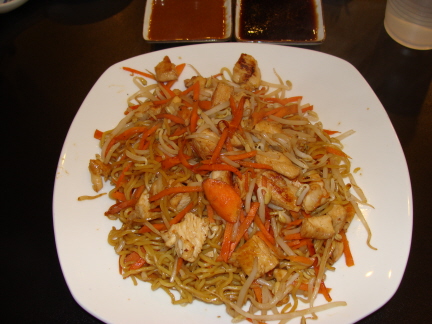 Chicken yakisoba
Chicken Yakisoba was listed as a special on the chalk board, but it seems to be available on a permanent basis. As with other dishes, I thought the vegetables were good, and I also liked the chicken. To me the negative was the sauce, or lack thereof. I always understood that yakisoba came with it own brown colored sauce, and this dish had some sauce that I would call soy flavored. It was intended, though, to be eaten with one of the two sauces provided in small dishes--either mustard or ginger sauce. I thought the sauces were fine, but that they went better with the tofu special or one of the other hibachi grill dinners served at Yakimono.
The food seemed a little expensive and not very traditional for Japanese food. It does help to know, though, that the food is healthy and good quality. Service is quick, and I really wish other restaurants had vegetables of similar quality to the ones served here.
They do not serve hot tea, as I normally expect at Japanese restaurants, but iced tea and tapioca drinks are available.
Yakimono is located next door to Nunu's and if it were not for this fact I would probably go to Yakimono more frequently (since Nunu's is one of my favorite restaurants in the city). As far as I am concerned, though, Yakimono fills a needed niche in the market for Japanese restaurants that serve food quickly, are at the low end price range, and do not make you sit through knife throwing shows.
RESTAURANT DETAILS
RATING: 19
Cuisine: Japanese
Cost: $$
Hours: Open Daily
Accessible: Yes
Tea: Iced Tea only
MSG: No
Smoking: No Smoking
Alcohol: Beer, Wine, Sake
Most Recent Visit
Feb. 23, 2013
Number of Visits: 3
Best Item
Tofu Special
Special Ratings
Tofu Special:


Teriyaki Beef:


Chicken Tempura:


Chicken Yakisoba:


Miso Soup:


Fried Rice:

MORE ABOUT THIS WEB SITE