okgourmet.com&nbsp &nbsp Home of Steve's Restaurant Reviews
SUPPLEMENTAL ARTICLES
Relating to Oklahoma Restaurants
Home &nbsp > &nbsp Special Features &nbsp > &nbsp Articles &nbsp > &nbsp Oklahoma Articles
OKLAHOMA CITY, OK--Portofino's Italian Restaurant
Apr. 27, 2013: My page on Portofino's Italian Restaurant is partly a review of the food and partly the news that the second restaurant at N. W. 122nd and Rockwell closed in April 2013, but the original restaurant at 4700 W. Reno is still open. I have not been to the Reno location, but after several visits to the Rockwell restaurant I got a good sampling of the food served. The father and son team who owned the restaurants were rotating back and forth between the two locations, but now they only have one to operate.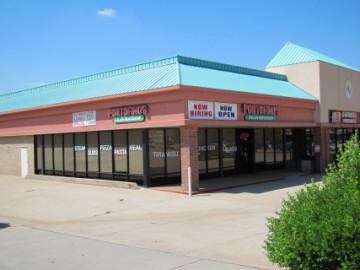 The Portofino's at N.W. 122nd and Rockwell closed in April 2013
At first I was less than impressed with the restaurant, but it seemed to get better as time went on. The Reno location had been operating before the Rockwell restaurant opened, so I imagine any "growing pains" were at the Rockwell location only. Shortly before the second restaurant closed I thought it was deserving of many more customers than I usually saw eating there. I am not sure if the restaurant improved over time, but my perception of it improved as I was able to try different dishes.
In any case, I think the Reno Avenue location is worth a try, at least for certain items. Recently I have also been pleased with the prices, but I honestly do not know whether they have lowered the prices or whether it is just a case that I found some good deals on my last couple of visits.
The pizza, spaghetti, and other "standard Italian restaurant" items did not really blow me away at Portofino's. Some of the best items, though, are things that most restaurants do not do well, such as the chicken cacciatore. The chicken marsala, although not my favorite, was better than most of the ones I have tried. My tastes are probably not reflective of the majority of the population, but I have seen reviews on Urbanspoon that were generally in line with what I thought about the restaurant.
Portofino's has lunch specials, and overall I thought I got more for my money than at many other restaurants.
MOST RECENT ARTICLES
are listed on the web site's home page: