okgourmet.com&nbsp &nbsp Home of Steve's Restaurant Reviews
Portofino's Italian Restaurant (Closed)
4700 W. Reno Ave.
Oklahoma City, OK



The new Portofino's at 12305 N. Rockwell Ave. is now closed after operating from early 2012 until April 2013. It is too late to review the "new" restaurant, but I believe it is safe to assume that it was very similar to the original restaurant on West Reno, since the same owners were operating both restaurants.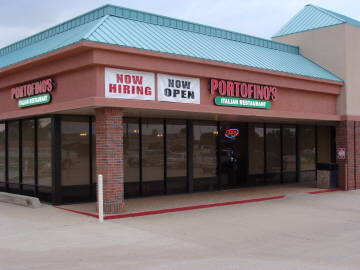 The former Portofino's at N. W. 122nd and Rockwell which closed in April 2013
Portofino's opened its location in northwest Oklahoma City at about the same time two other similar Italian restaurants opened-- Venezia on Northwest Expressway and Bella Italia on N. W. 39th Expressway in Bethany. I consider them similar because all are in a similar price range (and I use the present tense because Portifino's on Reno is still open). These three restaurants have many dinners available in the $10 to $12 price range, with some costing much less. It could be argued that the food is not on the same level as Papa Dio's or Vito's, but neither are the prices. I have found good food at all three of these less expensive restaurants, and all are a good value.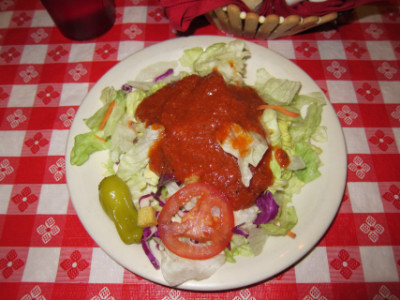 Portofino's complimentary salad
The House Salad comes free with most dinners, and this is one of the features that makes Portofino's well worth visiting. The greens were somewhat average with much better than average freshness and crispness. The dressing was the real standout, though. My notes say that on different visits I was given a raspberry vinaigrette and a tomato basil vinaigrette, and both were excellent. I would say the best bet is just to order whatever they are offering as the house dressing.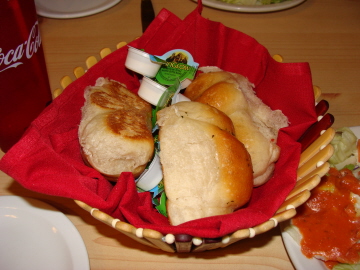 Complimentary bread
The complimentary Bread was fresh and filling, and I enjoyed the golden brown way it was baked. The margarine they serve with it, though, could really use some upgrading.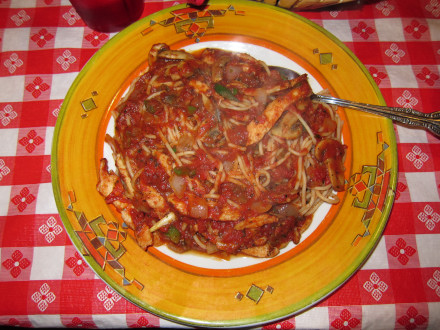 Chicken cacciatore
Rather than giving a chronological listing of the meals I have had at Portofino's, I probably should start with the ones that I thought were best. One was the Chicken Cacciatore, a version of the dish that I liked almost as much as the one at Papa Dio's (but which had a red marinara sauce that was quite different from Papa Dio's). A few of the dishes at Portofino's have come together very well for me, and this was one that had good flavors, spices that enhanced the dish but were not overwhelming, and good meat. It was served on a bed of spaghetti (as I believe is done at most restaurants). Portofino's does not give you a whole or half chicken as I believe is the custom with most Italian cooks, but the white meat chunks served here were very good, as were the other ingredients of this dish.
I ordered the Chicken Parmigiana on one of the few times I forgot to bring my camera with me, but even without a photo I can tell readers that this was an excellent dish. It had good spices, a good sauce, and a light cheese that went well with the dish.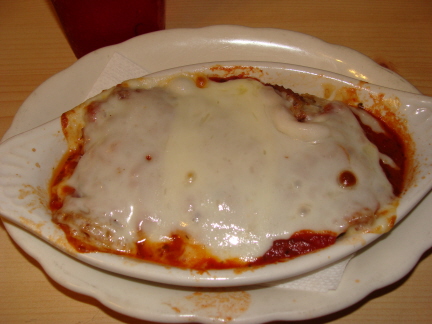 Eggplant parmigiana
The Eggplant Parmigiana was another very good dish, but I did not like the eggplant quite as much as the chicken version. Also I thought the sauce was a little heavy on the spices (this was surprising since the chicken parmigiana was just about perfect).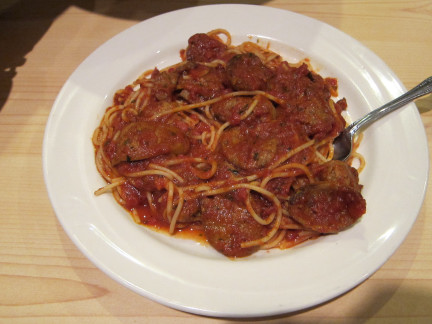 Spaghetti with Italian sausage
The Spaghetti with Italian sausage had a good flavor, but for me a little bit of spicy sausage goes a long way, and I thought this was a little too meat centered with not enough vegetables or pasta. The marinara sauce was good, and the sausage was just spicy enough to give it some flavor (but not enough to disturb those with a sensitive stomach). I would recommend this dish, but for my taste it had too much meat.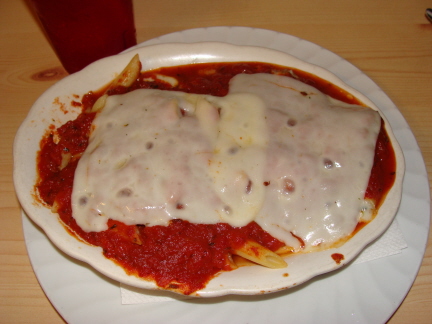 Pasta combo
The Pasta Combo includes three items on one plate, and gives a good sampling of different dishes. The only thing was that it had so much cheese and sauce that everything pretty much blended together (but it was all good).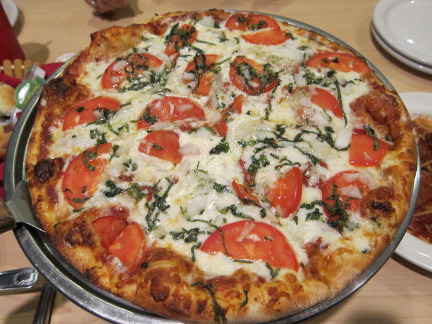 Margharita pizza
The Margharita pizza had several features which I thought could use some improvement including too many onions, regular tomatoes instead of sun dried, and it seemed to have too much garlic. I thought it had a good, thin crust, plenty of basil, and I liked the cheese (as well as the sauce). This was not the best margharita pizza I have ever had, but it had all the basic ingredients to make it enjoyable.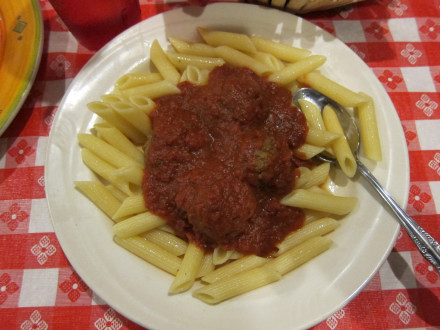 Ziti with meatballs
The Ziti with Meatballs was the one item that I thought was really a miss in terms of flavor. The meatballs seemed bland, and the pasta and sauce did not do much to liven things up. I really thought that for meat items the Italian sausage was a better bet than the meatballs.
The Chicken Marsala was pretty much in the middle of the list from my favorites to the least favorite. The spices and flavors were very good, but the chicken was a little dry, and I thought it had too much garlic.
I enjoyed going to Portofino's while it was in far northwest Oklahoma City, but those wishing to go to the "Meridian Hospitality Corridor" can still enjoy the original restaurant which is located just north of Interstate 40. It is usual at Italian restaurants to try several dishes before I find one or more that I really like, but at Portofino's I did not have to try too hard.
RESTAURANT DETAILS
RATING: 20
Cuisine: Italian
Cost: $$
Hours: Closed Mon.
Smoking: No Smoking
Alcohol: Beer, Wine
Most Recent Visit
Feb. 24, 2013
Number of Visits: 4
Best Items
Chicken Parmigiana, Chicken Cacciatore
Special Ratings
Chicken Parmigiana:


Chicken Cacciatore:


Eggplant Parmigiana:


Chicken Marsala:


Spaghetti with Italian Sausage:


Pasta Combo:


Margharita Pizza:


Ziti and Meatballs:


House Salad:

MORE ABOUT THIS WEB SITE