okgourmet.com&nbsp &nbsp Home of Steve's Restaurant Reviews
SUPPLEMENTAL ARTICLES
Relating to Oklahoma Restaurants
Home &nbsp > &nbsp Special Features &nbsp > &nbsp Articles &nbsp > &nbsp Oklahoma Articles
BETHANY, OK--Ingrid's Pantry
Dec. 7, 2012: Ingrid's Pantry in Bethany is an excellent source for Christmas cookies, as is the original restaurant, Ingrid's Kitchen at N.W. 36th and Youngs in Oklahoma City. Many of the cookies shown in this photo are available all year, but I have only seen the gingerbread boy in December. Ingrid's also sells gingerbread houses which are quite elaborate, but in a little bit higher price range than the cookies.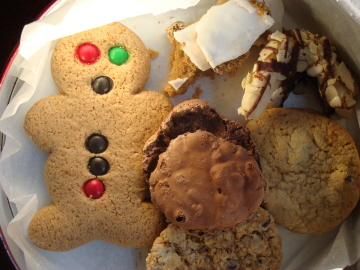 Christmas cookies from Ingrid's Pantry
I was also using this opportunity to update the review for Ingrid's Pantry. This is a smaller version of Ingrid's Kitchen, and mainly serves lunch as well as take-out food and pastries. It is open for dinner, but the menu is limited compared to Ingrid's Kitchen.
Maggie's in Bethany used to be an excellent lunch place until it closed, but Ingrid's Pantry can give me my sauerkraut fix (yes, I know that my tastes are different from many people's, but I have to report on what I have had that is good). The turkey reuben sandwich at Ingrid's Pantry covered with sauerkraut was very good, and so far is probably my favorite item here.
For pastries my list of favorites is long, but I think the pies are very worthwhile (you can also buy individual slices) as well as German styled pastries such as the Napoleon.
MOST RECENT ARTICLES
are listed on the web site's home page: