okgourmet.com&nbsp &nbsp Home of Steve's Restaurant Reviews
Ingrid's Pantry (Closed)
2421 N. Council Rd.
Bethany, OK &nbsp Oklahoma City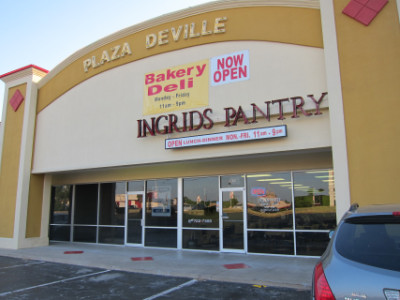 Ingrid's Kitchen, at N.W. 36th Street and Youngs (near Pennsylvania Ave.) has been serving German food for a number of years, and with its sandwich and deli concept has made this cuisine more accessible to the public than I think some of the more expensive German restaurants have been able to do.
Ingrid's sandwich and deli concept fits nicely with its new restaurant, Ingrid's Pantry in Bethany (although actually in the Oklahoma City limits). In 2010 Ingrid's took over the former Oma's Pantry, and the new Ingrid's Pantry is a streamlined version of the main restaurant. Dinner items are limited, and usually include bratwurst and schnitzel. The sandwich selection seems to be about as large as at Ingrid's Kitchen, and the quality is the same. Bakery items are more limited than at Ingrid's Kitchen, but quality control is maintained because they are all cooked at the main restaurant and delivered to Ingrid's Pantry the same morning.
At first Ingrid's Pantry was open for lunch only, but it now serves dinner also. I find dinner to be a little disappointing since the selection is so limited (they usually have bratwurst and schnitzel but there is little else in the way of dinner items). The sandwich and lunch choices, however, are much the same as at the main restaurant. Probably the best item I have tried here was the turkey reuben which I ordered for lunch, and I would definitely recommend this as an excellent lunch choice.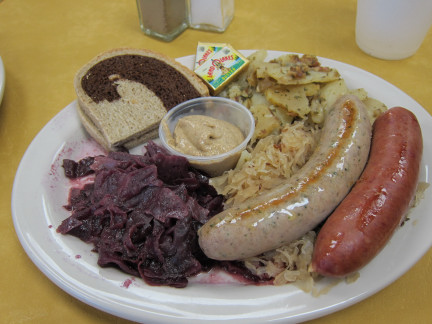 "Best of the Wurst Platter" with Smoked Bratwurst and Grobe Bratwurst
When I first went to Ingrid's Pantry the only dinner plate I could find was the Best of the Wurst Platter that came with a choice of one or two bratwurst sausages (and customers can mix or match them). I tried one of each, for what I thought was an excellent meal. A second visit confirmed that this was an excellent meal, but for different reasons.
The Grobe Bratwurst (the white colored sausage) was my favorite of the two sausages on the first visit, and had an excellent flavor. This was juicy with a good flavor, and I think is one of the better German sausages. On a subsequent visit I still liked this version, but my impression of the smoked bratwurst grew to the point that the grobe bratwurst is now in second place.
The Smoked Bratwurst was made with beef and pork, and was close to what I think of as the typical bratwurst. This one is very high quality, though, and I definitely appreciated it more after trying it a couple of times (in addition to eating it as Ingrid's Kitchen). I do not know whether or not the restaurant has changed the sausage, but I know that I seem to enjoy it now more than in the past. I probably appreciated the texture as much as anything, and although it was smoked it definitely reminded me more of German food than the smoked sausage I find in barbecue restaurants.
The side dishes were a large part of why I enjoyed this plate. Starting with the mustard and fresh bread, adding three side dishes made it even better.
The Sauerkraut was excellent, and I think that it is better quality than in the past. In fact the sauerkraut seemed especially good when I tried it on the reuben sandwich. I had heard that Ingrid's changed owners around 2010 at the same time it acquired Ingrid's Pantry, and since then I have found the sauerkraut and other items to have improved (although it is also possible that my tastes have changed).
The Red Cabbage has been somewhat inconsistent, and sometimes very sweet. I almost always think that the sauerkraut is better.
Both of the Ingrid's restaurants have the same excellent German Potato Salad that is home made and is some of the best I have tried.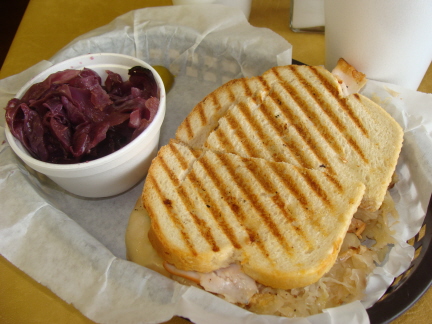 Turkey reuben
Sandwiches are the specialty at lunch (and are also available for dinner), and I think represent a good part of the menu available at Ingrid's Kitchen. At Ingrid's Kitchen one of my favorite sandwiches is the reuben, but at Ingrid's Pantry they suggested trying the Turkey Reuben that I did not see on the menu (but it is on the menu at Ingrid's Kitchen). This was an excellent alternative to the corned beef version, and I personally like just about anything with sauerkraut (especially Ingrid's sauerkraut). The restaurant's special sauce and Swiss cheese were very good, but I particularly liked the bread.
The Tomato Soup served as a soup of the day was excellent, with flavorful but not overwhelming spices, a good texture, and the freshness that characterizes Ingrid's food.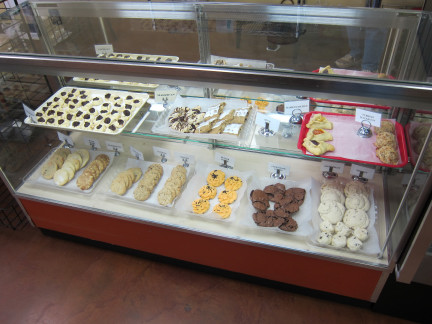 Display case of cookies and other goodies
In addition to serving freshly baked breads and desserts, Ingrid's Pantry also serves as an outlet store to Ingrid's Kitchen, selling day old items at a discounted price. The fresh cookies, cakes, and pastries are sold from the display case, and usually come in a larger selection than the day old items. I usually try to buy the discounted items since I think this is a feature not available at the main restaurant.
Bread is also excellent, but unlike the pastries I avoid the day old selection sold at a discounted price since the shelf life of bread is quite limited.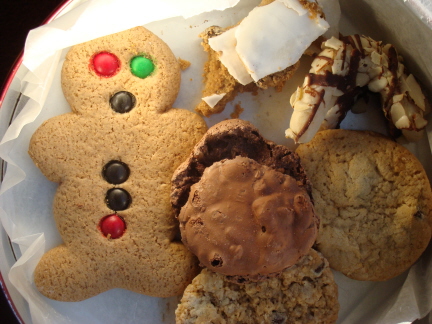 Some of the cookies popular at Christmas
At Christmas Ingrid's prepares several special pastries including gingerbread man cookies and gingerbread houses. The Bethany restaurant seemed to be running short of some of these items and called the main restaurant for another shipment, but in general these special treats are available at both locations.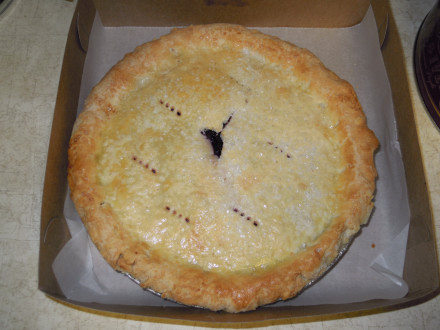 Blueberry pie
Pies are excellent here, and I believe Ingrid's is one of the top three or four sources for pie in Oklahoma City. Especially good was the Blueberry Pie that struck a balance between sweetness and the tart flavor of the berries. I have tried several flavors since Ingrid's Pantry opened (all of which came from Ingrid's Kitchen), and out of these I would also recommend the apple pie.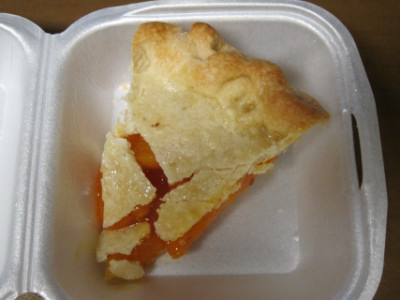 Apricot pie
The Apricot Pie had a very good flavor, used fresh fruit, and was not too sweet. I suspect this is only available when apricots are in season. When available, though, it is one of my favorites. In fact, in general I prefer Ingrid's pies to the cakes.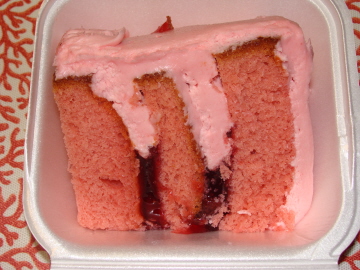 Strawberry cake
Ingrid's is also famous for its cakes, and Strawberry Cake is an example of one of the cakes I had previously enjoyed at Ingrid's Kitchen and which is now available at Ingrid's Pantry. This was a very rich cake with thick icing, and for me one piece was enough to last about three days when I took it home.
I think I have also tried just about all of the pastries Ingrid's Pantry sells, and the Napoleon was one of my favorites. In general I tend to like the ones that have cream, chocolate, or both.
Ingrid's Pantry is small, and is really little more than a sandwich shop and take-out place. Lunch specials are offered in addition to items on the regular menu. I have gone to Ingrid's Pantry much more for take-out pastries than for meal, but I have really enjoyed both.
RESTAURANT DETAILS
RATING: 22
Cuisine: German
Cost: $
Hours: Closed Sat. & Sun.
Additional Location: 3701 N. Youngs Ave. (OKC)
Accessible: Yes
Smoking: No Smoking
Most Recent Visit
Jul. 16, 2012
Number of Visits: 4
Best Items
Turkey Reuben, Smoked Bratwurst, German Potato Salad, Sauerkraut, Soup of the Day, Desserts
Special Ratings
Grobe Bratwurst:


Smoked Bratwurst:


Wiener Schnitzel:


Turkey Reuben:


Potato Salad:


Red Cabbage:


Sauerkraut:


Tomato Soup:


Blueberry Pie:


Apple Pie:


Apricot Pie:


Napolean:

Restaurant Web Site
Ingrid's Kitchen
MORE ABOUT THIS WEB SITE