okgourmet.com&nbsp &nbsp Home of Steve's Restaurant Reviews
Ingrid's Kitchen
3701 N. Youngs Ave.
Oklahoma City, OK
(405) 946-8444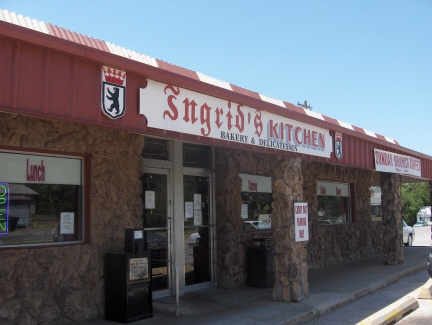 The Oklahoma City area is blessed with several good German restaurants, and in some ways it is difficult to determine which is the best. Ingrid's Kitchen in the northwest part of Oklahoma City, though, definitely has the advantage of being more accessible to those of us who have a long drive to Choctaw or Moore for some of the other good choices. Even those who are willing to go anywhere would want to come to Ingrid's for its excellent food and some specialties that are not found at the other restaurants.
One thing I appreciate about Ingrid's is that it allows customers to eat German food on a more regular basis without having to wait for a special occasion. Many of the other restaurants seem to be more of the variety where you want to sit down, enjoy a big meal, and have a beer. You can do this at Ingrid's as well, but Ingrid's specializes in sandwiches, lunch plates, and deli items. Until recently Ingrid's was only open for breakfast and lunch, but has now started serving dinner as well. I also think Ingrid's is the place to go if you are on a budget, but by the time I pick up some desserts and other items from the deli case this may not turn out to be much of a saving.
The expanded hours coincided with a change of ownership, and I understand the new chef used to be at Castle Falls (another one of the area's excellent German restaurants, although Castle Falls requires a reservation). I have enjoyed the food a little more since the ownership change and I like the fact that it is now open for dinner, but I am disappointed that it still does not offer some of the dinner items that can be ordered at other German restaurants (although Ingrid's is still best for sandwiches and lunch items).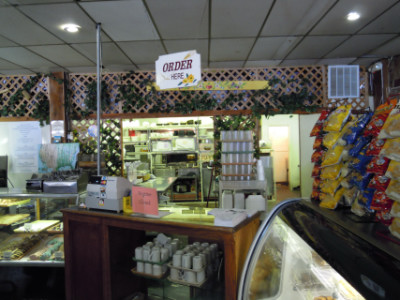 Orders are taken at the counter
At Ingrid's all orders are taken at the counter, and are either prepared to go or to eat in the restaurant. Most items are sold individually except dinner or lunch plates that come with side dishes. Because you can order as little or as much as you want, it is rather difficult to determine the cost category of a typical meal here. I have based it on my experience of ordering a sandwich or main dish, one or two side orders, and a drink.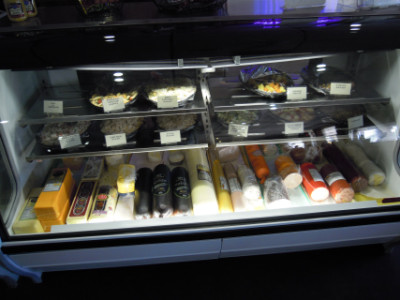 Meat and cheese is available to take home
There is a large choice of lunch meats, as can be seen in the display counter that sells meat for take-home. Ingrid's menu says that they also sell American products, but the authentic German ones are probably the main reason to come here.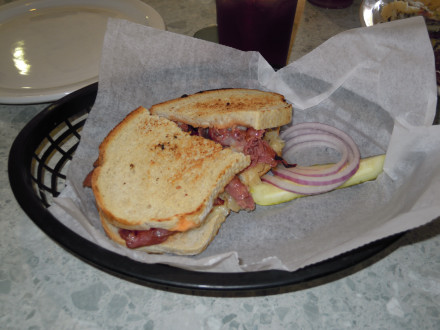 Reuben sandwich
Grilled sandwiches are more expensive than the deli sandwiches, but based on my order of a Reuben I would say this is a very good choice. In fact, this may have been the best corned beef I have ever tried. Sauerkraut makes a good side dish, but I think it is even better on top of the corned beef in the Reuben (and the Sauerkraut is home made). The Reuben also comes with Ingrid's "Special Sauce," and I will have to say that everything about this sandwich was special.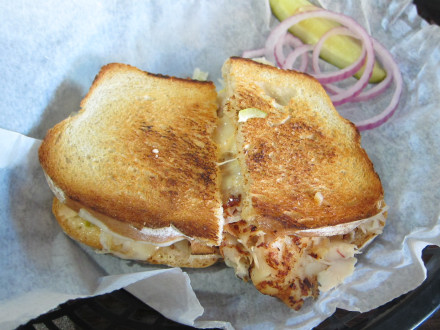 Turkey reuben
I first tried the Turkey Reuben at Ingrid's Pantry (Ingrid's spinoff restaurant in Bethany), and now this is my favorite sandwich at either restaurant. The sauerkraut, bun, Swiss cheese, and sauce are all top notch, and I think the flavor of the turkey goes well with them all.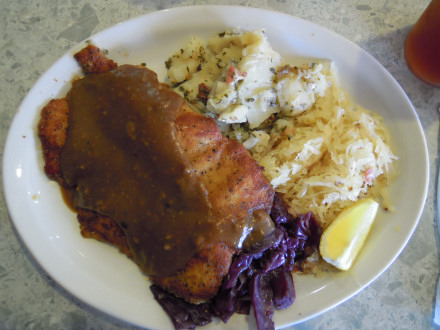 Wiener Schnitzel
The Wiener Schnitzel comes in a "Light Order" that makes it a good lunch choice (the light and regular orders are available for both lunch and dinner). This and the other "Specialty Plates" come with three side orders as well as bread, but I think the German Potato Salad is the best of the side dishes. I actually like all of the side dishes, but the potato salad is the one thing that Ingrid's seems to do better than any of the other German restaurants in town.
The schnitzel is made with pork, and some purists say the only authentic Wiener Schnitzel is made with veal. According to the information I have from people who have lived in Germany, though, pork schnitzels are common in the country, are more available and less expensive than veal, and it is a matter of taste concerning what type of meat to eat. Both I and my friends think the Wiener Schnitzel at Ingrid's is very good except that the meat is sometimes tough (it does not seem to be pounded enough to tenderize it).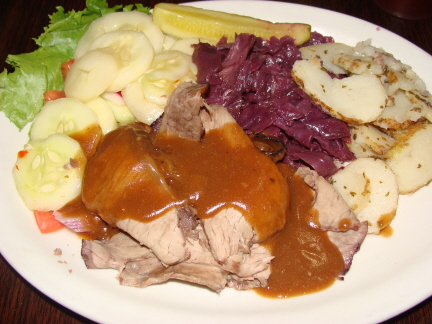 Sauerbraten
The Sauerbraten had a good roast beef flavor, but I thought the sauce had a rather weak flavor (it was, however, a good flavor). For this dish I would probably recommend the one I tried in Moore, although I like Ingrid's side dishes better than just about any in town.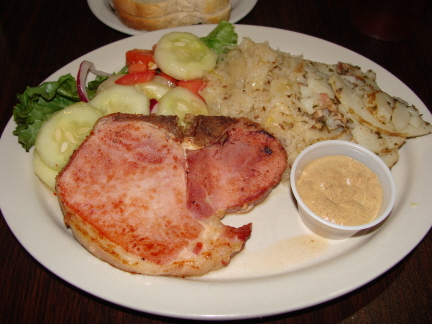 Pork chop
The Pork Chop was very good, but the restaurant says it is not German style. I think this has to do with boiling it and then frying it, but regardless of the cooking style this was quite a good meal.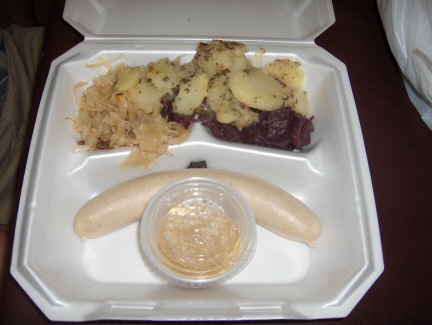 Bratwurst plate to go
The Bratwurst has not been terribly impressive to me, but there is more than one variety served. Some recent trips to Ingrid's Pantry have made me lean more toward the smoked bratwurst, which I enjoyed quite a bit.
I used to rave about the Chicken Jäger Schnitzel, but it now seems to be permanently gone from the menu. All I can say is that if it ever comes back or is available as a special, this has been the best item I have tried at Ingrid's.
I have had different feelings about some of the side dishes, but generally I have enjoyed them more after the restaurant's ownership change (but I don't know whether they have actually changed or whether it was just my perception of them). I have never been disappointed with the German Potato Salad, and I have found this to be the best in the city. I noticed dill in it, which seems to be an authentic touch.
The Red Cabbage is consistently very good, but most times I think the Sauerkraut is even better.
I have tried some of the salad side servings such as Cucumber, but so far I have not found them to be as enjoyable as at Castle Falls (which I think sets the standard for German salads).
A side of German mustard comes with just about everything, and if any is left over this is a great addition to my sandwiches at home. (It is also worthwhile to check out the bottles of German mustard available at the deli, which include Siegi's from Tulsa).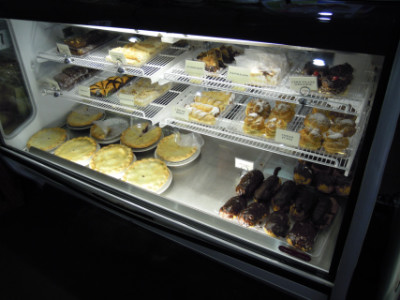 Pastries are one of Ingrid's specialties
It is hard to go to Ingrid's and not end up picking up some pastries either as dessert or to take home. The choices rival just about any bakery in town, and the quality has always been considered among the top two or three by my family. I like the pastries because they are always made with fresh ingredients, and many follow the European custom of not being as sweet as seems to be the normal case in the U. S.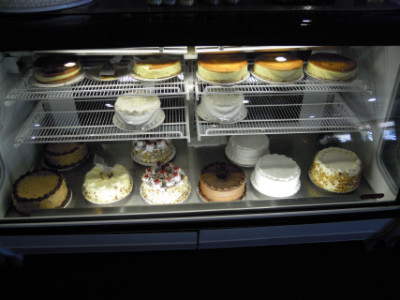 Ingrid's cakes are suitable for a birthday or special occasion
Ingrid's cakes are popular for birthday cakes, or you can buy individual slices. I have made it one of my missions to try the strawberry cake at every bakery that sells them, and the one here had a good, rich strawberry taste. I also think freshness is one of the most important features with Ingrid's cakes.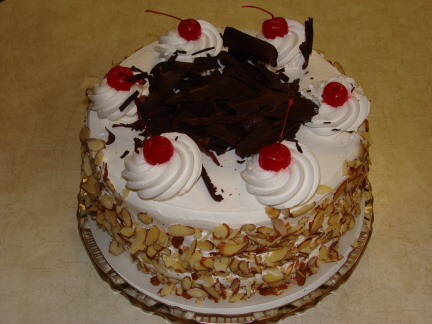 Black forest cake
The Black Forest Cake is really one of the best cakes I have ordered anywhere, with a rich combination of cream, cake, fruit, nuts, and chocolate that would be difficult to match. The thing that impressed me was not only the complexity of the cake, but also that each part was done perfectly, and added to the overall quality of the cake. The fruit filling inside was not too sweet, and gave just the right flavor to the cake.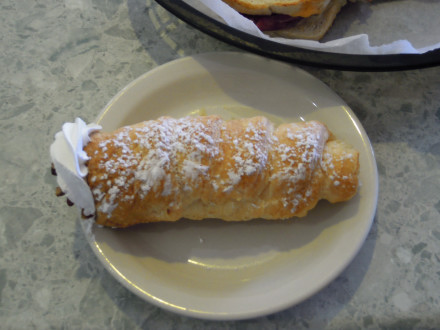 Cream horn
I have not personally visited Germany, but I have it on good authority that the Cream Horn sold at Ingrid's is a very good representation of the authentic German variety. It was less sweet than most desserts, but had a fresh cream that stood in contrast to many dairy products that seem artificial.
Ingrid's Kitchen sells beer in a separate bar area for its own Biergarten, but this is not available at Ingrid's Pantry (the Bethany location).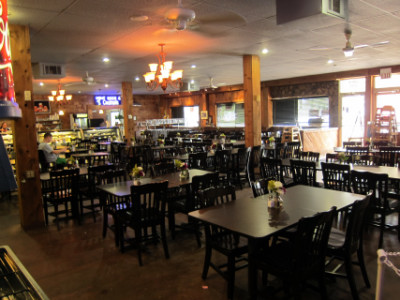 Ingrid's is open all day, and there is plenty of room at meal time
Ingrid's has succeeded in attracting a large clientele with good food, affordable prices, and a casual setting. This combination of factors can easily make German food a part of many people's staple diet (as it should be). Not all of us can get to Ingrid's as often as we would like, but the opening of the new satellite restaurant in Bethany helps (there is now a third restaurant at N.W. 63rd and May Avenue). I know that many people are willing to travel whatever distance is necessary to enjoy Ingrid's Kitchen, which is justifiably regarded as one of Oklahoma City's landmark restaurants.
My Comments in a Nutshell
What I like most:
For me the sandwiches here are probably the best in town
One of the two best places I have found for desserts
The German food is good, affordable, and served quickly
Side dishes--especially the German potato salad
Disappointments:
The German menu is limited--this is more of a sandwich restaurant than a German restaurant
My favorite German dish, the chicken Jager Schnitzel, is no longer available
Things to know:
Beer is served, but in a separate room (the Biergarten).
Orders are taken at the counter, and if you only want pastries you do not need to stand in line for the regular dinner orders.
I hear that this location has German music on Saturdays (but I have never gone on Sat.).
The deli counter serves packaged meat, pastries, bread, German mustard, and other items to take home.
The original owner sold Ingrid's about 2008. Since that time they have expanded the menu, expanded the hours, and opened two new locations. I think there has been some improvement in the food, but mostly the difference is that now there are more items on the menu (not all of them are German).
RESTAURANT DETAILS
RATING: 24
Cuisine: German
Cost: $$
Hours: Open Daily except Sun. Dinner
Additional Location: 6501 N. May Ave.
Accessible: Yes
Smoking: No Smoking
Alcohol: Beer, Wine
Special Features: Serves Breakfast, Sunday Brunch
Most Recent Visit
May 15, 2014
Number of Visits: 10+
Best Items
Reuben, Turkey Reuben, German Potato Salad, Black Forest, Cream Horn
Special Ratings
Wiener Schnitzel:


Bratwurst:


Sauerbraten:


Pork Chop:


Reuben Sandwich:


Turkey Reuben:


German Potato Salad:


Red Cabbage:


Sauerkraut:


Vegetable Soup:


Cream Horn:


Black Forest:


Peach Pie:

Restaurant Web Site
Ingrid's Kitchen
MORE ABOUT THIS WEB SITE