okgourmet.com&nbsp &nbsp Home of Steve's Restaurant Reviews
SUPPLEMENTAL ARTICLES
Relating to Oklahoma Restaurants
Home &nbsp > &nbsp Special Features &nbsp > &nbsp Articles &nbsp > &nbsp Oklahoma Articles
EDMOND, OK--Dot Wo Chinese
Dec. 5, 2012: Dot Wo in Edmond is one of several locations in the Oklahoma City area, including Fung's Kitchen on Classen Boulevard which I understand is operated by the same family. According to Urbanspoon the Dot Wo on Portland has now moved to 6161 N. May Avenue. The original restaurant at 3101 N. Portland Avenue is still operating, but apparently with new owners who are not related to the family that operates the other Dot Wo restaurants. I think this is correct information, but in any case I recently visited the Edmond restaurant and have tried to update the review based on my latest meal.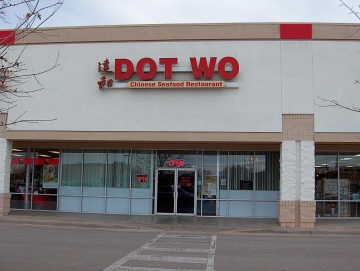 Dot Wo in Edmond
The Edmond Dot Wo has two items I really like. One is the group of clay pot dishes, although the one I tried recently fell far short of a similar dish I had at Grand House in the OKC Asian District. The tofu and vegetables were quite good at Dot Wo, but the sauce and meat were the items that I thought were better at Grand House.
My other favorite item is kung pao tofu, which is not on the menu but was originally offered as a special on the rotating menu. The other Dot Wo restaurants do not offer this dish, and I think it was a creation of Andy, the manager of the Edmond restaurant. I have continued to get this dish as a special order after it was taken off the menu, and although the kung pao chicken is very good, I always thought the tofu was better.
The Edmond Dot Wo has a few other traditional Hong Kong style Chinese dishes, but the other Dot Wo restaurants and Fung's Kitchen have a much greater selection. For kung pao chicken and other spicy dishes, though, I think the Edmond restaurant may be the best of all of them (and I think the kung pao tofu is also worth trying).
I also vote for Dot Wo as having the city's best hot and sour soup, particularly since some of the others I liked were at restaurants that have now closed.
MOST RECENT ARTICLES
are listed on the web site's home page: