okgourmet.com&nbsp &nbsp Home of Steve's Restaurant Reviews
Dot Wo Chinese Seafood Restaurant (Closed)
64 E. 33rd St.
Edmond, OK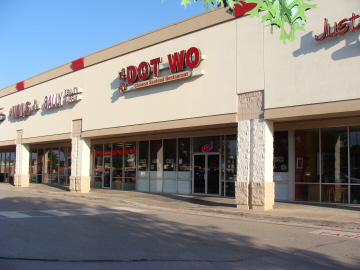 To a large degree the history of Dot Wo in Edmond parallels my own experience with Chinese food, and to me Dot Wo is more than just another restaurant. When I went to Central State University in the early 1980's I became enthralled with Edmond Mandarin Restaurant at 33rd and Broadway, in which the food seemed to reach new levels that I had not previously experienced at Chinese restaurants. I am not sure how Americanized some of the dishes were, but much of the food I tried was close to what I now know as being authentic Chinese food.
Dot Wo opened later, and became a replacement for Edmond Mandarin after it closed. I mainly ordered the same kind of spicy food that had been so good at Edmond Mandarin, and which Dot Wo prepared very well. I was not trying to get the most "authentic" dishes, just the ones I enjoyed (such as kung pao dishes and hot and sour soup). I still think that the various Dot Wo restaurants around the city have the best version of these items.
Being able to order authentic Cantonese food in Seattle gave me a taste for this type of food as well, and I discovered that it was available at Dot Wo (both at the Portland Ave. and Edmond locations).
Most of Edmond Dot Wo's Cantonese dishes are large-sized family style plates that are meant to be shared. A few of the dishes are smaller, but most are ones I have not ordered simply because they are too big for me to eat by myself. The new Dot Wo at 6161 N. May Avenue in Oklahoma City has a better selection of both large and small authentic Cantonese dishes. The Portland Avenue restaurant now has new owners and I have not tried it since the new people took over.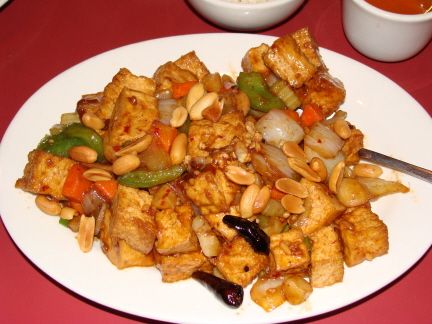 Kung pao tofu is a special dish served only at the Edmond Dot Wo
The long time manager of the Edmond location has made a few additions to the standard Dot Wo menu, and one that I have noticed is experimenting with different lunch specials that are later added to the menu. One of my favorites is the Kung Pao Tofu which was originally a lunch special and now is available any time (although at dinner menu prices). This is one of several types of kung pao available, indicating that others seem to enjoy Dot Wo's kung pao as much as I do.
The only way I can describe Dot Wo's kung pao is that it seems to have magical properties that enable the partaker to be transported to the Middle Kingdom. The kung pao tofu is particularly so, with the tofu soaking up the dark sauce, giving Chinese food addicts an extra amount of flavor. The large pieces of ginger cooked in the sauce also give it an extra flavor boost that has not been matched by the kung pao dishes I have tried in the city's other restaurants. I do not usually think that vegetarian dishes are the best choice in terms of flavor, but in this case the tofu dish is one of the restaurant's best choices.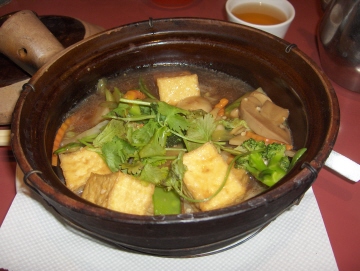 Mixed vegetable clay pot with tofu
The Mixed Vegetable Clay Pot is an example of the more authentic Chinese dishes that are served. This is a gigantic mixture of vegetables and tofu served in a clay pot that keeps it warm while you have time to savor each bite. While very few restaurants even serve clay pot dishes at all, this is among the better ones I have tried, with the vegetables providing a good assortment of American and Chinese varieties. The tofu is probably the most outstanding feature of the dish, with the texture being braised on the outside and not too soft on the inside. I do need to point out, though, that the first bites are usually disappointing to me until I have a chance to stir it and get all the ingredients well soaked in the sauce.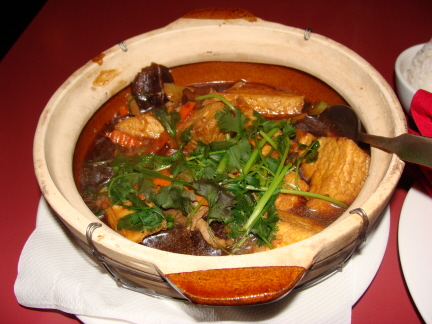 Bean cake clay pot with pork
The Pork Bean Cake Pot is probably a more traditional clay pot dish than the mixed vegetables, with chunks of pork included for more flavor and substance. Personally I like the vegetable and tofu version better, but this is very good as well.
Westlake Beef Soup is another example of the other more authentic dishes that are served. Although this was not among the favorites I have tried, it was an example of the menu items I did not expect to find at a suburban Chinese restaurant.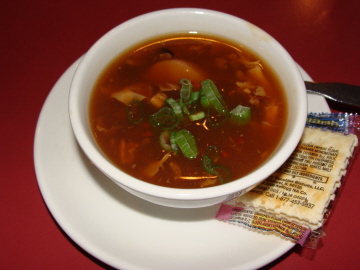 Hot and sour soup
The Hot and Sour Soup is one of the best in Oklahoma (5 stars for sure!). Even though Dot Wo is probably not best known for its Szechuan dishes, a dinner of kung pao chicken or tofu with hot and sour soup is hard to beat when I want something spicy.
A weakness I have found with all of the Dot Wo Restaurants (not just the one in Edmond) is that they use MSG, and at times it has affected me physically. This has only happened, though when I forgot to tell them "no MSG."
There is no buffet, but lunch specials are an excellent deal. The soup and egg rolls are better than most, but of course I also think the regular menu "authentic dishes" are quite satisfying for somewhat of a special occasion lunch or dinner.
My Comments in a Nutshell
What I like most:
The authentic Chinese menu, even though the choices are relatively limited
Kung pao and hot and sour soup for lunch specials
This restaurant seems to have one of the best managers of any Chinese restaurant anywhere
Disappointments:
They have used MSG in the past, and I have had a reaction to it when I forgot to tell them to exclude it. They may no longer be using MSG, but I would tell them to leave it out just to be on the safe side.
Things to know:
Over the years they first started offering different items as limited time specials, then dropping them (but you could special order them), and now all of these special items are on the menu. Since things change from time to time, I would say if you don't see what you want it may be available if you ask for it.
One of Dot Wo's specialties is seafood, but these have never been my favorite dishes (YMMV).
They are closed between 2:30 and 5:00 PM on weekdays, but are open all day on Saturday and Sunday.
RESTAURANT DETAILS
RATING: 23
Cuisine: Chinese
Cost: $$
Hours: Open Daily
Accessible: Yes
Additional Locations: 6161 N. May Ave., 10600 S. Pennsylvania Ave.
Tea: Jasmine (bags)
MSG: Yes
Smoking: No Smoking
Buffet: No
Most Recent Visit
Feb. 14, 2015
Number of Visits: 10+
Best Items
Clay Pot Dishes, Kung Pao Tofu, Hot and Sour Soup
Special Ratings
Kung Pao Tofu:


Kung Pao Chicken:


Pork and Tofu Clay Pot:


Mixed Vegetable Clay Pot:


Westlake Beef Soup:


Hot and Sour Soup:

MORE ABOUT THIS WEB SITE