okgourmet.com&nbsp &nbsp Home of Steve's Restaurant Reviews
Dot Wo Chinese Seafood Restaurant
64 E. 33rd St.
Edmond, OK
(405) 341-2878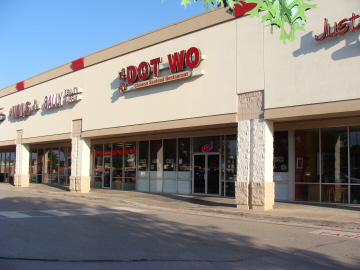 To a large degree the history of Dot Wo in Edmond parallels my own experience with Chinese food, and to me Dot Wo is more than just another restaurant. When I went to Central State University in the early 1980's I became enthralled with Edmond Mandarin Restaurant at 33rd and Broadway, in which the food seemed to reach new levels that I had not previously experienced at Chinese restaurants. The dishes I ordered were mostly what I now consider to be Chinese-American style, but they were a lot better than I had experienced previously in Chinese restaurants.
I do not think Dot Wo had opened at the time, but it definitely became a replacement for Edmond Mandarin when I visited Edmond around the 1990's after Edmond Mandarin had closed. I mainly ordered the same kind of spicy food that had been so good at Edmond Mandarin, and which Dot Wo prepared very well. I had not yet made the transition to "authentic" Chinese food, but what I ordered at Dot Wo was very enjoyable (it should be noted, though, that after several visits to Seattle I discovered that the kung pao dishes and hot and sour soup at Dot Wo were not very far from the authentic versions).
When I began seeking out authentic dishes after my experiences in Seattle and other large cities I discovered that Dot Wo had these also, but it is just that I probably never noticed them on the menu or really knew what they were. So I cannot say whether the authentic food was added later or whether it was always there. I do know that the Dot Wo on Portland Avenue in Oklahoma City had the authentic dishes, and this was probably before many restaurants in the Asian District were serving them.
The current chapter in 2012 is that when I look at Dot Wo's menu I find the selection of authentic dishes to be very small, and some things I order are a little disappointing in terms of flavor and in terms of how I know authentic Chinese food can be prepared. I still think some of the items, such as kung pao and hot and sour soup, are so good they are worth ordering (whether or not they are totally authentic). Maybe it is that my tastes that have changed more than the restaurant, but I no longer find it as special a place as I once did.
It should be pointed out that the Dot Wo in Oklahoma City has always offered a more extensive Chinese menu (of the "authentic" Chinese food) because of a different clientele than in Edmond. The most authentic food is found at Fung's Kitchen, which is owned by the same extended family that operates Dot Wo. Although the menus are different at the various restaurants, the flavors have usually been much the same at all of these restaurants, and that is why I have continued to enjoy Dot Wo in Edmond almost as much as the other restaurants. On recent visits, though, I have found a better flavor at Fung's than at Dot Wo in Edmond, so I am not sure if I just have not tried the right things or whether this Dot Wo has really changed. Since I am still on my "Chinese food journey," though, it is also possible that this is the reason for my perceptions of Dot Wo to be different than in the past.
One bit of news about the Portland Avenue Dot Wo is that I have heard it has now moved to 6161 N. May Avenue, and that the former location on Portland is still open but with different owners.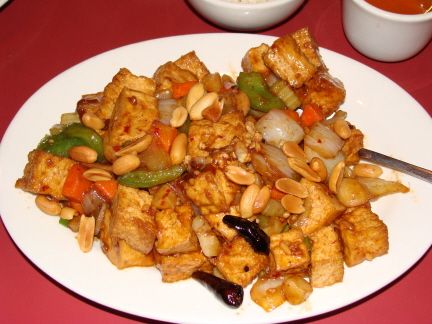 Kung pao tofu is a special dish served only at the Edmond Dot Wo
One of the highlights of the Edmond Dot Wo has been the Kung Pao Tofu. It is not often that a certain food seems to have magical properties that enable the partaker to be transported to the Middle Kingdom, but the kung pao tofu at Dot Wo was one of the first Chinese dishes I tried that made me feel this way. The tofu soaks up the dark kung pao sauce giving Chinese food addicts an extra amount of flavor. Dot Wo in Edmond first offered this dish as a special and later added it to the menu. As far as I know the Edmond restaurant has been the only one of the metro's several Dot Wo restaurants to serve it, and this illustrates why this particular restaurant has been one of my favorites. The large pieces of ginger cooked in the sauce also gave it an extra flavor boost that has not been matched by other kung pao dishes I have tried in the city's other restaurants.
As of 2012 the kung pao tofu is no longer on the menu, and I think this has been the case for a while. I have always been able to order it by special request, and the restaurant has been quite helpful in preparing special orders.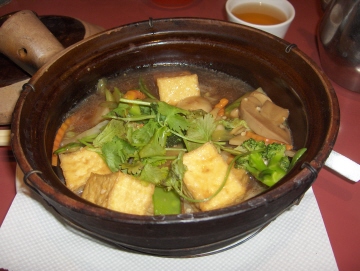 Mixed vegetable clay pot with tofu
The Mixed Vegetable Clay Pot is an example of the more authentic Chinese dishes that are served. This is a gigantic mixture of vegetables and tofu served in a clay pot that keeps it warm while you have time to savor each bite. While very few restaurants even serve clay pot dishes at all, this is among the better ones I have tried, with the vegetables providing a good assortment of American and Chinese varieties. The tofu is probably the most outstanding feature of the dish, with the texture being braised on the outside and not too soft on the inside.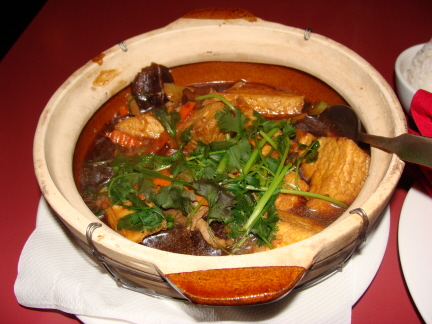 Bean cake clay pot with pork
The Pork Bean Cake Pot is probably a more traditional clay pot dish than the mixed vegetables, with chunks of pork included for more flavor and substance. This dish is also served at the other Dot Wo restaurants, but because each restaurant has its own cooks this evaluation is only for the Edmond restaurant. My feeling about it is that while I love this dish and it is available in only a handful of restaurants, the sauce at Dot Wo is rather disappointing. The meat, tofu, and vegetables have always been the best part of the dish, but when I ordered it in 2012 the sauce was particularly noticeable for being bland and lacking flavor. This is the type of brown sauce found in many suburban Chinese restaurants, and I did not find anything that made the one at Dot Wo special. Still, though, it is worth ordering because of the tofu and vegetables (and the meat adds extra flavor).
Westlake Beef Soup is another example of the other more authentic dishes that are served. Although this was not among the favorites I have tried, it was an example of the menu items I did not expect to find at a suburban Chinese restaurant.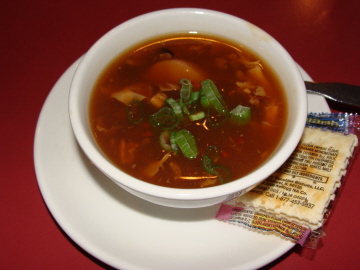 Hot and sour soup
The Hot and Sour Soup is one of the best in Oklahoma (5 stars for sure!). Even though Dot Wo is probably not best known for its Szechuan dishes, a dinner of kung pao chicken or tofu with hot and sour soup is hard to beat when I want something spicy.
Dot Wo in Oklahoma City has a Chinese menu with authentic Chinese cooking prepared in such a manner that you are getting the "real deal." At the Edmond Dot Wo there is no special Chinese menu, but I have found it possible to get a limited selection of traditional Hong Kong style food (by way of San Francisco). They offer special banquet dinners, and I think the larger the party they are serving and the more advanced notice they are given, the more variety of traditional Chinese food they can prepare.
Seafood is one of the restaurant's specialties, but I have only ordered it in the Oklahoma City Dot Wo (it was good but it mostly comes in orders that are too large for one person).
A weakness I have found with all of the Dot Wo Restaurants (not just the one in Edmond) is that they use MSG, and in sufficient amounts that it will really affect me physically. I am so used to going to Chinese restaurants that do not use MSG that I sometimes forget to order food without it at Dot Wo, and I have regretted it afterward (although if they used a lesser amount it would not be such a big issue with me even if it was included).
Even when staying with the Chinese-American menu I appreciate Dot Wo more than most restaurants because it has a better flavor. I think many will appreciate the fact that the food is healthy, flavorful, and without the "salty" taste that plagues many Chinese restaurants (but of course this is provided it is ordered without MSG). There is no buffet, so the food is always freshly cooked. I think a big bonus is the extras that come with lunch specials such as the soup and egg rolls.
RESTAURANT DETAILS
RATING: 21
Cuisine: Chinese
Cost: $$
Hours: Open Daily
Accessible: Yes
Additional Locations: 6161 N. May Ave., 10600 S. Pennsylvania Ave.
Tea: Jasmine (bags)
MSG: Yes
Smoking: No Smoking
Buffet: No
Most Recent Visit
Sep. 30, 2012
Number of Visits: 10+
Best Items
Kung Pao Tofu, Hot and Sour Soup, Clay Pot Dishes
Special Ratings
Kung Pao Tofu:


Kung Pao Chicken:


Bean Cake Clay Pot:


Mixed Vegetable Clay Pot:


Westlake Beef Soup:


Hot and Sour Soup:

MORE ABOUT THIS WEB SITE