okgourmet.com&nbsp &nbsp Home of Steve's Restaurant Reviews
SUPPLEMENTAL ARTICLES
Relating to Oklahoma Restaurants
Home &nbsp > &nbsp Special Features &nbsp > &nbsp Articles &nbsp > &nbsp Oklahoma Articles
BETHANY, OK--Chalo's Tacos
Nov. 29, 2012: Chalo's Tacos is one of the few Mexican restaurants north of Interstate 40 that I consider to be authentic, and it is also one of my favorites. Just about every Mexican restaurant in Oklahoma City has added a "Mexican menu" with authentic items, but Chalo's goes further than most in having a menu in which everything is ordered a la carte and by not including chips, cheese dip, or other appetizers with the meal. Most of the smaller restaurants in Mexico specialize in only one or a very few items, and Chalo's follows this tradition by offering tacos, burritos, quesadillas, tortas, and in short different delivery mechanisms all having the same meats (beef, chicken, or pork al pastor).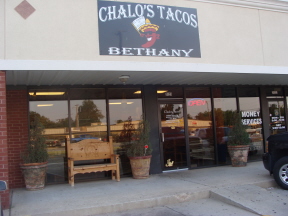 Chalo's Tacos in Bethany
One of the few items to break this pattern is the tamales, which are also one of the best items served. In fact, Chalo's may have the best tamales I have had in the OKC area so far.
Of course beer is very popular, but this is one of the few places where the horchata is as good as the better ones served in El Paso (and this is a very good place to try this rice drink).
Although I have listed just about everything the restaurant serves, the small number of choices has not been an issue. The food has all been very good and very inexpensive. Even the quesadilla, which is normally at the bottom of my list of preferences, was quite good here.
MOST RECENT ARTICLES
are listed on the web site's home page: