okgourmet.com&nbsp &nbsp Home of Steve's Restaurant Reviews
Chalo's Tacos
5019 N. Rockwell Ave.
Bethany, OK
(405) 440-2984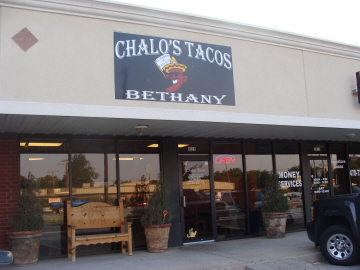 Calvillo, a city in the Mexican state of Aguascalientes, is the origin of much of my favorite Mexican food in the Oklahoma City area, including Abel's, Birrieria Diaz, Chalo's Tacos, and Diego's (and if we are lucky, we may also get restaurants starting with E, F, and G!). Personally I am not getting anywhere close to being tired of this particular style of Mexican food, and I hope there are more restaurants to come.
Chalo's Tacos, near Wiley Post Airport in Bethany, is the smallest of the restaurants mentioned, and it also has the most limited menu. This is very typical of true Mexican style restaurants, though, that many times specialize in only one or two items. In the case of Chalo's it is tacos, tamales, quesadillas, flautas, and tortas (which I have not yet tried). I say this not only because of what is on the menu, but also because of what I see customers order.
I have not had any of the items I normally use to judge a Mexican restaurant's "Chile Index" (such as enchiladas that are covered with chile). In fact, I have not even seen enchiladas or other items such as chiles rellenos on the menu. The only spicy items I have found were the red and green chile served to put on the tacos or sandwiches, but these are not super spicy. A meal here can actually be totally non-spicy if the customer wishes.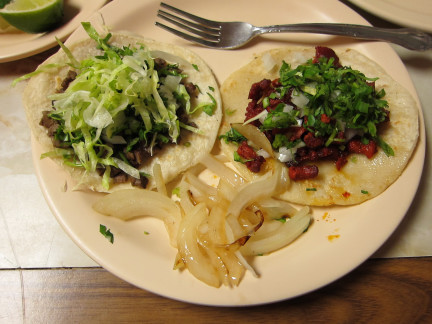 Bistek tacos and tacos al pastor
Probably the specialty of the restaurant is the Bistek Taco, a beef taco, but one that is better than most because of its origin in the Calvillo region of Mexico. This taco is very similar to the tacos Calvillo at Abel's (one mile to the east of Chalo's on N.W. 50th Street), except that the one here is served without chips and salsa (so customers pay only for the tacos and not the "extras"). I like the variety of food at Abel's, but I always seem to end up paying more for the meal (so keeping on a budget is one good reason to come to Chalo's instead).
Tacos are ordered individually, so it is customary to order more than one or to order different kinds together. Each taco shown in this photo came with two corn tortillas, so I think of each one as being two tacos (for a total of four on the plate), and I eat them that way. I sometimes put different salsas on each one, and if desired onions and radishes can be used as filler in the tacos. In my opinion the two tacos shown here are not quite enough for a meal, but three on an order would probably do it for a lot of people (myself included).
The pork Tacos al Pastor are one of the best in the city, and I think Chalo's only real competitors are the other restaurants on the "ABC" list serving Aguascalientes style food.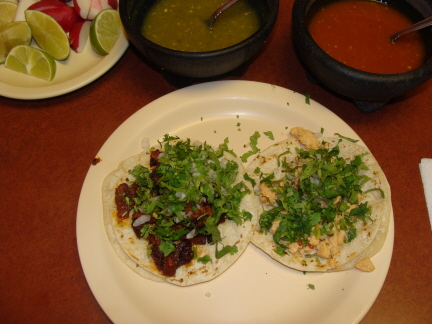 Tacos al pastor and tacos de pollo
The Tacos de Pollo (chicken) were slightly less flavorful than the other tacos, but still fresh and very good. The meat was fresh and good quality.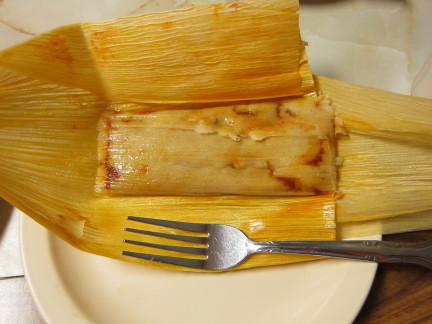 Pork tamal
Like other items on the menu, the Tamales are served a la carte. I am considering whether these are the best tamales in Oklahoma City, because they are that good (but I haven't tried enough other restaurants to develop a definitive list). These are home made tamales that come in different flavors, and I believe none of them are very spicy.
The chicken tamal with green chile was the best I have tried so far. It had a very good flavor, and probably as importantly, was not greasy.
When I tried the pork tamal with red chile (shown in the photo above) it was more greasy, and was not heated thoroughly. Obviously I do not think this is representative of how the tamales are generally served.
Tamales can be made as spicy as desired with the salsa, but the tamales themselves have more of a subtle flavor than the ones I find in Tex-Mex restaurants (giving a true taste of Mexican style tamales). I was very impressed with the tamales here except for the one that was not heated enough.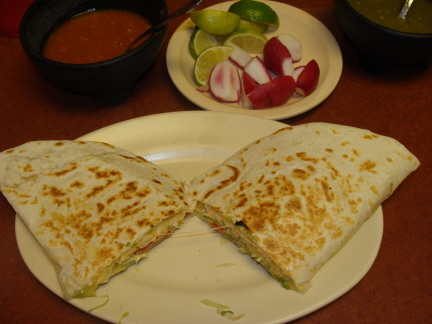 Chicken quesadilla
The Chicken Quesadilla followed the patten of having a subtle flavor, and I particularly liked the avocado that was included. The cheese used here is also better than average. From looking at the menu it seemed that the quesadilla was about three times the price of a taco, but it is also about three times as filling (and may be enough for a meal in some cases).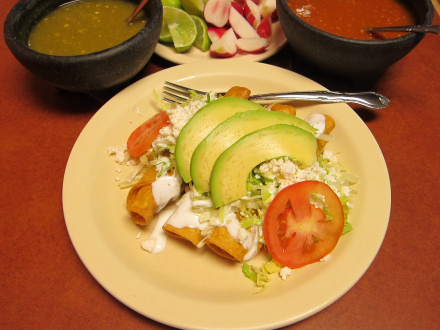 Chicken flautas
An order of Flautas turned out to be one of the biggest treats I have had at Chalo's, and they were good enough to remind me of my favorite flauta restaurant (Flautas Tepalca in El Paso). At Chalo's the tortillas are fried just right, the meat is prepared the right way, and they are covered by real Mexican crema (not American style sour cream). The cheese and avocado also made it authentic, and I finally found some flautas in Oklahoma that I can point to as being true to the Mexican style. The only thing that fell short for me was the salsa-- Chalo's provides only the table salsas that are meant mainly for the tacos. Although these salsas are good, I probably would have enjoyed it more if they had prepared a salsa specifically for the flavor of the flautas.
The Horchata was home made and very good. I like to have lots of ingredients floating at the bottom that can be stirred with a straw, as I found here (and at all places that serve good horchata). In every way, including the drinks, Chalo's is about as authentic as you can get. Of course they have beer also.
Menudo is served for breakfast on weekends.
Because everything is ordered a la carte it is easy to keep ordering more food if what you have is not enough, and I would say most people could get quite full for less than $10. Most of all, though, I would say that most people will appreciate the home made flavor of the food.
My Comments in a Nutshell
What I like most:
Cheap, authentic Mexican food
Limited menu, but almost everything is near the top of the list of the best in OKC
I am not given chips, cheese sauce, sopapillas, or other "free" items that would cause them to jack up the price
Disappointments:
The green chile tamales were the best I have had in OKC, but the red chile tamales fell short
The horchata is normally very good, but is sometimes thin and less flavorful
The shopping center has two handicapped spaces in front of the restaurant that are properly striped, but there are no signs in front to make them enforceable as handicapped parking. As a result, people frequently use them as convenient parking spaces (without any handicapped permits), and it appears that some of these people are employees of the restaurant.
Things to know:
This is a regular restaurant--customers are given menus and order at the table
Prices are not only reasonable, they are rock bottom compared to other Mexican restaurants in OKC
They do not have enchiladas, and there are no plate dinners. Everything is a la carte, and you choose between items such as tacos, tortas, and quesadillas.
A few "special" items are served such as flautas, tamales, and breakfast on Sat. and Sun.
RESTAURANT DETAILS
RATING: 22
Cuisine: Mexican Aguascalientes
Cost: $
Hours: Open Daily
Accessible: Yes (but the signs are missing to make the parking spaces enforceable)
Smoking: No Smoking
Alcohol: Beer
Special Features: Breakfast Sat. & Sun.
| | |
| --- | --- |
| Chile Index: | |
Most Recent Visit
Jul. 18, 2014
Number of Visits: 5
Best Items
Bistek Tacos, Tamales, Flautas
Special Ratings
Tacos al Pastor:


Tacos de Pollo:


Bistek Tacos:


Tamales:

green
Tamales:

red
Flautas:

chicken
Chicken Quesadilla:


Horchata:

MORE ABOUT THIS WEB SITE