okgourmet.com&nbsp &nbsp Home of Steve's Restaurant Reviews
SUPPLEMENTAL ARTICLES
Relating to Oklahoma Restaurants
Home &nbsp > &nbsp Special Features &nbsp > &nbsp Articles &nbsp > &nbsp Oklahoma Articles
YUKON, OK--Pho Hieu
Nov. 25, 2012: Pho Hieu is located in the far west suburbs of Oklahoma City at Reno and Mustang Road (just off Interstate 40), and it joins a growing list of suburban pho restaurants. It is like many others in offering a more limited menu than is available in the Asian District near N.W. 23rd and Classen Blvd. The soup served at Pho Hieu, though, seems to be equal in quality to many of the ones served in the Asian District, at least from the one time I have tried it.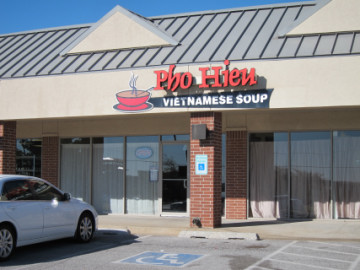 Pho Hieu in far west Oklahoma City
The chicken broth pho was one of the best I have tried, and all the traditional side vegetables were included. The broth was well flavored (especially for restaurants located in the suburbs). The shrimp was especially good, and was one reason I liked the soup so much.
A beef and spring roll vermicelli bowl was listed as a special on the supplemental menu board, but I was glad I tried the soup because it lived up to the reviews I have read about it.
MOST RECENT ARTICLES
are listed on the web site's home page: