okgourmet.com&nbsp &nbsp Home of Steve's Restaurant Reviews
Pho Hieu
11301 W. Reno
Yukon, OK &nbsp Oklahoma City
(405) 265-1220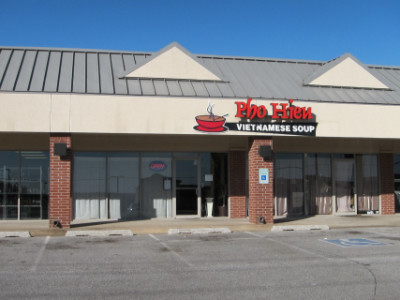 When I began reading reviews about Pho Hieu in Yukon (actually in the Oklahoma City incorporated area) it became apparent that this was a better than average suburban Vietnamese restaurant. Some reviewers on Urbanspoon indicated that it was as good as or even better than many of the pho restaurants in Oklahoma City's Asian District, and it sounded as if they had good justification for making this claim. My impression after one visit is that it is indeed better than many Asian District pho restaurants, although I would not put it ahead of Pho Cuong. I am not sure where it actually ranks, but I do know that it is not necessary for west side residents to make the long trip to Classen Boulevard to get good Vietnamese soup.
Pho Hieu only has soup on the menu. There were other items written on a menu board, including vermicelli bowls (with beef, spring rolls, or a combination of the two). Smoothies were available, but mostly it seemed that people came for the soup.
Pho is a beef or chicken broth, and there was a large variety of meats (mostly beef) that could go in them. On my first visit I ordered a chicken broth pho, while the great majority of soups listed on the menu were beef. The restaurant was somewhat similar to Pho Lien Hoa on N.W. 23rd east of Classen, which offers beef, chicken, and pork broth. The soup tasted very similar at both places, and I think Pho Lien Hoa is the restaurant in the Asian District that is most similar to Pho Hieu. Both restaurants use MSG, but not enough to really affect me (meaning that I don't think it is excessive). Both have the authentic accompaniments of lime, basil, and bean sprouts, and the seasoning in the soup was similar.
In short, the quality of Pho Hieu was similar to the Asian District, but the choices were somewhat restricted (at least compared to restaurants such as Pho Lien Hoa).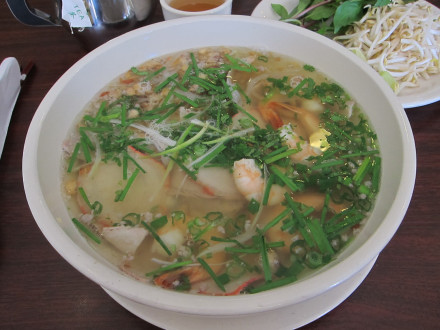 Mi Tôm, Thit
The Mi Tôm, Thit was a chicken broth pho with the meat consisting of shrimp and pork. My summary of it was that everything was quite good, with the exception of the fact that it was made with MSG (in a small amount so that I could eat it, but enough that I had a minor reaction). I think it had less MSG than many others I have eaten, and the flavor was certainly hard to beat. The shrimp was very fresh, and was the best of the two meat items. The basil on the side was very fresh, and the quantity of the soup was enough to make a filling lunch. I was very impressed with the flavoring of the soup, and it seemed to have extra ingredients that are not often found in suburban Vietnamese restaurants.
The vermicelli bowl was the dish the owner recommended if you want to totally avoid MSG, and I can assume that it is also very good. Everyone I saw in the restaurant, though, was eating pho.
This was really one of the most flavorful Vietnamese soups I have ever eaten, and I think it is well worth a try.
RESTAURANT DETAILS
RATING: 23
Cuisine: Vietnamese
Cost: $$
Hours: Closed Tue.
Accessible: Yes
Tea: Jasmine (bags)
MSG: Yes
Smoking: No Smoking
Buffet: No
Most Recent Visit
Nov. 7, 2012
Number of Visits: 1
Best Item
Pho
Special Ratings
Mi Tôm, Thit:

MORE ABOUT THIS WEB SITE