okgourmet.com&nbsp &nbsp Home of Steve's Restaurant Reviews
SUPPLEMENTAL ARTICLES
Relating to Oklahoma Restaurants
Home &nbsp > &nbsp Special Features &nbsp > &nbsp Articles &nbsp > &nbsp Oklahoma Articles
OKLAHOMA CITY, OK--The Ceviche House
Nov. 21, 2012: Ceviche House on N.W. 50th St. in Warr Acres is already becoming well known for its ceviche, and for good reason. I think the ceviche is so good it is worth taking notice, and if necessary traveling some distance for it. One thing I really like is the variety that is served, with different flavors and presentations that are hard to find elsewhere.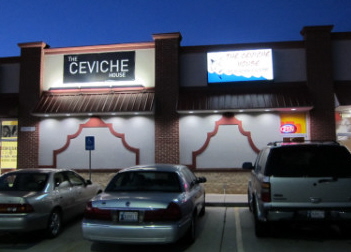 The Ceviche House in Warr Acres
Ceviche House is also turning itself into a full-fledged Peruvian restaurant, with a grilled seafood menu as well as meat dishes such as lomito saltado. The chicha morada drink was very interesting (although they make it known that they also have a large selection of beer).
This summer the restaurant was serving Mexican food, but this is no longer the case (except for the excellent chips and salsa that are still served with meals). I think the ceviche is the star here, but they do have other items and they all seem to be good. Peruvian food is not known for being spicy, but a couple of the ceviche choices come with chile if this is what you want.
I mostly avoid fish when I am away from coastal areas, but the ceviche here is something I would recommend to just about anybody.
MOST RECENT ARTICLES
are listed on the web site's home page: