okgourmet.com&nbsp &nbsp Home of Steve's Restaurant Reviews
The Ceviche House (Closed)
5805 N.W. 50th St.
Oklahoma City, OK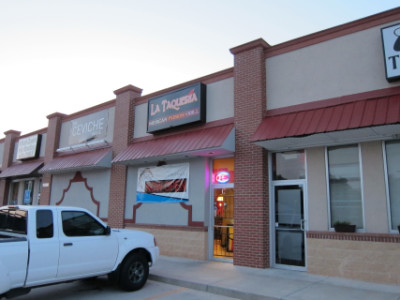 The bottom line about The Ceviche House in Warr Acres is that I think it has the best ceviche I have tasted anywhere. My experience is somewhat limited, but I have ordered ceviche in five or six places in the Oklahoma City metro, and out of these I thought Ceviche House was the most impressive (although all of the ceviches were good).
Along with ceviche the restaurant began by serving Mexican food, but as of October 2012 it now has a strictly Peruvian menu (and the Mexican food has been dropped). Ceviche House has added a number of seafood and cooked fish dishes as well as traditional meat dishes including lomito saltado. Peruvian cuisine is not known for being on the spicy side, but in my opinion it can definitely be as flavorful as Mexican food.
Ceviche is known as Peru's specialty, consisting of fish or seafood marinated in lime juice and spiced with chiles. The ceviche al ginger I tried is one of the more unusual varieties that I think makes The Ceviche House special. Some other ceviches on the menu include ceviche en la copa with yellow pepper sauce and choritos a la chalaca which is made with mussels.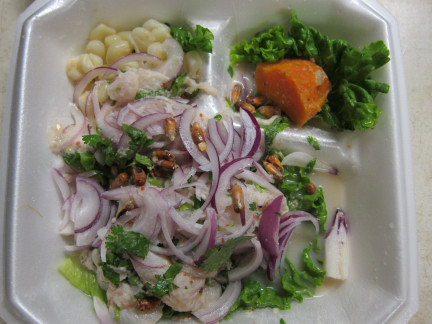 Take home order of Ceviche al Ginger
The Ceviche al Ginger was a dish I ordered in June 2012, but which is no longer listed on the menu. The tiradito from the current menu, though, is made with ginger, and I believe is very similar.
The important thing, though, is the freshness and quality of the ceviche which was very evident. Adding the toasted corn cancha was a nice touch, and overall this was just a very interesting and good tasting version. My feeling was more that the chefs knew how to prepare the dish properly than just the fact that it was good because it contained ginger.
The sweet potato and hominy side dishes were very good and fresh.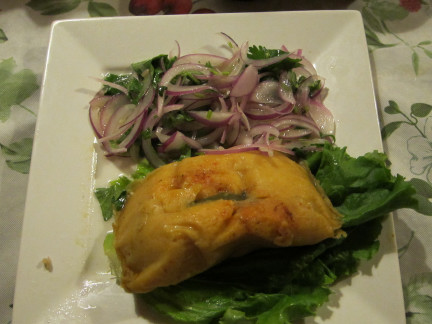 Tamales de pollo
The Tamales de Pollo on the menu is actually just one tamal, but this is about right for an item that comes from the appetizer section. It was larger than the normal tamales served in Mexican restaurants, and the banana leaf wrapping used here is typical of South American style tamales. This was comparable to other Latin American style tamales served in the city (which fortunately are becoming more commonplace).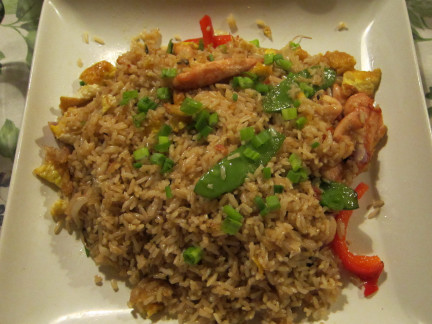 Arroz chaufa con pollo
When I say that Ceviche House will prepare special requests that are not on the menu, the Arroz Chaufa was one example. This is a Chinese influenced fried rice mixed with soy sauce common in Peru, and which I had first tried at Inca Trail Restaurant. I ended up thinking the flavor was a little flat, but I appreciated the effort in making it for me. The chicken was good, and the vegetables made it more interesting.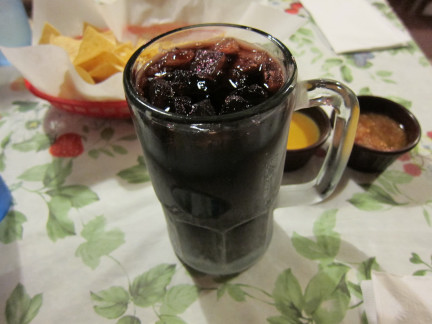 Chicha morada
Chicha Morada is a traditional Peruvian drink made from purple corn. I understood that it also had fruit, cinnamon, and lemon, and in any case it was delicious.
Mexican Dishes
Note: Apparently before Ceviche House opened there was a taqueria in this space, and although Ceviche House is a Peruvian restaurant it continued to serve Mexican food when it took over (although I think the term "taqueria" should have been dropped because I did not see any tacos on the menu).
On my first visits to The Ceviche House in June 2012 the menu consisted mainly of Mexican items and Peruvian style ceviche. In October 2012 the Mexican food had been taken off the menu and replaced by an all Peruvian menu. The owner said he was planning to reintroduce Mexican food at a later time. Chips, salsa, and cheese dip are still served as appetizers at Ceviche House.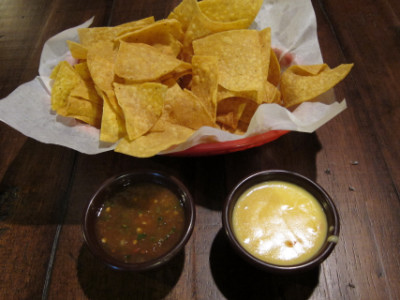 The chips, salsa, and cheese dip are better than most
The items shown in this photo (chips, salsa, and cheese dip) are the only Mexican items still served at Ceviche House, although I imagine that they will still prepare certain dishes by special request. They have not given up the Mexican menu completely since the owner says he plans to reintroduce it at a later time.
I thought the salsa deserved a special write-up because it was one of the best I have had in Oklahoma City. It was not overwhelmingly spicy, but it was overwhelmingly flavorful. I did not need to ask for a "spicy salsa" because I thought this one was satisfying in all respects.
The cheese dip was also very good, with the kind of texture and flavor that made this better than most.
The chips were near the top for ones served in Oklahoma City.
For these "setup" items I thought as a whole they far excelled what I experienced across the street at Abel's (although Abel's has some interesting salsas that are served after the initial setup).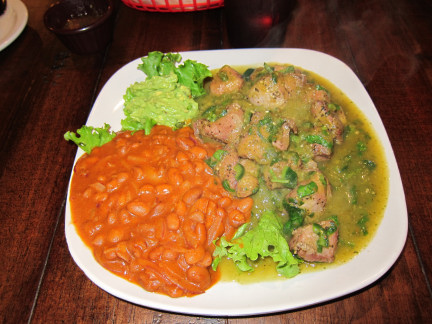 Chile verde
The Chile Verde had a unique flavor, with spinach and cilantro added. The owner was putting his own take on the Mexican recipes, and I think this may have been a South American influenced way of preparing the dish. I had a problem with the pork being a little tough, but overall the dish was good. It is probably not necessary to go too much into detail about the dish since it is no longer on the menu (but it gives an indication of the type of Mexican food served here).
The Frijoles Preparados that came with the chile verde, though, were remarkable for being flavorful and much better than the beans I usually find in Mexican restaurants. These were actually made from the owner's special recipe for beans, thus I assume they were Peruvian style.
Guacamole was also very good, and I thought was prepared according the the traditional Mexican style.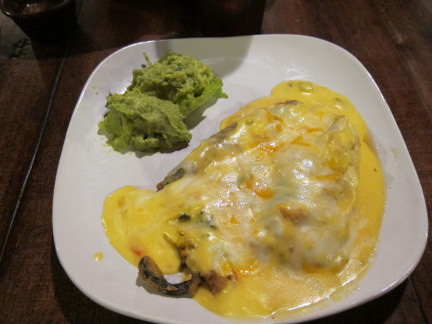 Chile relleno with guacamole
The Chile Relleno was "Tex-Mex" style, and was not as impressive to me as the chile verde. Most of the original Mexican menu consisted of Tex-Mex style dishes except a few like the chile verde which the owner indicated were made from his own recipes.
A Sopapilla came free for dessert, and this turned out to be excellent. In fact, it was so good that I thought adding honey was completely unnecessary, and the sopapilla with sugar sprinkled on it had all the flavor I needed for an excellent dessert. This may be the best sopapilla I have had in Oklahoma City.
RESTAURANT DETAILS
RATING: 23
Cuisine: Peruvian
Cost: $$
Smoking: No Smoking
Accessible: Yes
Alcohol: Beer
Most Recent Visit
Oct. 20, 2012
Number of Visits: 3
Best Items
Ceviche, Frijoles Preparados, Sopapilla
Special Ratings
Ceviche al Ginger:


Tamales de Pollo:


Chaufon with Chicken:


Frijoles Preparados:


Chicha Morada:

Mexican Food
Chile Verde:


Chile Relleno:


Guacamole:


Chips:


Salsa:


Queso:


Sopapilla:

MORE ABOUT THIS WEB SITE