okgourmet.com&nbsp &nbsp Home of Steve's Restaurant Reviews
SUPPLEMENTAL ARTICLES
Relating to Oklahoma Restaurants
Home &nbsp > &nbsp Special Features &nbsp > &nbsp Articles &nbsp > &nbsp Oklahoma Articles
OKLAHOMA CITY, OK--Green & Grilled
Nov. 14, 2012: Green & Grilled has about four main items on the menu (beef, chicken, pork, and tofu), in addition to salads and a number of soups and side dishes. The food is healthy, and everything I have tried has been quite flavorful. The adobo flavored meat is quite distinctive, and I really enjoy the high quality of the food.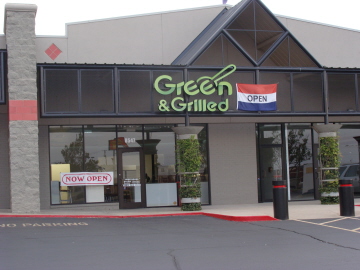 Green & Grilled at Northwest Expressway and Rockwell
The "Green" part of the name refers to the salads, many of which contain fresh fruit and other high quality ingredients that put them almost on the level of the salads at the Museum Cafe, Cheever's, or Boulevard Steakhouse. Each salad at Green & Grilled has its own dressing that is designed to enhance the flavor (although customers can use the dressing from a different salad if desired).
As good as the salads are at Green & Grilled, sometimes I like the soup even better. The restaurant's substitution policy allows customers to get the meat plus a half order of salad and a side dish, or a soup substituted for either the salad or the side dish.
Green & Grilled also has what is probably the best flan I have had this side of El Paso.
The restaurant is casual, where orders are taken at the counter. It is probably designed more as a lunch place, but plates are filling enough to make a good dinner. Salads, soups, and sides can be ordered separately, making it feasible to eat a lighter and less expensive lunch. Kids meals are also available.
MOST RECENT ARTICLES
are listed on the web site's home page: