okgourmet.com&nbsp &nbsp Home of Steve's Restaurant Reviews
Green & Grilled (Closed)
8547 N. Rockwell Ave.
Oklahoma City, OK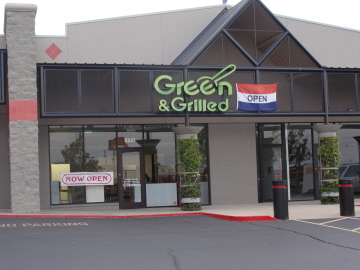 Sometimes I lament the lack of real choices in restaurants, and it begins to look as if they have to specialize in greasy fried foods to survive. I eat my share of this type of food, but one of the purposes of this web site is to seek out places (particularly little known restaurants) that are different from the norm. Green & Grilled is one such place that provides a contrast to the average diner or burger joint. Green & Grilled concentrates on healthy foods, but with satisfying flavors. It is a little different, but I found it to be very good.
Green & Grilled serves American food, including grilled meats, salads, and soups. If I had to describe a down side to the restaurant it would be the limited menu (although once people try it I think they will be happy with what is served). In fact, the small menu, casual setting, and lack of table service are not normally characteristics of a restaurant to which I would give such a high rating, but the food really is that good.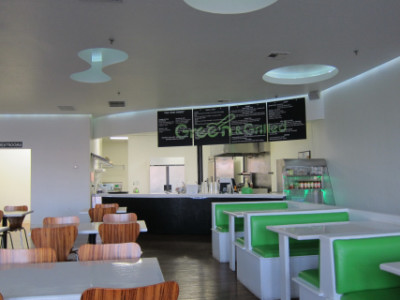 Green & Grilled's interior
A "regular order" here consists of grilled meat (marinated with adobo flavoring), salad, and a side dish. Several types of substitutions can be made, and many times I like to get soup instead of salad (at no additional cost). If you get both soup and salad (and skip the side dish) this is about two dollars extra. My favorite side dish is really the brown rice, but I like everything I have tried (and the potato is good when I have an extra appetite).
The salad on the combination plate is a half order (compared to ordering the salad as a meal), but the full salad has the choice of adding meat so that it really would be sufficiently filling.
Several of my favorite soups are daily specials such as the cauliflower soup on Monday or the spinach soup on Wednesday. For the "regular" soups (served every day), the mushroom soup is hard to beat.
The meat also has a unique flavor that sets Green & Grilled apart from other restaurants. The owner is from South America, and specializes in adobo flavored meats (the tofu is also adobo flavored). In this case I think the restaurant has incorporated the best elements of South American cooking into what can otherwise be described as American food.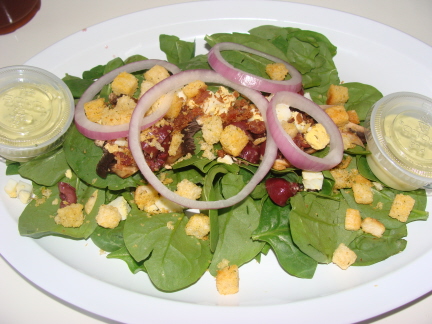 Full order of bacon spinach salad
Salads are a large part of the menu, since a half order comes with every dinner plate or a full salad can be ordered. I have found the variety of salads to be quite good, and each one has its own house made dressing.
The Bacon Spinach Salad comes with spinach, olives, chopped eggs, and bacon with honey mustard dressing. The menu states that the salads are all natural, and the bacon consists of bacon bits sprinkled on top.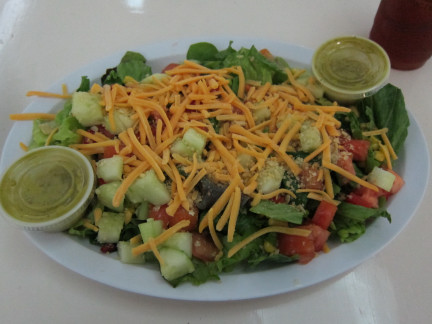 Tropical salad
The Tropical Salad probably has the best dressing of any I have tried here, and is a very flavorful salad as well. I generally do not have a very high opinion of salads covered with yellow cheese, but this one is very refreshing and lives up to its name as something that reminds me of the tropics.
The Apple Spinach Salad has been my favorite so far (and is shown in several of the photos below). The salad comes with spinach, diced green apples, cranberries, walnuts, and an orange vinaigrette dressing, but I have to say that the highlight of it is the cranberries.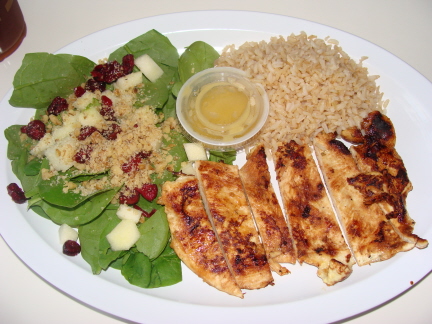 Grilled chicken with apple spinach salad and brown rice
Grilled Chicken has been my favorite of the meats served, and I was very impressed with the quality of the chicken, the way it was cooked, and the adobo flavor. The adobo was mixed with pineapple, and I thought it had a very Latin American taste (although it is not spicy).
The Brown Rice had an excellent flavor and was well cooked. The "garlic and spices" cooked with the rice give it a better flavor than I had expected when I first ordered this side dish.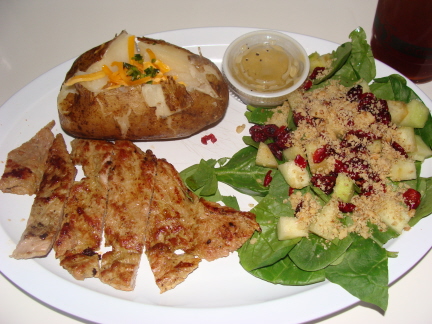 Grilled pork with apple spinach salad and steamed potato
The Grilled Pork has become a little inconsistent in my recent visits (after the beginning of 2014), and sometimes seems too dry. It has a very high quality meat, and is a good cut. When cooked the right way, this is probably the most flavorful meat Green & Grilled serves.
The Steamed Potato was very good, and is probably the most filling of the side dishes.
I sampled the Sirloin Steak and thought it had a good flavor, but the meat was a little tough. In terms of flavor the adobo tasted somewhat like the Worcestershire sauce and other spices used in a sirloin pattie. I thought of all the meats I had tried the beef was the one that adobo was probably most designed to complement. In 2013 the restaurant started charging more for beef than the other meats, and to me it seems like a matter of personal taste whether the beef would be worth the extra cost.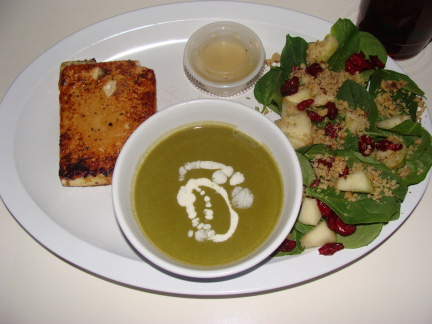 Grilled tofu with spinach soup and apple spinach salad
I am a big proponent of substituting tofu for meat whenever possible in Asian food, particularly in stir-fried dishes. The Grilled Tofu served at Green & Grilled, though, came in a large slab and there was no way to disguise its flavor or texture (neither of which I found to be very enjoyable). The adobo seasoning, though, was as good as it had been with the meat dishes, and overall I did not find this to be a bad dish (but it does not tempt me to abandon the meat dishes).
The Spinach Soup shown in this photo has been the Wednesday "soup of the day" since I have been going to Green & Grilled, and so far it is my favorite soup here. I would call it excellent in terms of flavor and texture, and it is not overly salty. I could not figure out the significance of the design on top, but the soup would be excellent even if it did not come with the art work.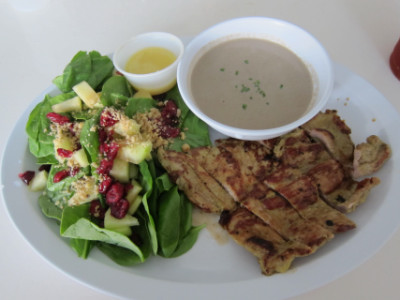 Grilled pork, portobello mushroom soup, and apple spinach salad
The Portobello Mushroom Soup was also very good, although not as colorful as the spinach soup. I think I liked the fact that it had a mushroom flavor but it was puréed so that it did not have a mushroom texture. This soup, along with vegetable soup and creamy butter squash, is available every day. I cannot name my favorite of these three since I have not tried all of them, but I can say that every soup I have tried has been good.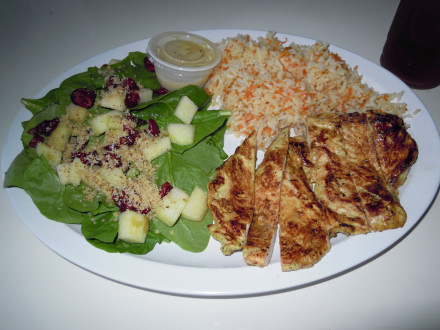 Grilled chicken with steamed white rice and carrots
All of the rice side dishes have been good, and the Steamed White Rice with Carrots was better than I expected from white rice. The Spinach Rice may be even better (but for me the brown rice is usually my preference).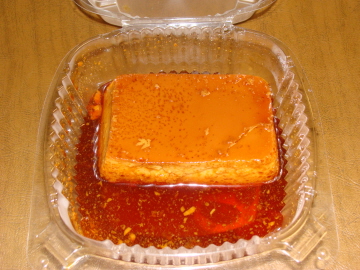 Caramel flan
I have noted about six or seven types of desserts that are served (some of which are sugar free), and usually about three or four of them are available at any particular time. When it is available, the Caramel Flan is a winner, with the kind of flavor I have experienced along the Mexican border but until now not in Oklahoma.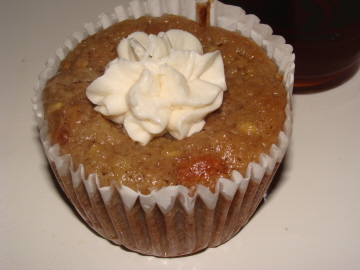 Pineapple zucchini cake
The Pineapple Zucchini Cake is a good choice for those who like a lighter and less sweet taste (although the pineapple and zucchini gave it a vibrant flavor). For those like me who are not sure they would want a dessert with zucchini, I will say that the flavor that could best be discerned seemed to be the pineapple.
My current favorite is the Brownie which has a rich chocolate taste and which is big enough to provide between two and four desserts (I have no idea whether the brownie is actually considered "healthy" or not, but it does not taste "watered down" like most things that are supposed to be healthy).
If others are like me and wish for there to be more healthy alternatives that also taste good, Green & Grilled gives us a chance to actually patronize this type of place. I think it would be better if they had more main items on the menu, but with soups of the day and an almost endless mixing and matching of the side dishes, it has never gotten boring.
My Comments in a Nutshell
What I like most:
An emphasis on healthy foods, high in nutrition
Excellent and unique flavor of the meats, marinated in an adobo sauce
Mushroom soup and spinach soup are among my favorites in OKC
Apple and spinach salad is the best I can find without going to a fine dining restaurant
Desserts are not only very good, they are my favorites in any restaurant other than La Baguette or Ingrid's
Disappointments:
The tofu dinner has been my biggest disappointment here.
I wish they would add more choices to the menu.
The pricing structure is sometimes not very good if you try to order something other than the standard dinner (with one meat, one side dish, and either soup or salad).
Things to know:
The dinner plate (with a choice of meat, either soup or salad, and a side dish) is the most popular choice here, and I think it gives you a good meal at a good price.
Many times I like to get both a soup and salad (this costs $2 extra)--this would be instead of the side dish.
The soups are very good across the board, except that I did not care much for the vegetable soup.
Salads are good across the board, except that I think some of the dressings that come with them are a lot better than others (I think the best salad is apple spinach, and it comes with a good dressing).
Although it serves American food, I almost want to call this a Colombian restaurant because of the South American style adobo marinade used on the meats and tofu.
Bathrooms are unisex, and are handicapped accessible.
The restaurant is not very visible from the street, but is in the same shopping center as Target, Petsmart, Chili's, and Cici's Pizza.
The menu and prices are a little bit different from the one I have included (this is the latest menu I have been able to get). You should probably plan on about a dollar more for the dinners than are listed.
RESTAURANT DETAILS
RATING: 24
Cuisine: American
Cost: $$
Hours: Open Daily
Accessible: Yes
Additional Location: 1389 E. 15th St. (Edmond)
Smoking: No Smoking
Alcohol: No
Most Recent Visit
Sep. 29, 2015
Number of Visits: 10+
Best Items
Grilled Chicken, Grilled Pork, Apple Spinach Salad, Spinach Soup, Butternut Squash Soup, Mushroom Soup, Brown Rice, Pineapple Zucchini Cake, Flan, Brownie
Special Ratings
Grilled Chicken:


Grilled Pork:


Grilled Sirloin Steak:


Grilled Tofu:


Apple Spinach Salad:


Bacon Spinach Salad:


Tropical Salad:


Mushroom Soup:


Butternut Squash Soup:


Vegetable Soup:


Steamed Potato:


Brown Rice:


Spinach Rice:


White Rice with Carrots:


Flan:


Pineapple Zucchini Cake:


Brownie:

Daily Soups
Cauliflower Soup:

Mon.
Broccoli Cheese Soup:

Tue.
Spinach Soup:

Wed.
Carrot Soup:

Thu.
Lentil Soup:

Fri.
MORE ABOUT THIS WEB SITE