okgourmet.com&nbsp &nbsp Home of Steve's Restaurant Reviews
SUPPLEMENTAL ARTICLES
Relating to Oklahoma Restaurants
Home &nbsp > &nbsp Special Features &nbsp > &nbsp Articles &nbsp > &nbsp Oklahoma Articles
OKLAHOMA CITY, OK--Nunu's Mediterranean Cafe
Nov. 6, 2012: Nunu's is one of the top Middle Eastern/Mediterranean restaurants in the city (the recipes are actually Lebanese), as well as being one of my favorites. Janet ("Nunu") is personally in charge of the restaurant, giving it the flavor of some of the smaller mom and pop restaurants that I think generally have the best food. The restaurant is larger, though, than some of the city's other family run Middle Eastern places, making it more convenient for large groups and reducing the wait times that I sometimes experience at the smaller restaurants.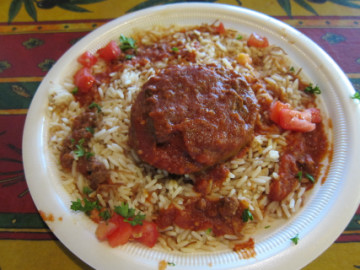 Eggplant casserole from Nunu's
One excellent feature of Nunu's is the daily specials, many of which are offered on a rotating basis. From time to time I like to highlight certain meals that stand out as being one of the best from each month, and I am already able to put the eggplant casserole from Nunu's on this list for November. I typically order this several times per year, which sometimes takes advanced planning since it is only offered every other Thursday. I had this last week (Nov. 1), so it should also be available on Nov. 15 and 29 (and at two week intervals after that). Janet says the eggplant is not always available, but she tries to follow this schedule.
There are many other excellent specials that are served, as well as items from the regular menu. This is a casual, reasonably priced restaurant, with orders taken at the counter and food served on paper plates. It has been open until 8:00 p.m. for about a year (but it is closed on Sunday). Nunu's has a deli, all orders are available for take-out, and it does catering.
From the regular menu I like the cabbage rolls, lentil soup, houmos, falafel, fatoosh salad, Greek salad, chicken kabobs, hashwa, and a host of other items. The tabouli is excellent, and the veggie sampler plate is a good way to try a number of excellent vegetables.
MOST RECENT ARTICLES
are listed on the web site's home page: