okgourmet.com&nbsp &nbsp Home of Steve's Restaurant Reviews
Nunu's Mediterranean Cafe & Market
3131 W. Memorial Rd.
Oklahoma City, OK
(405) 751-7000

Update 2017: An updated review of Nunu's is located on Steve's Food Blog.

*** The information on this page may not be current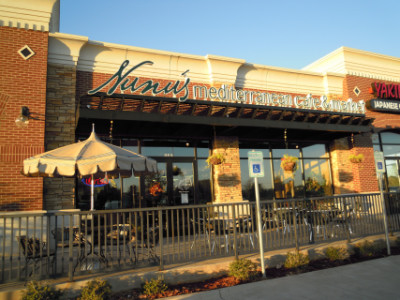 Oklahoma City is fortunate to have more than its share of Mediterranean and Middle Eastern restaurants, but as far as I am concerned the market is still far from saturated. Not only is this one of the most delicious types of food in the world, it is also recognized as being one of the healtiest. Nunu's in far north Oklahoma City is one of the relative newcomers serving this type of food, and it seems to strike the right balance between the high quality of a very special restaurant and the casual setting of a home style restaurant people can make a frequent destination.
Janet "Nunu" Farhood, the owner of Nunu's, is almost always present, and has close supervision over the day to day operations of the restaurant. I think this is one of the main reasons this restaurant ranks near the top of the city's Middle Eastern restaurants (but of course the other reason is Nunu's delicious recipes). In fact, a distinction of Nunu's is that it serves recipes that originated in Lebanon and that have been handed down for generations. Nunu's has a few additions from Oklahoma (such as the PoBoy sandwich from Cedar's Deli in Tulsa), but mostly it seems to be a very true representation of Lebanese cuisine.
Nunu's fits the small "family run" restaurant category, but is able to serve large groups in the restaurant (and also operates a catering business). I think it strikes the right balance between serving freshly made small batches of food and the large demand for this food (except for occasional Friday or Saturday night crowds which cause a long waiting time for the food, but in my experience this has been rare).
I have a personal list of items I think Nunu's does better than anyone else in Oklahoma City, including the lentil soup, tabouli, cabbage rolls, fatoosh salad, and an eggplant casserole served every other Thursday as a special. The houmos is usually a "must have" item for me, and I can usually get an excellent dinner by ordering items a la carte (usually including an a la carte kabob). This is an inexpensive way to get some of the best Middle Eastern food in the city, and I think this is one of the main strengths of Nunu's.
I have not tried all of the larger "House Specialty" dishes, but these have been excellent as well. The sampler plate or veggie sampler platter are good ways to try several of Nunu's best items.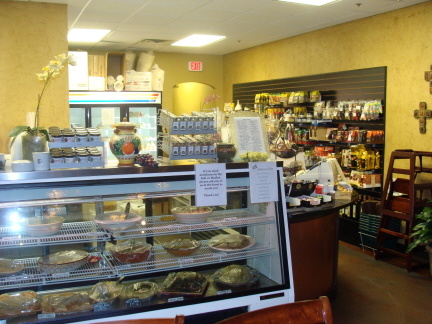 Nunu's deli located in back of the restaurant
Nunu's is a "Cafe & Market" with display cases showcasing food and ingredients that can be taken home to be prepared. A grill behind the counter is used to prepare orders cooked in the restaurant, and these can be taken home as well. The menu includes sandwiches as well as dinners (and I have not even mentioned the sandwiches which I think are really good).
Customers pay upon ordering at the cash register, and drinks are "serve yourself" from the soda machine (I should take this opportunity to also mention that they have Lebanese style lemonade available). The menu and daily specials are listed at the counter, but I have found that there are also a few items which can be specially requested (one I frequently request is the spinach pie, and most of the time it has been available).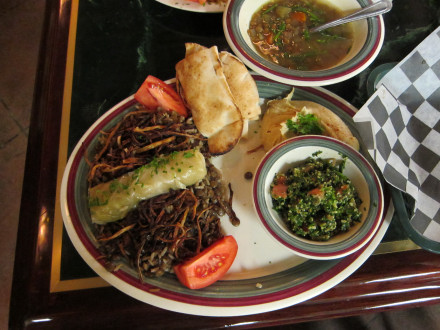 Veggie platter with veggie cabbage roll, lentil and rice pilaf, tabouli, houmos, pita, and lentil soup
The veggie sampler plate contains most of the vegetarian items available at the restaurant (with the notable exception of falafel). The Veggie Cabbage Roll was quite good, being hand rolled with rice, tomatoes, and garbanzo beans cooked with lemon juice. Although only one cabbage roll was served, there were enough other items so that it was a substantial meal.
Houmos was more flavorful than most, the texture was just right, and there was enough olive oil to make this a good dip for the pita bread. In the early days of going to Nunu's I thought the garlic overwhelmed the other flavors, but over time this has evolved from a good dish to a great one, with the flavorings (and not the garlic) becoming more pronounced.
Tabouli was very fresh and well balanced. There is quite a bit of competition around the city with good tabouli, but overall I think Nunu's is the best (in fact, this is one of the two or three best items at the restaurant).
The veggie cabbage roll was served on a bed of Lentil and Rice Pilaf, a very fresh and filling serving of this vegetable mixture with onions mixed in for flavor.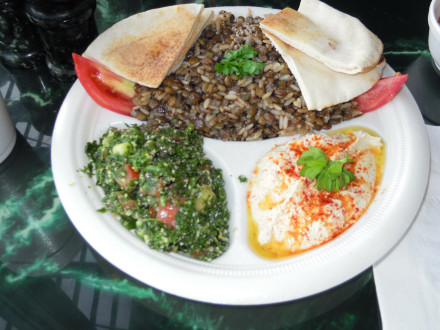 Lentil pilaf
The Lentil Pilaf is also served by itself as a main dish, but I thought the flavor was not as vibrant as some of the other vegetarian dishes. I prefer the pilaf as a complement to other items rather than a main dish. (I should note that this photo was taken when Nunu's was using paper plates, but it has now switched to regular plates and silverware).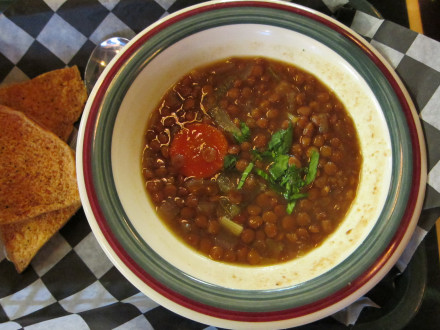 Lentil soup cup (the bowl is even larger)
The fresh home made style Lentil Soup is so full of carrots and other vegetables that it provides a good complement to the lentils. The soup also has a strong lemon flavor. This has become my favorite menu item at Nunu's, and is the main reason I usually either get the veggie platter or order a la carte items. This is a vegetarian soup, but I think it has enough flavor to compete with any of the ones which add meat.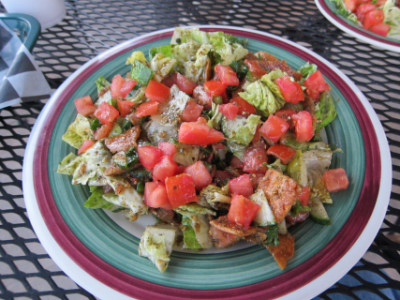 Fatoosh side salad




The Fatoosh Salad comes in either a large order or a side salad, and either one seems to be more filling than most of the other salads. The menu says fatoosh is a Lebanese toasted bread salad, although they give you extra toasted pita bread on the side. Fatoosh is a mixture of lettuce, tomatoes, cucumbers, green onions, and parsley with a lemon juice and olive oil dressing. One thing that is special about it, though, is the mixture of herbs that give it its unique flavor. Many times I prefer this salad to tabouli or other side dishes that I normally get at Middle Eastern restaurants because of the flavor and freshness of the fatoosh.

The menu also includes a plate of fatoosh with chicken breast or fatoosh with kafta, and this offers a more inexpensive way of ordering these items than ordering each one separately.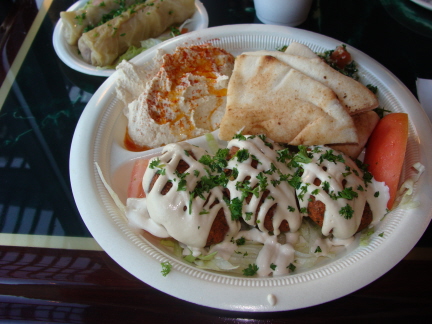 Falafel plate with a side order of cabbage rolls
The Falafel Plate comes with two side dishes, but for lighter appetites I would probably recommend the falafel sandwich (although the sandwich is almost as filling if you get the houmos or baba ghanouj side order). The flavor, freshness, and texture of the falafel are very good, and it tastes as if it is one of the many dishes here that come from family recipes. The tahini sauce is also a big plus to the version at Nunu's (I like the sandwich because it has more sauce).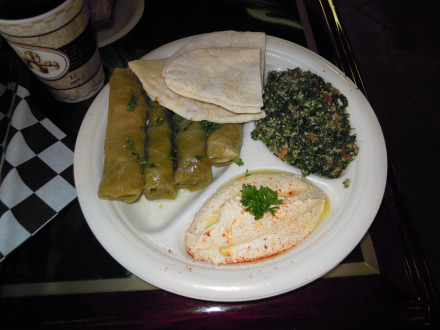 Cabbage roll plate with houmos and tabouli
I have to rate the Cabbage Roll made with beef, spices, and clarified butter, as one of the two or three best items at Nunu's. These are not only good, they are the type of cabbage roll that will make me want to return whenever possible for a "fix." A slight sour taste makes them seem a little like German style food, but the mixture of spices is an excellent representation of Middle Eastern cooking. Although I was sorry to see Eddy's close with its signature cabbage rolls, the ones as Nunu's are the best replacement I have found so far (I have since learned that Eddy's in Tulsa is still in operation so I can hopefully make it there sometime).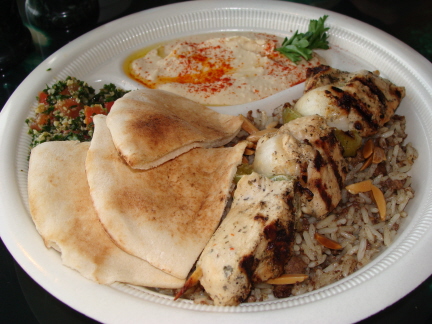 Chicken kabob on a bed of hashwa
The Chicken Kabob was perfectly cooked with excellent quality meat. I liked it because it had enough seasoning to make it appetizing but not so much that I felt I was being overwhelmed by garlic and other spices. Even though it is excellent I think the Kafta is even better (but I usually prefer to eat chicken).
Hashwa is Nunu's signature dish (according to the menu), and consists of rice and beef cooked with clarified butter and topped with toasted almonds. It is ususally served as a side dish or a "bed" underneath a meat item, although a Hashwa Plate is also available. I thought this was one of Nunu's best items, and was quite a bit better than the lentil and rice pilaf (the vegetarian version).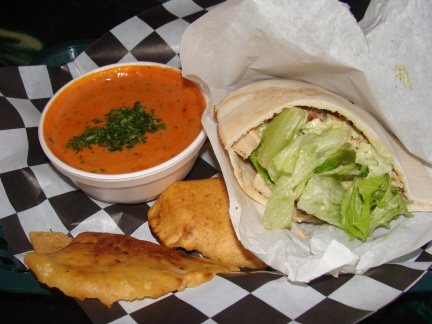 Mediterranean chicken salad sandwich with tomato basil soup
The sandwiches provide an economical way to fill up, and there is a good variety. One that was quite enjoyable was the Mediterranean Chicken Salad Sandwich served with a basil pesto mayonnaise dressing. The chicken was substantial, and the kalamata olives gave it a good flavor.
The Tomato Basil Soup was excellent, and I thought it had just the right amount of spices.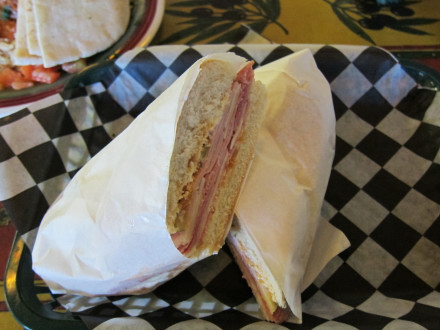 PoBoy sandwich using the recipe from The Cedars in Tulsa
The PoBoy Sandwich is a departure from the normal Middle Eastern style food at Nunu's, but it was very good. The meat included ham and salami, but it was better quality than I normally associate with restaurant lunch meats. Nunu's uses the recipe from Cedar's Deli in Tulsa (which I think has now closed), but obviously this is something special in the world of sandwiches.
The Pita bread is an item that I think ranks in about the middle of the city's Middle Eastern restaurants, but it is more than adequate for the houmos or other dips that Nunu's serves.
I usually skip the hot tea at Nunu's, and to me it is the weakest point of the restaurant (since I like hot tea with Middle Eastern food). In 2012 Nunu's began serving a very refreshing looking home made Lebanese lemonade, but I have not yet tried it.
Several types of Baklava and home made desserts are served, and all I have tried have been excellent (in fact, among the best I have eaten). The baklava is something I definitely like to include in the meal.
Nunu's is open until 8:00 p.m. weekdays and Saturday (although the Facebook page I saw listed the old closing time of 7:00 p.m.). The restaurant is casual, with the food originally served on paper plates, but now they have "proper" plates and silverware (to me this is a big improvement). There is an outdoor patio shared with Yakimono Japanese Grill which offers a great spot to eat when the weather is nice (except that smoking is allowed on the patio).
SPECIAL DISHES
Note: Nunu's offers daily specials in addition to the regular menu items, usually including a main dish, soup of the day, and dessert. Daily specials include lamb, which is available on Friday and Saturday. Eggplant casserole is served every other Thursday (and other specials are also served on a two-week rotating basis). Some items are available most of the time but are not on the menu, so you have to ask for them (spinach pies are in this category). This section describes the special items that I have tried.
Nunu's offers daily specials which many times are my favorite dishes. One example was Sheik El Mihshee, a beef and eggplant dish that was served with Salata, a Lebanese style salad. Although the regular menu is somewhat limited, ordering the specials provides a much broader experience of Lebanese cuisine.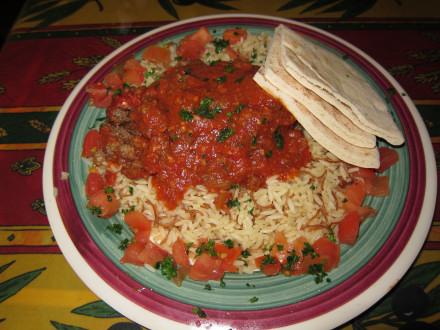 Eggplant casserole served as a special
Recently it seems that weekly specials have taken the place of the occasional special dishes which used to be offered. One of these, the Eggplant Casserole, has been as good as the Sheik El Mihshee, and is available every other Thursday (a green bean casserole is offered on alternate Thursdays with the same rice and sauce as the eggplant casserole). Janet (Nunu) explained that she originally had trouble finding eggplant, but that situation has apparently now been remedied.
My enjoyment of eggplant dishes is largely determined by the texture of the vegetable, and I found this one to be tender and very good. The tomato and spices, though, made it one of the best I can remember (and the same tomato sauce is used in the green bean casserole). The beef (chuck) is very tender, and I would say all of Nunu's beef dishes are quite good.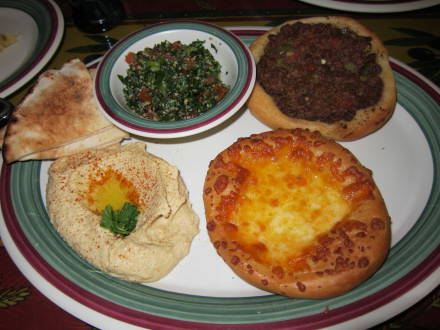 Meat and cheese pies served as specials
When the Meat Pie is on the special menu this is also a good choice. I thought it had a very good seasoning and a good tasting crust. (I usually look for this special on Wednesday).
The Cheese Pie has not been something that I enjoyed as much as the beef, but the special allows customers to mix or match the beef or cheese (I would probably recommend two meat pies).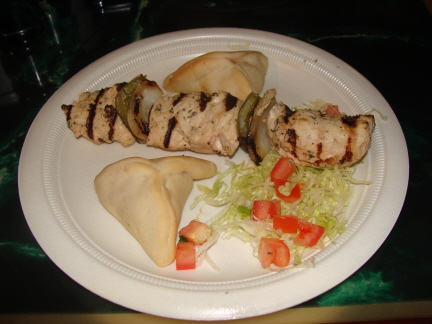 Chicken kabob and spinach pies
Spinach Pies are not on the menu, but I found out they are often available if you ask for them. The inside of the pie obviously has a spinach texture, but the seasoning makes it so that the spinach flavor is not as strong as it would be in a regular spinach dish. The dough is a perfect compliment to the spinach.
Lamb dishes are available on weekends (Fri. and Sat.), but come only on large plates (and so far I have not ordered them).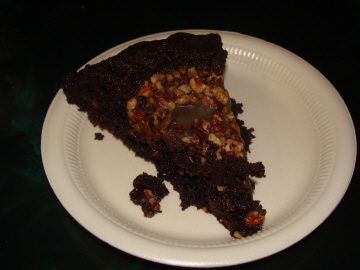 Chocolate Tiara cake
The Chocolate Tiara Cake is an example of some of the special desserts they sometimes offer, and was a very good one.
Some of the specials seem to be among the best items at Nunu's, but with regular menu items such as the lentil soup, tabouli, houmos, fatoosh, chicken kabob, kafta, and cabbage rolls, there is always a reason I want to go to Nunu's whenever possible.
My Comments in a Nutshell
What I like most:
Several items here are better than anywhere else, including the lentil soup, cabbage rolls, and fatoosh salad
Most everything else, although not necessarily the best in OKC, is still excellent
Casual setting, better prices than many other Middle Eastern restaurants, and it has a good selection of a la carte items
My favorite items here is the eggplant casserole usually served every other Thursday--this schedule is not totally reliable, though
I like the fact that it has continually improved since it opened
Disappointments:
The hot tea is really not very good
I mostly avoid going on weekends because it is so crowded (and waiting times are long in the evening)
Things to know:
You order at the cash register when entering, and payment is taken at the time of the order
There is an outside patio, and smoking is allowed there
The restaurant is small but seating inside is usually adequate except at certain times on Friday or Saturday night
Service ends at 8 PM, but many customers are still eating dinner well past this time
I like so many things it is hard to say what to order. For me, though, the most frequently ordered item is the lentil soup.
RESTAURANT DETAILS
RATING: 24
Cuisine: Middle Eastern Lebanese
Cost: $$
Hours: M-Sat. 11am to 8pm
Accessible: Yes
Smoking: No Smoking
Alcohol: Beer, Wine
Special Features: Deli & Market, Outdoor Patio
Most Recent Visit
Apr. 9, 2015
Number of Visits: 10+
Best Items
Lentil Soup, Tabouli, Cabbage Rolls, Fatoosh Salad, Kafta, Hashwa, Eggplant Casserole, Houmos, Spinach Pie, Meat Pie, PoBoy, Baklava
Special Ratings
Cabbage Rolls:


Veggie Cabbage Rolls:


Falafel:


Chicken Kabob:


Mediterranean Chicken:


PoBoy:


Hashwa:


Lentil and Rice Pilaf:


Tabouli:


Houmos:


Lentil Soup:


Tomato Basil Soup:


Dinner Salad:


Fatoosh Salad:


Greek Salad:


Pita:


Baklava:

Non-Menu Items & Specials
Spinach Pie:


Meat Pie:


Cheese Pie:


Sheik el Mihshee:


Eggplant Casserole:


Green Bean Casserole:


Chocolate Tiara Cake:

Restaurant Web Site
Nunu's
MORE ABOUT THIS WEB SITE