okgourmet.com&nbsp &nbsp Home of Steve's Restaurant Reviews
SUPPLEMENTAL ARTICLES
Relating to Oklahoma Restaurants
Home &nbsp > &nbsp Special Features &nbsp > &nbsp Articles &nbsp > &nbsp Oklahoma Articles
OKLAHOMA CITY, OK--Los Amigos
Oct. 18, 2012: Los Amigos in Warr Acres (on the west side of Oklahoma City) is one of a group of local restaurants with a connection to the state of Aguascalientes, Mexico. For a long time I thought of the restaurant as an Americanized Mexican restaurant with more emphasis on chips, cheese dip, and refried beans than flavorful food. Recently, though, I have discovered several very good authentic menu items, and I am still curious about whether I overlooked them in the past or whether they were only added to the menu recently.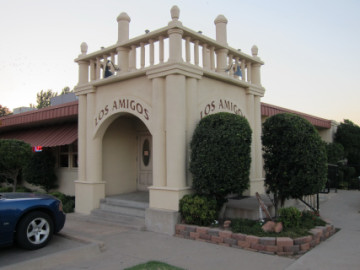 Los Amigos in Warr Acres
Abels, Birrieria Diaz, Chalo's Tacos, and Diego's (all currently or formerly located in the Bethany and Warr Acres area) have roots in Aguascalientes, and all devote at least a part of the menu to authentic items from Mexico. Los Amigos does not have the most extensive list of authentic dishes, but the ones they have are very well prepared. Even the Americanized items, which I ate for many years, were noteworthy for being better than at many of the city's other restaurants.
I especially like the green chile stew at Los Amigos, but other items from the authentic menu have been very good as well. Out of the "extras" that come with the meal probably the best is the sopapilla. I also like the rice and the charro beans.
MOST RECENT ARTICLES
are listed on the web site's home page: